---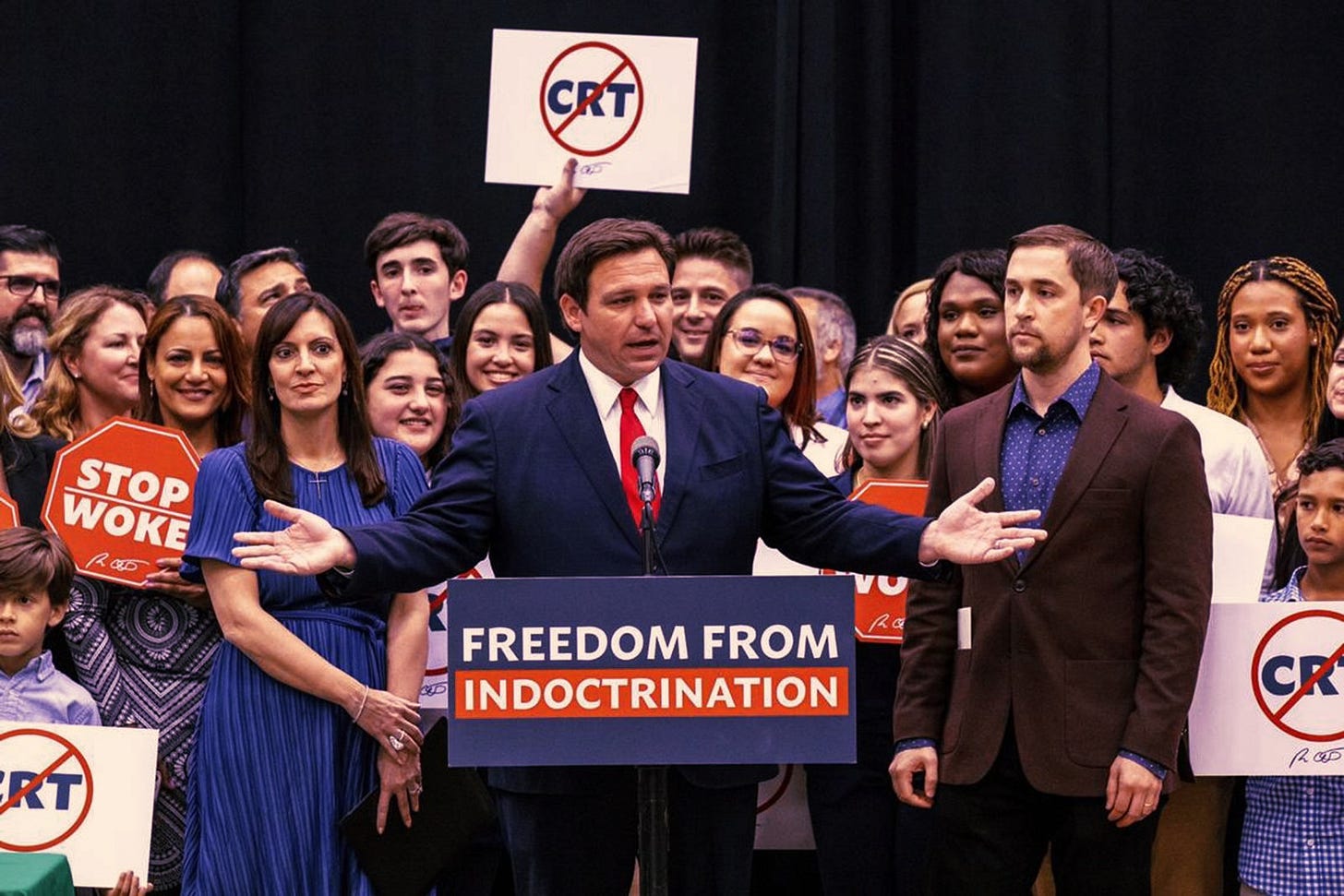 NOTE: Please consider upgrading your subscription here for $7 month to help me keep this publication up and running. While everything here is free at the moment, your monthly financial subscription of $7 per month or $70 per year will help ensure that I can keep providing you and others with groundbreaking independent journalism and original political commentary. Your subscription for a nominal fee supports my journalistic efforts, and the expenses associated with my investigations. If you don't want to miss any of my hard-hitting reports and commentary, please subscribe today!
Florida Governor Ron DeSantis has cemented his national profile by falsely claiming that "Florida is where woke goes to die". However, the state of Florida appears very financially connected to woke financial programs. The Florida Black Business Loan Program claims to offer alternative lending solutions to "Florida-based, black owned small businesses" by providing short-term loans and technical assistance.
The publicly stated mission of helping minority owned businesses launch and succeed has come at a heavy cost to tax payers. According to records, Mortlake Nembhard defaulted on a 2009 loan provided by the Florida Black Business Loan Program, leaving taxpayers to shoulder the majority of the $250,000 debt. Interestingly, Nembhard was the chairman of Florida Black Business Investment Board, originally appointed by Governor Jeb Bush.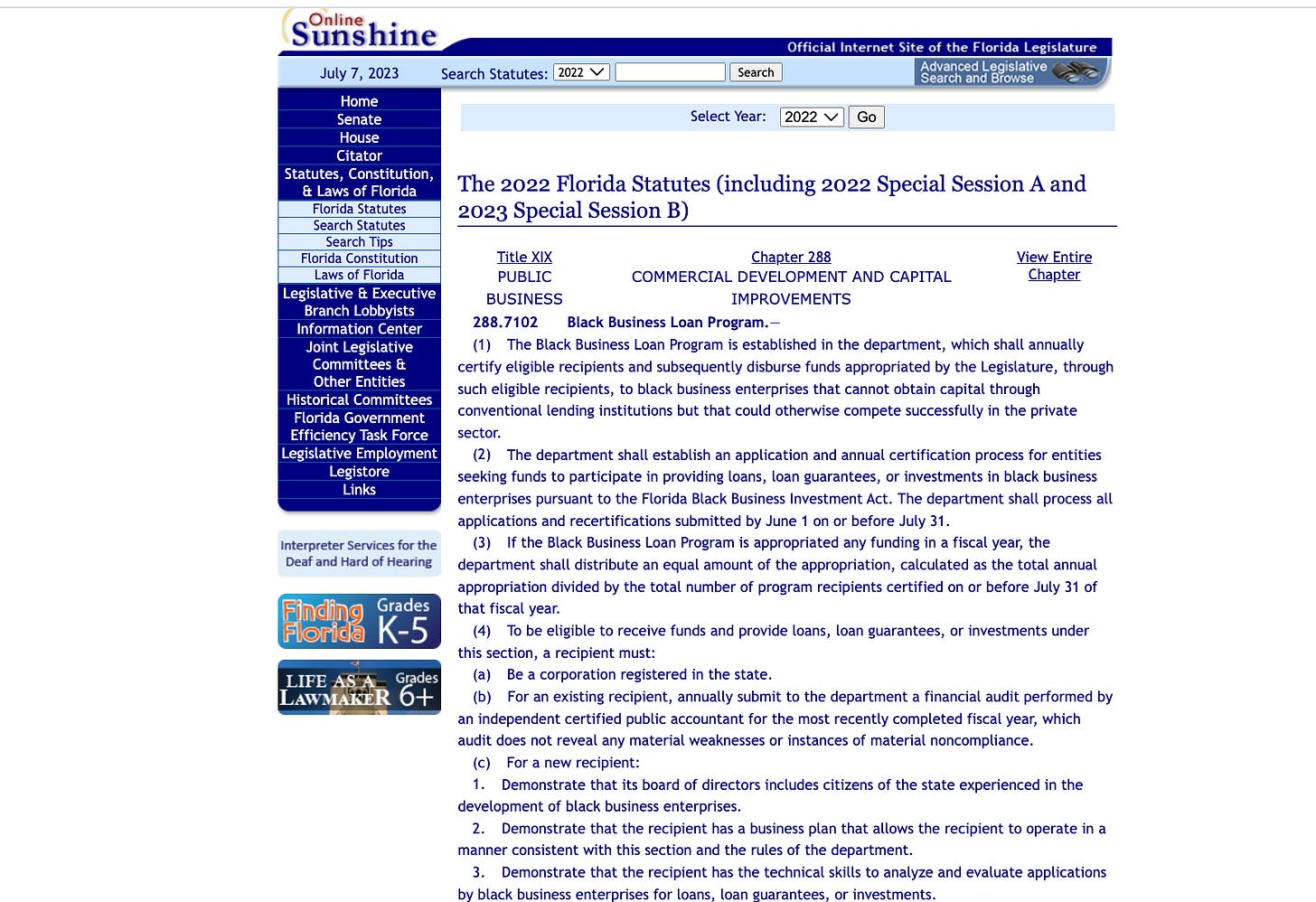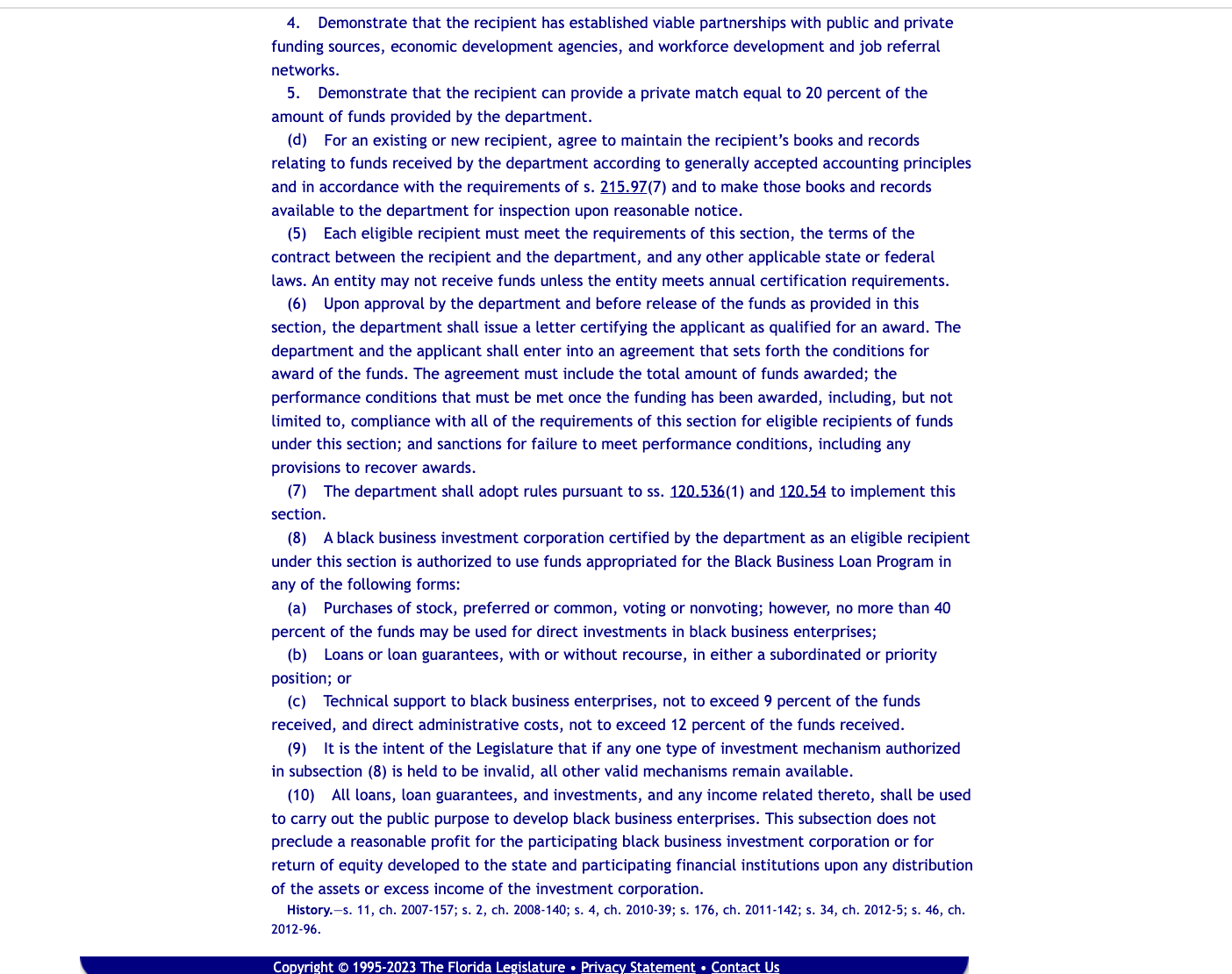 The program is well hidden in Florida, and is shrouded in secrecy. Control of the state funded program was transferred to a new state agency in 2011, however tens of millions of dollars of pre 2007 loans are shielded from the view of state examiners. It is impossible to know how much, if any, funds were misappropriated during this time.
Throughout his time as Governor, Ron DeSantis has repeatedly proclaimed on the 2024 Presidential campaign trail that Florida is where "woke goes to die", and he is often touting his anti- CRT and anti-DEI talking points. DeSantis has also stated that if elected President, he would eliminate the Department of Commerce among other agencies. These words and his bloviation regarding his self proclaimed anti-WOKE policy proposals are a glaring contrast to the $2.25 million dollar budget he recently signed for the Florida Black Business Loan Program for Florida's 2023-2024 Fiscal Year.
According to the Florida Legislature's website, under Chapter 288.710, "Black Business Loan Program",
"The Black Business Loan Program is established in the department, which shall annually certify eligible recipients and subsequently disburse funds appropriated by the Legislature, through such eligible recipients, to black business enterprises that cannot obtain capital through conventional lending institutions but that could otherwise compete successfully in the private sector."
Despite signing off on a budget that includes funding for Florida's woke Black Business Loan Program, Ron DeSantis recently called critical race theory "pernicious" ideology. He also went as far as to sign legislation that bars the notion that discrimination is acceptable to achieve diversity in both businesses and schools. While DeSantis openly and publicly claims that he opposes critical race theory in the private sector, and has expressed his support for teachers to be able to sue their private employers for teaching critical race theory, it appears that his own state government under his administration as Governor is funding the very thing he claims to stand against.
Although Ron DeSantis has publicly committed to eliminating Diversity, Equity and Inclusion programs in education, he has remained silent around DEI programs involving finance in Florida. DeSantis routinely talks about merit on the campaign trail regarding education, but the continued funding of Florida's Black Business Loan program proves that he doesn't have the same regard for merit when it comes to entrepreneurship and business ownership.
While the Black Business Loan program was not created under the DeSantis administration, it has certainly expanded under DeSantis. A 2022 grant from The Truist Foundation injected $200 million dollars into the program. Oddly, Truist minority owner Blackrock is also a minority owner of Walt Disney, another "woke company" that Ron DeSantis has publicly gone to war with in his effort to nationalize his culture warrior and anti-Woke facade on the campaign trail.
In another act of hypocrisy, Ron DeSantis has publicly expressed outrage against Blackrock over its stance on ESG and D.E.I. However, the existence of this little known state operated and taxpayer funded organization appears to be another instance of the DeSantis administration and the DeSantis for President campaign having very different public and private faces.
Subscribed
The loan program, which is administered through Florida's Department of Economic Opportunity also appears to be full of inefficiencies as well, as there are only two financial institutions in the state currently able to administer the program, including The Florida A&M University Credit Union and the Miami Bayside Foundation.
Although roughly 20% of the program's annual budget is spent on marketing, it is widely unknown outside of South Florida. And while Ron DeSantis recently signed legislation that bans any college or University in Florida from spending its cash on programs related to DEI, he obviously doesn't hold his state's Government to the same standard.
This is just another example of Ron DeSantis and his Administration flip flopping on publicly stated policy positions, so long as millions of dollars are involved…
Or is this even more sinister than standard political hypocrisy and double speak?
Florida voters and taxpayers would like to know, what, if anything, does Governor DeSantis *actually* believe in?
If you enjoyed this article, please SUBSCRIBE to LOOMER UNLEASHED, where I will continue to piss off the elitist political establishment by speaking the TRUTH. It is free to sign up, but paid subscriptions of $7 per month or $70 per year help keep this publication and my investigative journalism alive. So please, consider joining for a nominal fee! Thank you for your support! I truly appreciate it.
Already subscribed and want to support Loomer Unleahsed further, while getting more eyes on this important information? You can gift a subscription to a friend, or simply donate free subscriptions, which are given to subscribers who cannot afford to make a paid subscription.
Latest posts by Laura Loomer
(see all)
---
You may also like