Elijah Schaffer, host of Slightly Offensive posted a tweet Monday afternoon that revealed the anti-right wing bias of PayPal. Screenshots from an internal PayPal meeting held on Zoom showed one screen that posted examples of accounts that the payment processing company have deemed as "hateful" or "offensive activity".
Schaffer's tweet reads, "EXPOSED: anti-right wing bias at PayPal Leaked images from an internal Zoom meeting at the company Show how "extreme" right wing groups/individuals are banned while similar left wing groups are not This is a payment processing site that cares about your views on immigration"
"Note: disagreeing with the militancy of far left LGBTQ political activist groups is also considered extreme Companies will not do business with you if you oppose this community," Schaffer added in a subsequent tweet.
One specific screenshot showed a shot from the internal PayPal Zoom meeting that featured a table of group or individual accounts listed along with their alleged "hate/offensive activity". The screenshot also shows what appears to be examples they have based their decisions on including a June 2nd article from Daily Mail about Matthew Rupert, and examples of tweets from both Katie Hopkins and Irish journalist Gemma O'Doherty:
"Proud Boys: Western chauvinism, white nationalism, racist actions, violence towards those who disagree, organized and raised money
Matthew Rupert: Agitator who advocated for extreme violence, posted videos supporting throwing bombs at the police, handed out explosives at public events
Stefan Molyneux: "Philosophy" YouTube/social media channels, white nationalist, touts eugenics
Katie Hopkins: TV/social media "personality" focused on anti-immigration, anti-Islam and far right ideals, crass expression of hate
Gemma O'Doherty: Irish journalist, anti-immigration, anti-LGBTQ"
The very bottom of the screenshots show the PayPal logo along "with © 2020 PayPal Inc. Confidential and proprietary".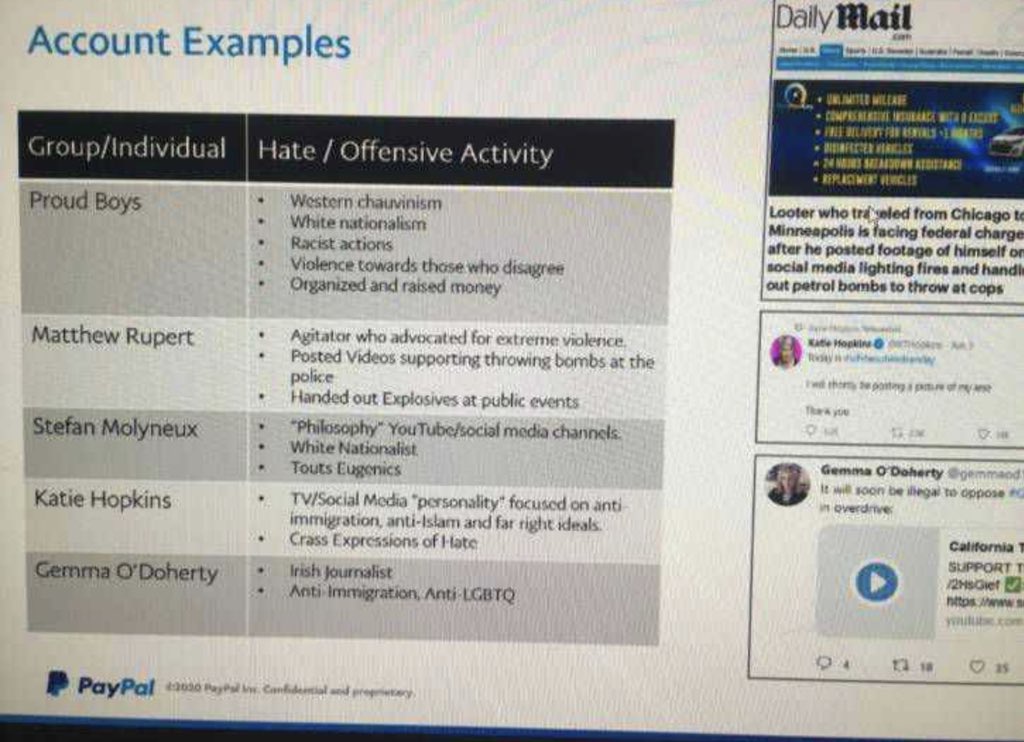 It's important to note that Katie Hopkins was banned permanently from Twitter on June 19th, followed by Stefan Molyneux losing hundreds of hours of content (14 years worth) just ten days later when YouTube deleted his entire channel on June 29th. Molyneux responded by posting the following video on Twitter:
The second screenshot is of a different screen that appears to be from the notes that were being delivered during the meeting. The second screenshot reads: "What the Program Prevents?," with the subheading, "The foundation of our program is built on PayPal's guiding values of inclusion and diversity".
A new table is introduced titled, "Our current scope includes:" along with the following terms, "Advocacy of Violence, Violent Group Affiliation, Dehumanizing Language, False Claims (Crime, Violence), Holocaust Denial, Hate Event Involvement, White Advocacy/Nationalism, Intolerant Religious Content, Prejudiced News/Commentary, Anti-Immigration"
On the PayPal website under User Agreement they state, "PayPal, in its sole discretion, reserves the right to suspend or terminate this user agreement, access to or use of its websites, software, systems (including any networks and servers used to provide any of the PayPal services) operated by us or on our behalf or some or all of the PayPal services for any reason and at any time upon notice to you and, upon termination of this user agreement, the payment to you of any unrestricted funds held in your PayPal account."
In other words, they can suspend your account for any reason, at any time, as well as hold all funds that remain in your account at the time of suspension or termination. The full PayPal "Acceptable Use Policy" can be found here.
The story first broke on July 4th by National Justice's Eric Striker who wrote, "According to another slide, this work is deferred to the Jewish organization the Anti-Defamation League, a group funded by the Democracy Alliance called Color of Change, the FBI's Civil Rights Division, Scotland Yard and others. Government and non-governmental organizations are both presented as "external partners" helping make decisions on what political views and personalities are allowed."
Striker continues, "According to another training slide, 1800 accounts belonging to individuals, non-profits and businesses in the last year have been eliminated for political reasons using guidelines provided by their "partners." 65% were for what they categorize as white nationalist activity, while the next most censored group is people and organizations who advocate for immigration restrictions. A person cannot support Donald Trump's winning issue from his 2016 campaign and still keep their Paypal, in other words. There is even a category for "prejudiced academic work."
In February of last year, Conservative journalist Laura Loomer, who is now running for Congress in Florida's 21st District was permanently banned from using PayPal. Loomer had already been banned from Venmo, Lyft, Uber, and GoFundMe at the time. In a post on Instagram Loomer wrote, "I have nothing to lose anymore, so trust me when I say I will stop at nothing to make sure justice is served for the way Silicon Valley has disenfranchised me, falsely accusing me of being a white supremacist, a Nazi, anti-Muslim, a racist, a bigot, and every other smear in the book." Loomer has since been banned from Instagram, and had already been banned from Twitter in November, 2018.
Prior to PayPal's banning of Loomer, Gavin McInnes and Tommy Robinson had both been banned from the platform in November 2018. Conservative journalist and former Breitbart editor Milo Yiannopoulos had been banned even earlier from PayPal and PayPal-owned Venmo, in June 2018.
Big Tech will stop at nothing to snuff out Conservative voices, and with the 2020 presidential election on the horizon, you can count on more being added to this growing list – for even more vague reasons, with no notice and little to no explanation.