Judge Amy Totenberg, Senior Judge of the US District Court for the Northern District of Georgia, has issued a decision regarding the security of voting machines used in the 2020 election. Judge Totenberg found "sufficient evidence" of "cybersecurity deficiencies that unconstitutionally burden Plaintiffs' First and Fourteenth Amendment rights and capacity to case effective votes that are accurately counted." The plaintiff in the case is Donna Curling, and the defendant is Georgia Secretary of State Brad Raffensperger.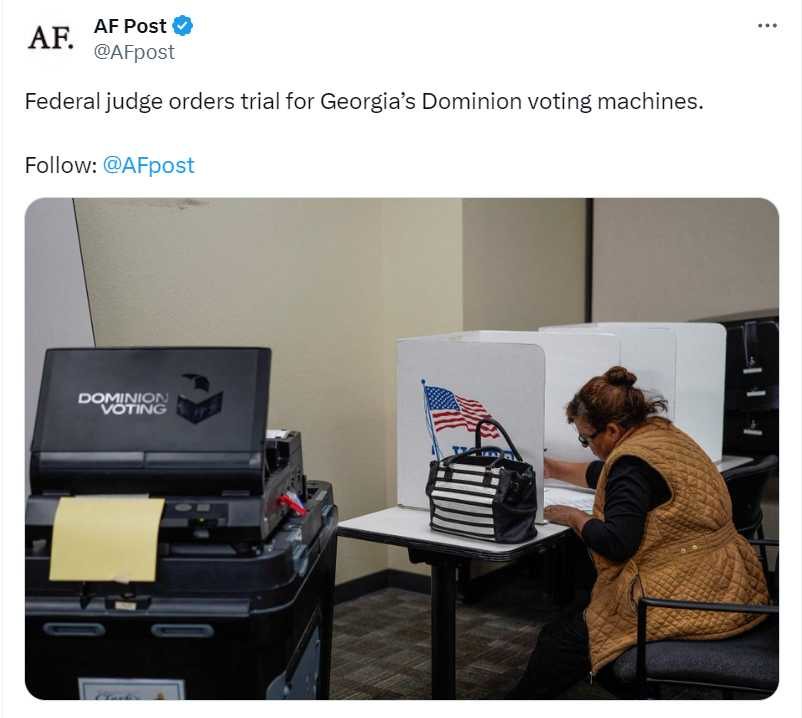 Georgia infamously used voting machines sold by Dominion Voting Systems in the 2020 election. Donald Trump won Georgia in the 2016 election by a decisive margin of 5.13 percent over Hillary Clinton. Despite choosing a Republican president in 2016 and a Republican governor in 2018, Joe Biden supposedly won Georgia in the 2020 election by a razor-thin margin of 0.23 percent and 11,779 votes, according to the official numbers. The media and the Democrat Party shouted down claims of fraud as conspiracy theories.
In a stunning defense of Americans who question the integrity of the 2020 election, Judge Totenberg wrote in a footnote that "the record evidence does not suggest that the Plaintiffs are conspiracy theorists of any variety. Indeed, some of the nation's leading cybersecurity experts and computer scientists have provided testimony and affidavits on behalf of Plaintiffs' case in the long course of this litigation."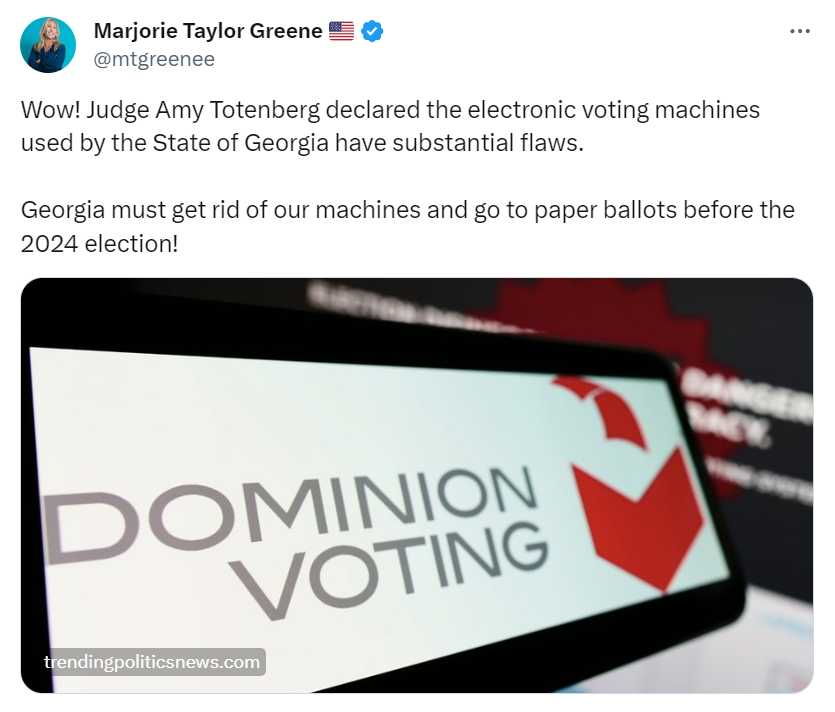 The court recognizes several objections to the security of the voting machines used in Georgia in the 2020 election, like the lack of a paper trail making them impossible to audit, an outdated operating system that didn't support security patches, and vulnerabilities in Georgia's voter registration database. The court announced it will "resolve these material factual disputes and related legal issues based on the evidence presented at a bench trial to begin on January 9, 2024." Claims of fraud in the 2020 election will finally have their day in court rather than get shot down by partisan judges before they make it to trial.
Hopefully, other swing states with suspicious results in the 2020 election, like Arizona, Wisconsin, Michigan, and Pennsylvania, will follow a similar path as Georgia. If cases like these can be concluded before the 2024 election, it could shape the country's future.
Latest posts by Laura Loomer
(see all)