Newly elected Speaker of the House Mike Johnson is already showing signs of what to expect from his tenure as House Speaker. While styling himself as a MAGA Republican, Johnson has appointed Dan Ziegler as his policy director.
Federal Election Commission (FEC) records show that Ziegler made a $1,000 donation to Ron DeSantis for President in June 2023. There's no public record of Ziegler donating to President Trump's 2024 campaign. This assignment by Mike Johnson, plus his glowing accolades for Kevin McCarthy, cast doubt on Johnson's status as an America First, MAGA Republican.
This is not the first time the two GOP operatives are working together. Ziegler was the executive director of the Republican Study Committee, while Johnson was its chair from 2019 to 2021. Since his time with the RSC ended, Ziegler has been busy as a lobbyist for Williams and Jensen with a long list of nefarious clients.
Politico reports that Ziegler lobbied for many Big Pharma corporations, including Pfizer, Merk, Snofi, Owens & Minor, Eli Lilly, Novo Nordisk, PhRMA, Amgen, and Elevance Health. Ziegler isn't just in bed with Big Pharma. He also lobbied for financial giants Visa and Vanguard Group.
Ziegler is also an alum of Heritage Action for America, a lobbying group linked to the nominally conservative Heritage Foundation. Former Heritage Action leader Michael Needham called Donald Trump a "clown" in 2015, former Heritage Foundation adjunct scholar Dov Zakheim endorsed Joe Biden in 2020, and Heritage made Vice President Mike Pence a distinguished visiting fellow from 2021 to 2022.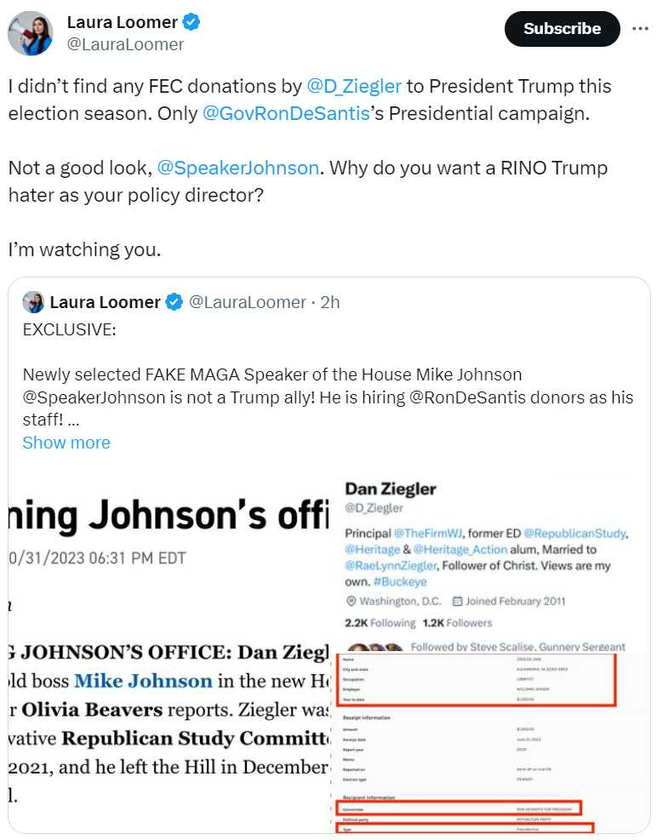 Robert Weissman, president of the consumer advocacy group Public Citizen, issued a scathing statement on Ziegler's new position. "It turns out that one of the biggest winners from the House Republican meltdown is Big Pharma," Weissman said. "This appointment puts to lie Speaker Johnson's claim that he is a big believer in 'free markets.' He has just placed in charge of his policy shop a lobbyist for an industry whose business model is based on abusing monopoly power…Ziegler's resume disqualifies him for the job. Speaker Johnson immediately should reverse this hire and find a policy director free of Big Pharma or corporate conflicts."
American patriots who were hopeful about Mike Johnson being a better Republican leader than Kevin McCarthy should be cautious. The appointment of DeSantis donor and Big Pharma stooge Dan Ziegler to policy director indicates a possible resurgence of the never-Trump movement in the GOP.
Donate to support Laura Loomer's investigative journalism here:
https://secure.loomered.com/general-funds?sc=website
Latest posts by Laura Loomer
(see all)