Florida Governor and floundering presidential candidate Ron DeSantis joined Morning Joe on MSNBC to bash President Donald Trump. The Florida Republican ranted to Joe Scarborough and his third wife, Mika Brzezinski, whom Trump has called "Psycho Joe" and "low I.Q. Crazy Mika," calling Trump's pro-life record into question.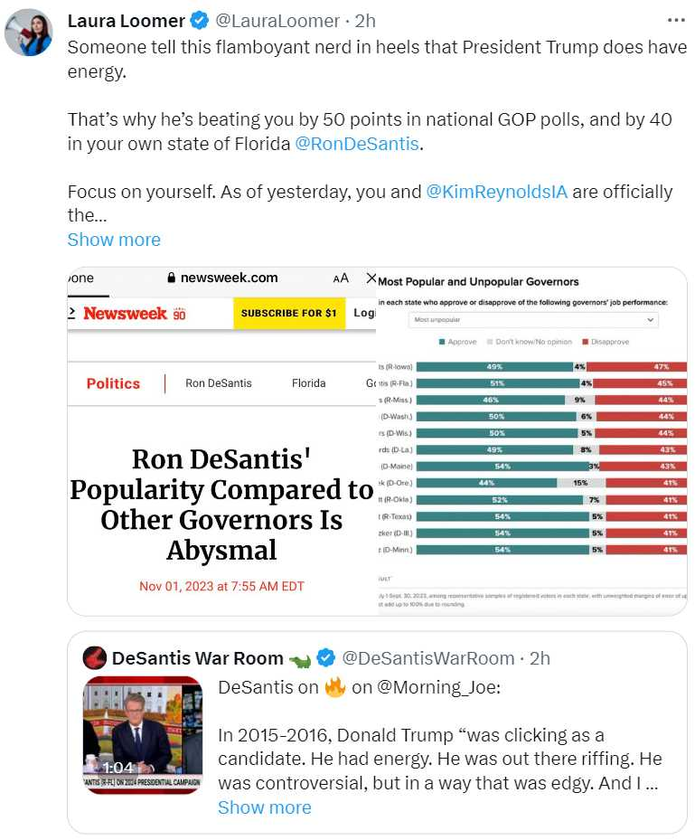 "Clearly, it's a stark difference from his speech at the March for Life when he was president," DeSantis said, referencing Trump's historic speech at the 2020 March for Life. It was the first time a sitting president attended the pro-life march that began in 1974. "[Trump] said that he was one of us in terms of being a pro-life president. Now he's saying protections when there is a detectable heartbeat for an unborn child is somehow a terrible thing," DeSantis said. "That is not what Iowa Republicans believe," he continued, blatantly pandering to the crucial first stop in the presidential primaries.
DeSantis is saying that Donald Trump's position on abortion "is a flip on where he had been previously." He was referencing Trump's comments in September saying a six-week abortion ban signed by DeSantis was "a terrible mistake." Pro-lifers criticized the comment, but when Trump is in campaign mode, everything his opponents do is a "terrible mistake." Trump has consistently said that abortion should be a 10th Amendment issue left up to the states.
President Trump's actions speak louder than words when it comes to abortion. Former Planned Parenthood Director Abby Johnson, one of the most prominent figures in the pro-life movement, campaigned for Trump and spoke at the 2020 RNC, saying President Trump "has done more for the unborn than any other president." Johnson went on to highlight Trump's impressive pro-life record in which he banned federal funds for global health groups that promote abortion, overturned an Obama/Biden rule that allowed government subsidy of abortion, and appointed a record number of pro-life federal judges, including the ones on SCOTUS who overturned Roe v. Wade in 2022.
After bashing Trump's impeccable record as a pro-life president, DeSantis called his opponent, who is leading him in the polls by around 46 points, low-energy. "You go back to 2015, 2016, the Trump of that time. He was clickin' as a candidate. I mean, he had energy; he was out there riffing. He was controversial, but in a way that was edgy," DeSantis said. "This is a different Donald Trump in 2023. I don't think he's got the same energy; I don't think he's got the same pizazz. 2015 and '16 was about America First. I think this campaign is more about Trump first. It's more about his issues. I think we've gotta focus on the American people's issues."
Perhaps DeSantis has some high heels he can recommend to Trump to improve his pizazz.
Donate to support Laura Loomer's investigative journalism here:
https://secure.loomered.com/general-funds?sc=website
Latest posts by Laura Loomer
(see all)