---
NOTE: Please consider upgrading your subscription here for $7 month to help me keep this publication up and running. While everything here is free at the moment, your monthly financial subscription of $7 per month or $70 per year will help ensure that I can keep providing you and others with groundbreaking independent journalism and original political commentary. Your subscription for a nominal fee supports my journalistic efforts, and the expenses associated with my investigations. If you don't want to miss any of my hard-hitting reports and commentary, please subscribe today!
The absentee Governor of Florida has been caught distorting the truth about a Gold Star Mother who says she has never even met Governor DeSantis and is accusing him of lying about her son's death.
A Texas Gold Star mother is blowing the whistle on what she says is a bold face lie about her family, and her son, which was told by Governor Ron DeSantis during the first GOP Presidential debate for the 2024 cycle.
Tracy La Porte is a Gold Star mother in Texas whose son, Sergeant Adam "2Step" Huckstep- La Porte tragically passed away at the young age of 23 years old on February 1, 2012, in Georgia after his motorcycle was struck by an oncoming driver who was illegally driving a rented vehicle with a suspended license.
Tracy La Porte says that during the first US Presidential debate in Milwaukee, Wisconsin on August 23, 2023, she believes Ron DeSantis used her name without her permission to score political points with Angel Moms when asked about his border policy, and in the process, she says DeSantis butchered the facts surrounding the tragic loss of her son, and lied about her son by falsely claiming her son died from taking fentanyl, which caused Tracy and her family an avalanche of pain and emotional trauma directly following the debate.
During the debate, which was hosted by Fox News, Fox News host and debate moderator Martha MacCallum asked GOP Presidential candidate Ron DeSantis the following question:
"So, as president, would you support sending US Special Forces over the border into Mexico to take out Fentanyl labs, to take out drug cartel operations? Would you support that kind of American military use."
DeSantis responded to the question by saying:
"Yes, and I will do it on day one. Here's the thing. The cartels are killing tens of thousands of our fellow citizens. You want to talk about a country in decline? You have the cartels controlling a lot of parts of your Southern border.

We have to reestablish the rule of law, and we have to defend our people. The President of the United States has got to use all available powers as Commander in Chief to protect our country and to protect the people.

So, when they're coming across, yes, we're going to use lethal force. Yes, we reserve the right to operate. How many more tens of thousands are we going to let to die? I am sick. I have met Angel Moms throughout this country.

I met a lady in Texas named Tracy. And her son took one Percocet that was laced with fentanyl, and he immediately died. That is happening all across this country because of the poison that they are bringing in. So, as President, would I use force? Would I treat them as foreign terrorist organizations? You're darn right I would."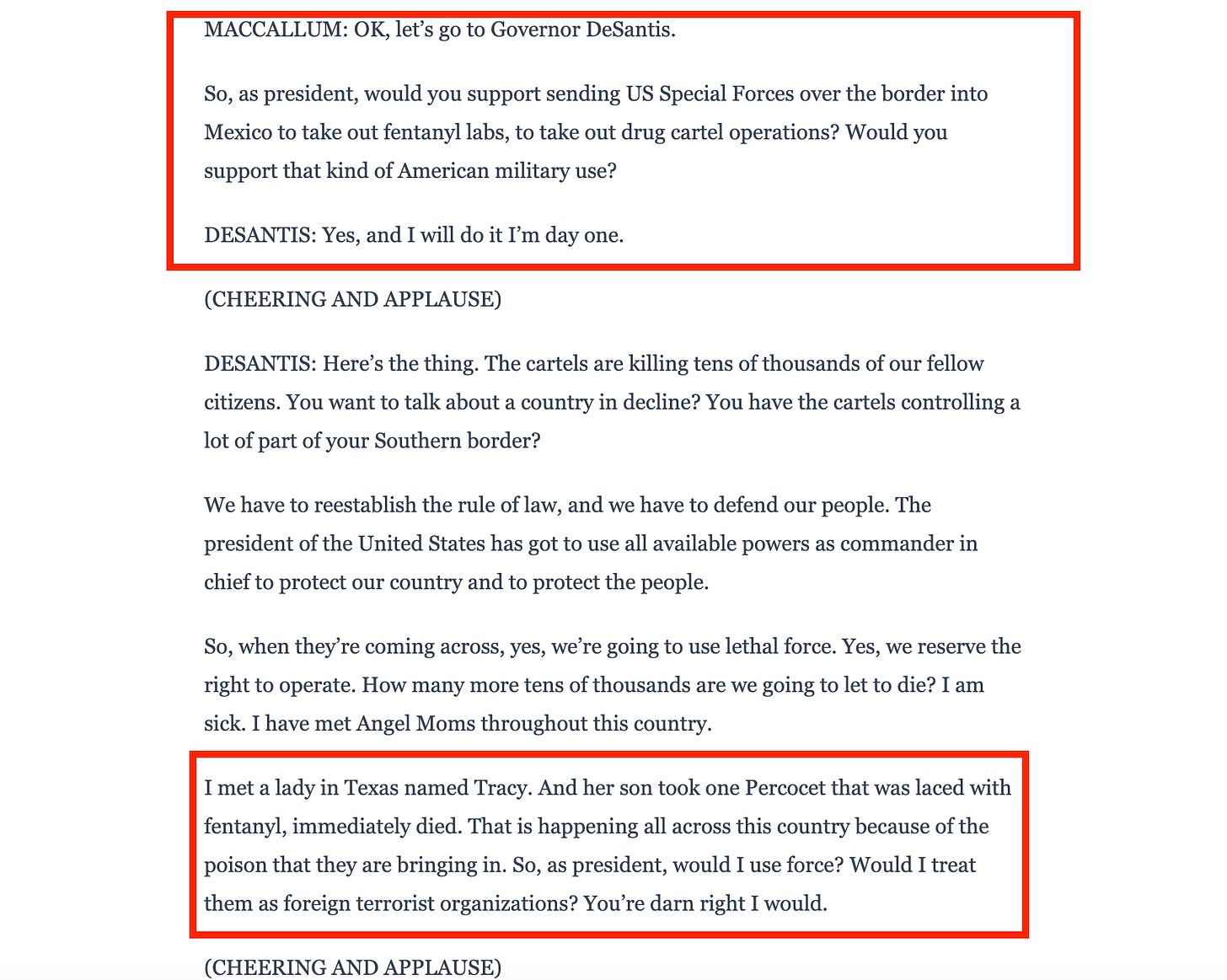 Tracy exclusively told me that although she was not watching the GOP debate live when DeSantis invoked her name on the debate stage, she immediately received a barrage of phone calls and text messages from Texas lawmakers and fellow Gold Star moms and Angel Moms in Texas, asking her why DeSantis was claiming her son died from a Fentanyl overdose, when he was actually killed on active duty within hours of his second deployment to Afghanistan.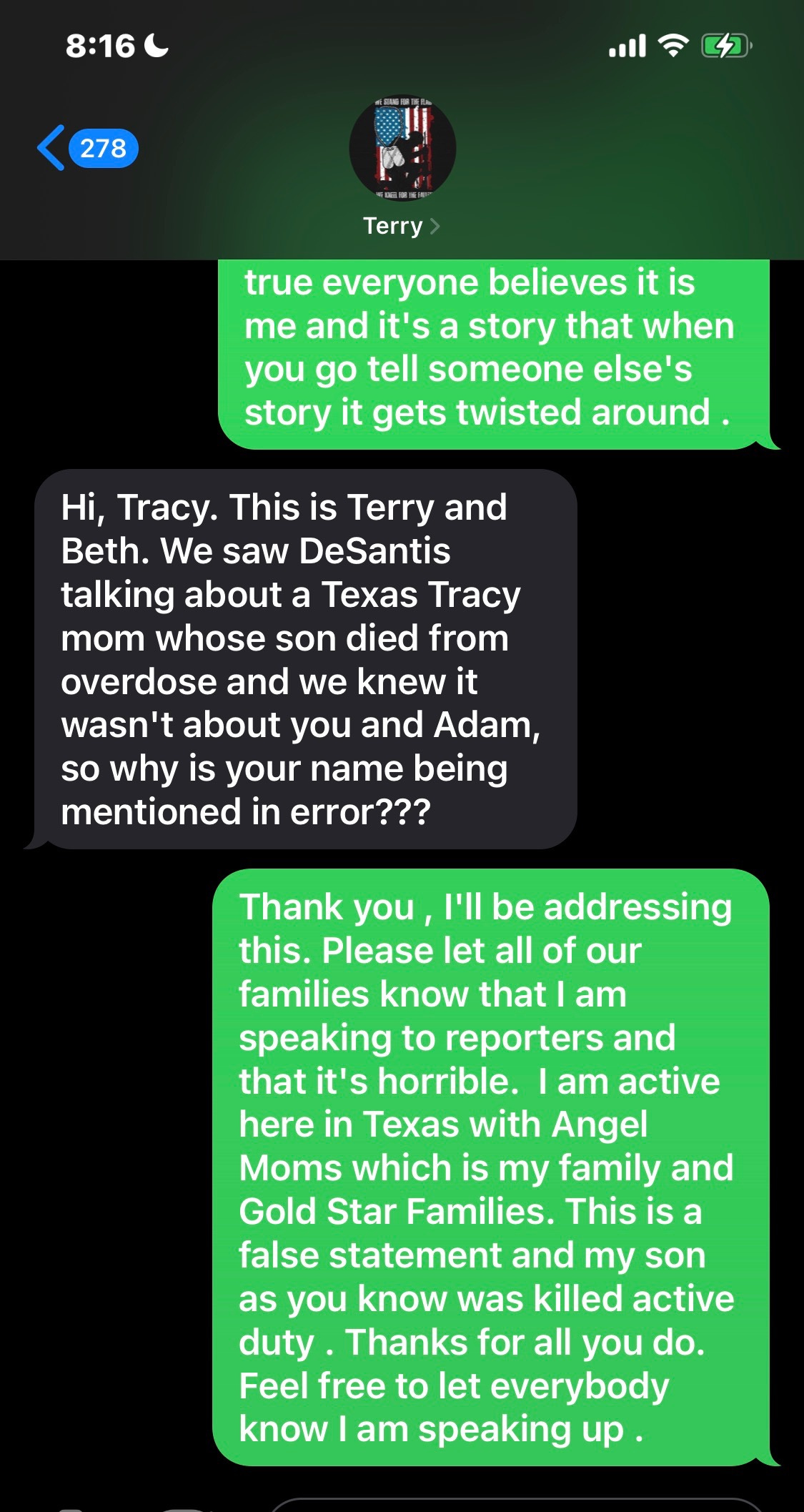 At the time of his death, Adam was stationed at Fort Stewart, Georgia, and he was assigned to Bravo Company, 1st Battalion, 64th Armor Regiment, 3rd Infantry Division. Adam was buried at the Dallas-Fort Worth National Veterans Cemetery. In the days before he tragically passed away, Adam was preparing to leave for Afghanistan in support of Operation Enduring Freedom as an infantryman/gunner.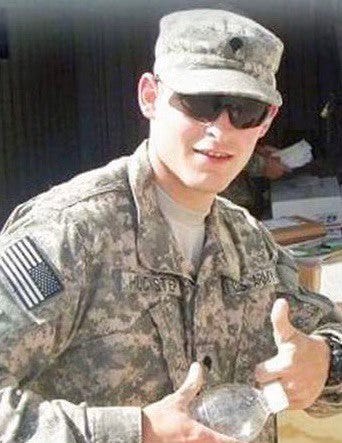 It should be noted that Sgt Huckstep- La Porte was awarded the Army Good Conduct Medal, two Army Achievement Medals, the Army Commendation Medal, the National Defense Service Medal, the Iraqi Campaign Medal, the Global War on Terrorism Service Medal, the Army Service Ribbon, the Army Overseas Service Ribbon and The Non-Commissioned Officer Professional Development Ribbon.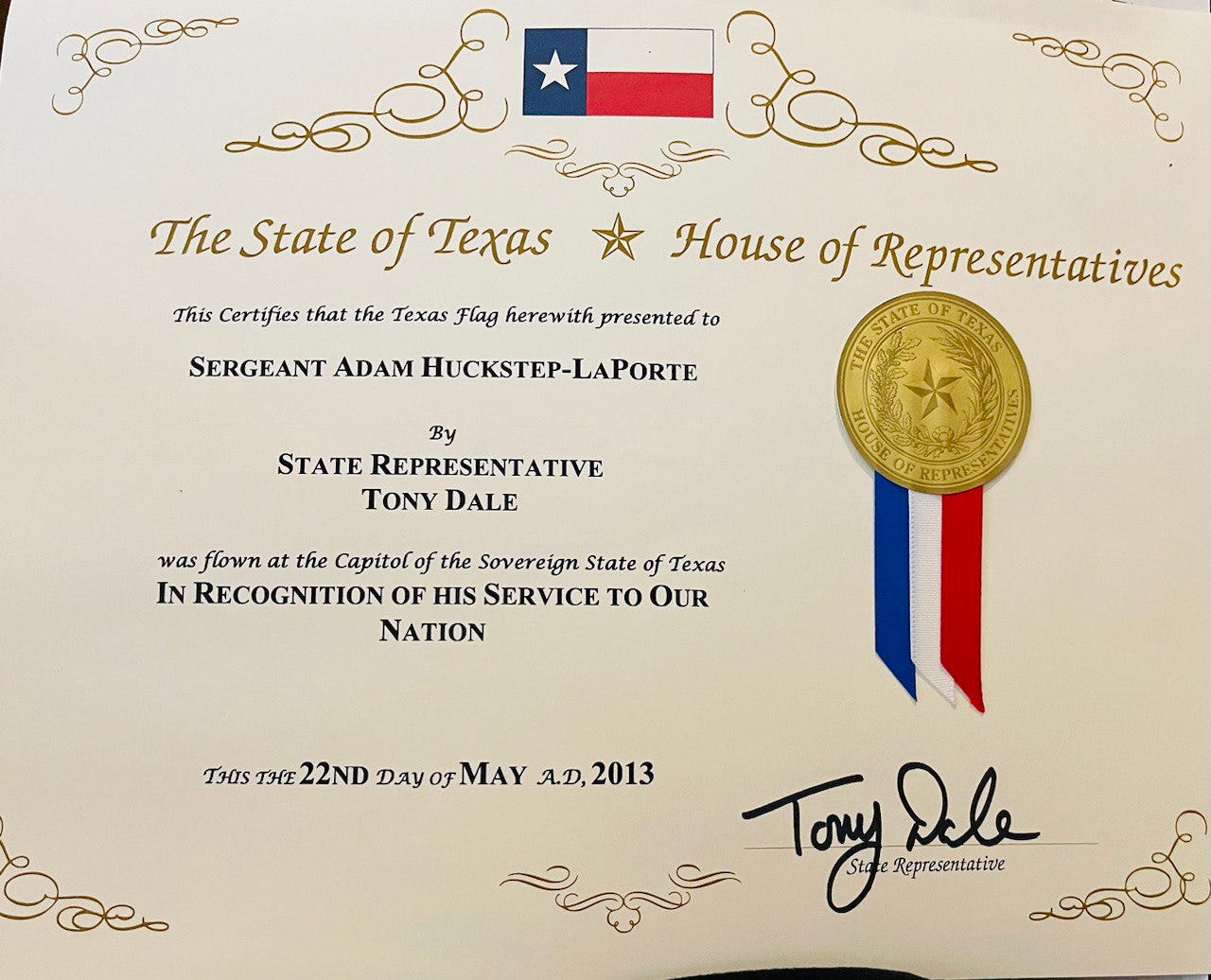 Tracy's son was a dedicated member of the military, and was most definitely not a drug user or a drug addict. However, Tracy explained that because she is so active in the Gold Star mom community, she has also become close with many Angel Moms, even though she herself is not an Angel Mom. She also said that she is very outspoken in the need to close our borders because her cousin did die from a fentanyl overdose after taking one Percocet that was laced with fentanyl. Tracy said that throughout her legislative efforts, she often times referenced that she has had family members die from taking Fentanyl.
In an effort to court Angel Moms, DeSantis appears to have used and misrepresented a personal story from a Gold Star mother who told me she has never spoken to Ron DeSantis and has never met DeSantis. Not only did DeSantis lie about meeting Tracy, and not only did he lie about the cause of her son's death, but he falsely stated that Tracy is an Angel mom.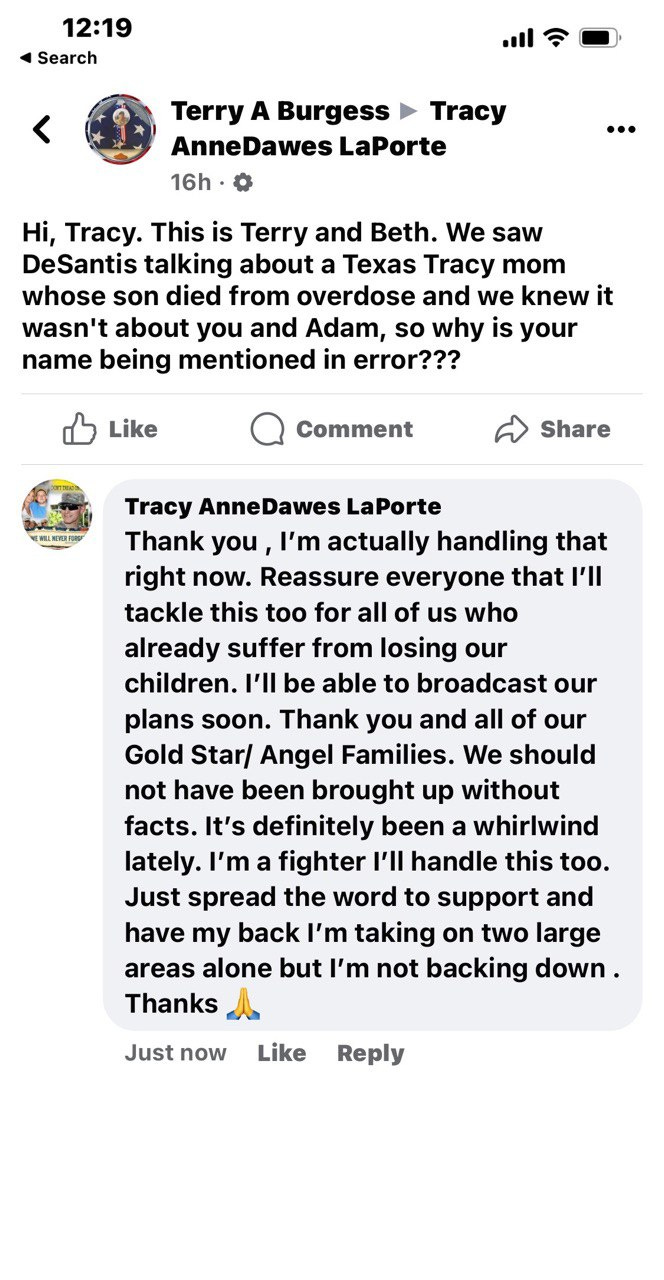 Tracy said the messages she received in the days and weeks after the debate made her sick to her stomach as she was not only forced to relive the death of her 23 year old son, but also the death of her cousin and other family members.
In an exclusive statement, Tracy said,
"It is actually sick that I have already lost a son which created a hole in my heart that can never be repaired. DeSantis's comments ripped open those wounds and I have had to relive trauma that I already relive everyday. It also caused me to have to defend my son, my credibility, and the facts around how my son was killed as I have been using his story to try to create a law called The 2Step Act."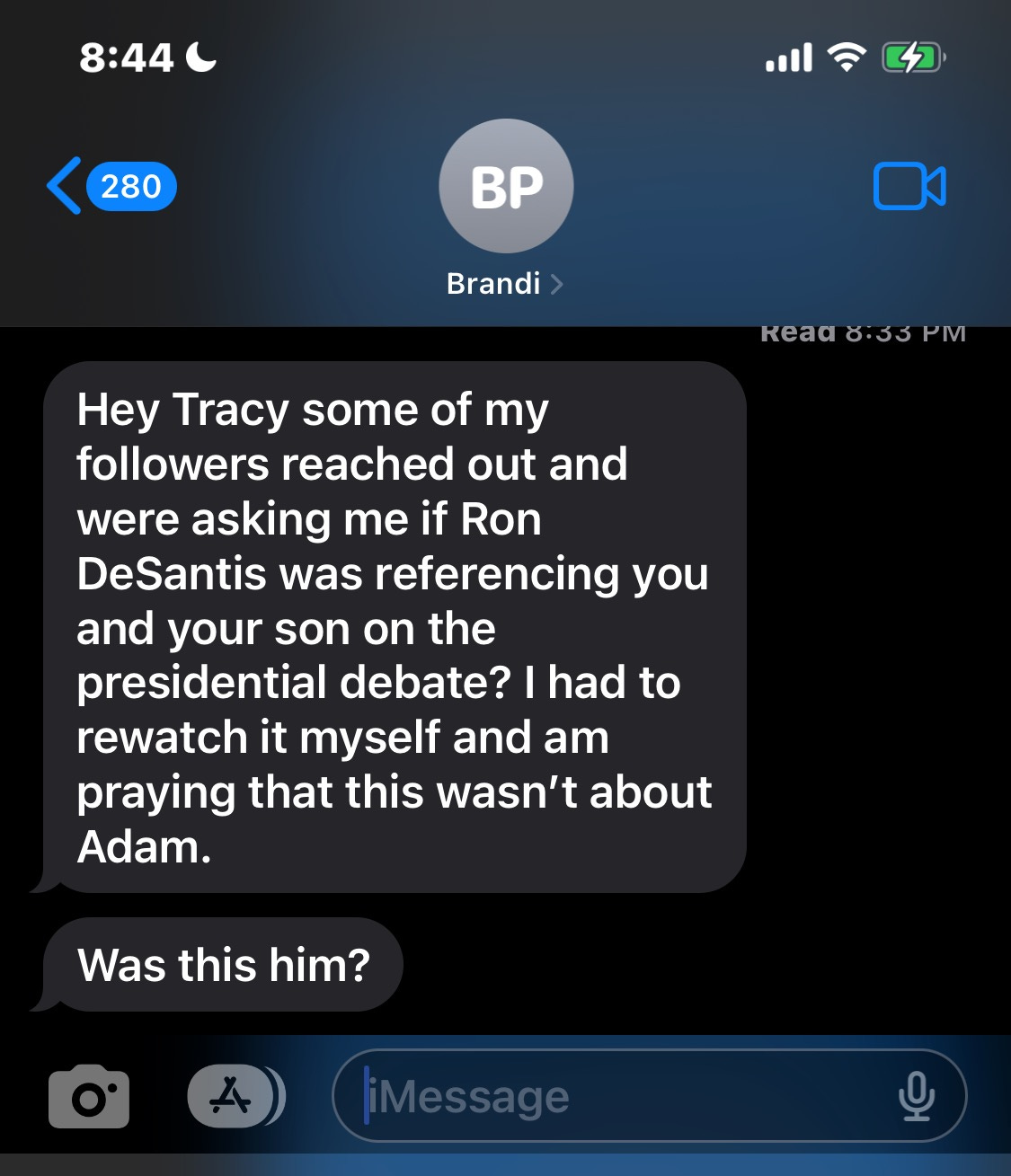 Following her son's tragic death, Tracy was inspired to advocate for policy changes in the state of Texas as a way to prevent other people from dying at the hands of illegal drivers. Tracy drafted what she calls "The 2Step Act" in an effort to get legislation on the books to force rental car agencies to validate driver's licenses before handing over the keys to a car that can be used as a weapon or for illegal transport.
She says many people are unaware of the fact that Rental Car Companies can rent to anyone without a requirement to run driver's licenses to ensure they are valid. She believes that if the renter of the vehicle that slammed into her son's motorcycle and killed him would have been screened at the time of renting the vehicle, her son would still be alive today because the driver of the vehicle was not supposed to be driving. The driver who killed Tracy's son had a physical license, but at the time of the accident, their license was revoked and not valid.
Living in Texas, Tracy says a lot of people are killed by not only illegal drivers, but also by illegal aliens who are not licensed to be driving vehicles. However, because there isn't a national law requiring rental car companies to check whether or not a renter has a valid license, she says many illegal aliens who are crossing into our country via the open, porous US-Mexico border in Texas have been able to rent vehicles, and kill people while driving illegally and also transporting and trafficking humans and fentanyl in cars, illegally.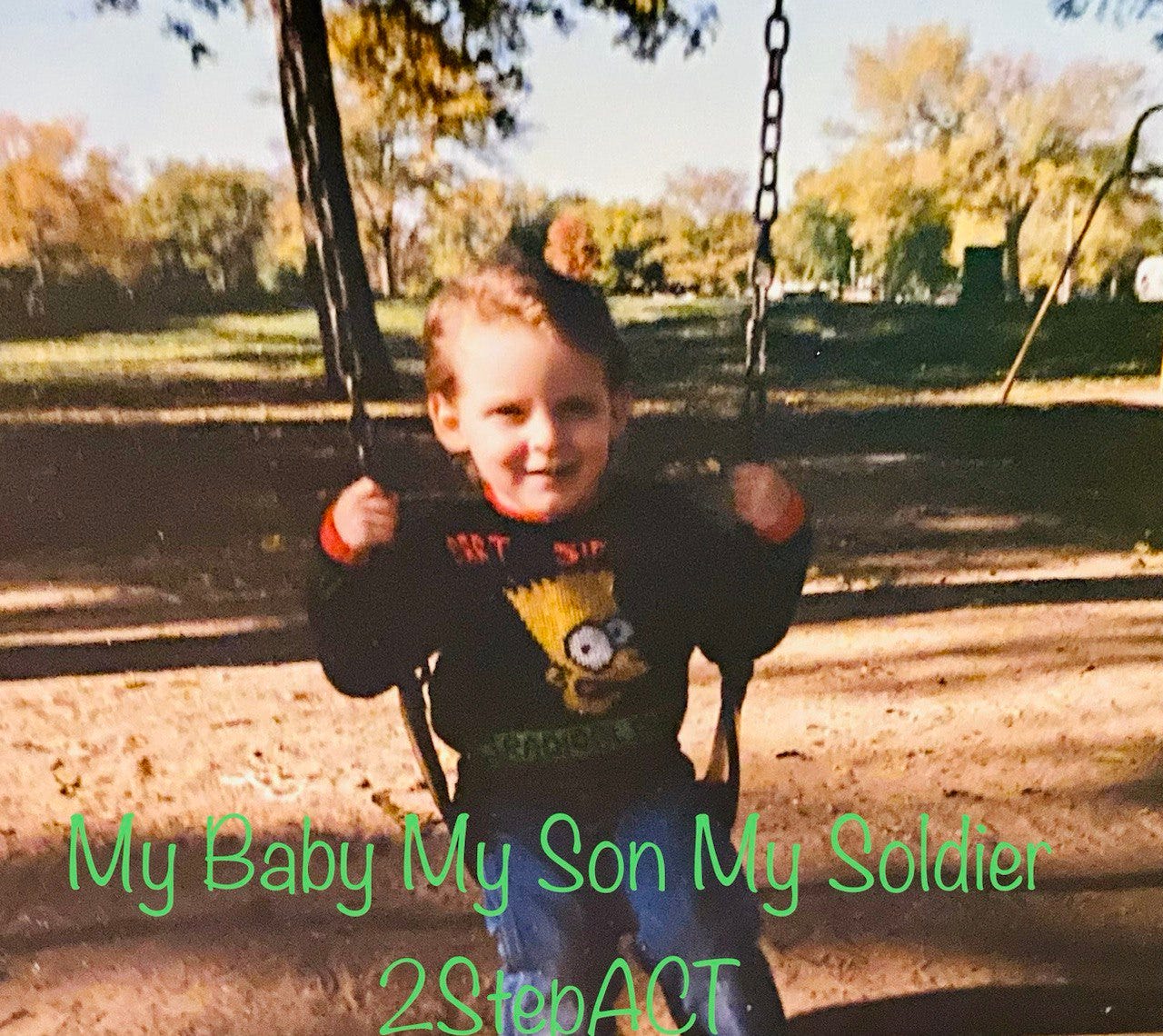 For this reason, Tracy has formed close alliances with Angel Moms. Angel Moms are mothers whose children were killed by illegal aliens. While Tracy herself is not an Angel mom, she is however a Gold Star mother and is a member of an Angel family since her cousin Javier Vega Jr, a US Border Patrol agent, was murdered by two illegal aliens who shot and killed him on August 3, 2014 during a robbery while he was fishing with his wife, children, and parents.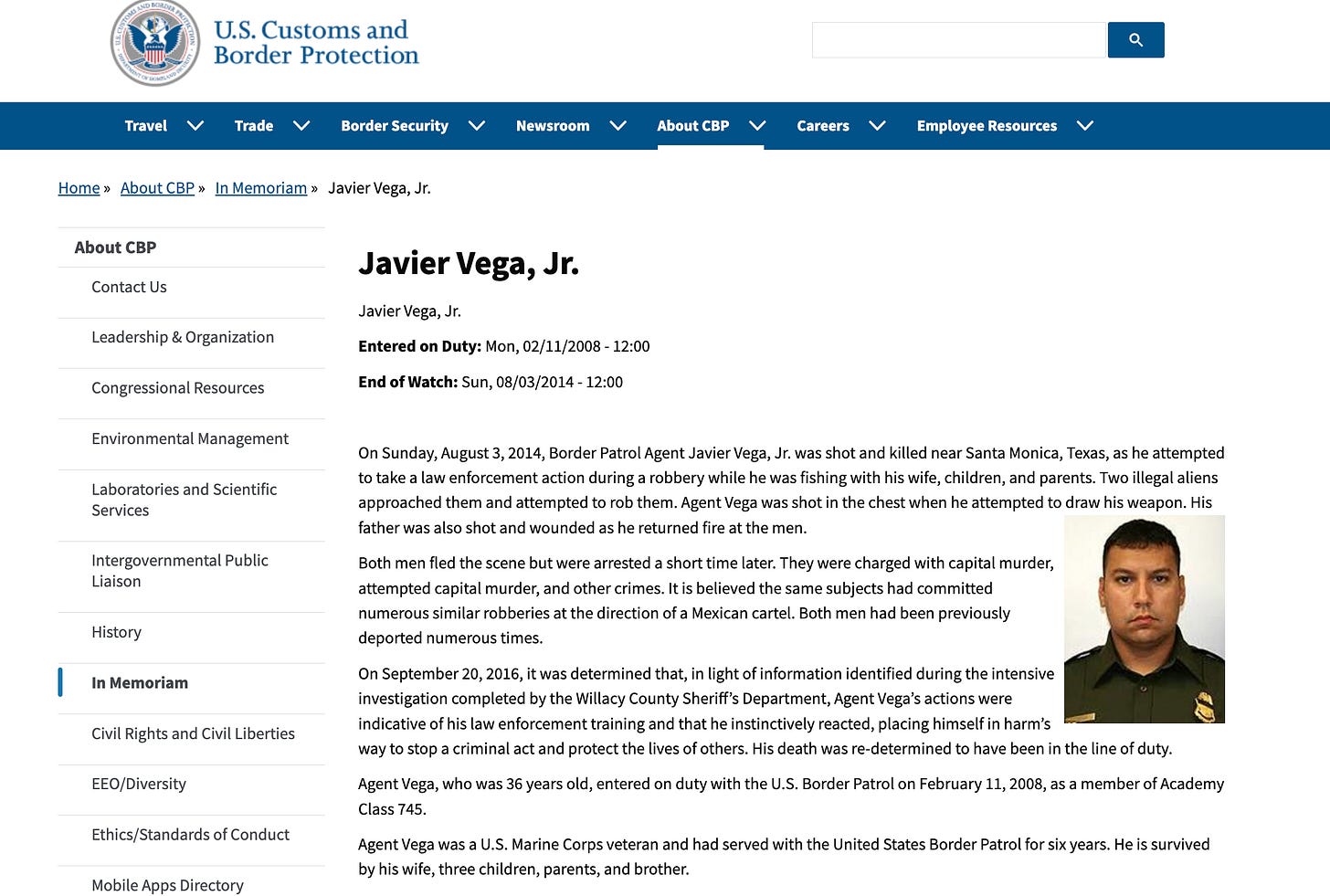 According to one memorial posted in Adam's honor,
"Adam served his country with distinction during the Iraqi Sovereignty campaign in Tikrit and was preparing for his second deployment later this year, this time to Afghanistan."
Along with the horror of her son being falsely branded as a Fentanyl user on stage by a GOP Presidential candidate during a LIVE televised Presidential debate, Tracy said DeSantis's claims were so reckless that they could have damaged her credibility with Texas state legislators and lawmakers in her effort to get "The 2Step Act passed.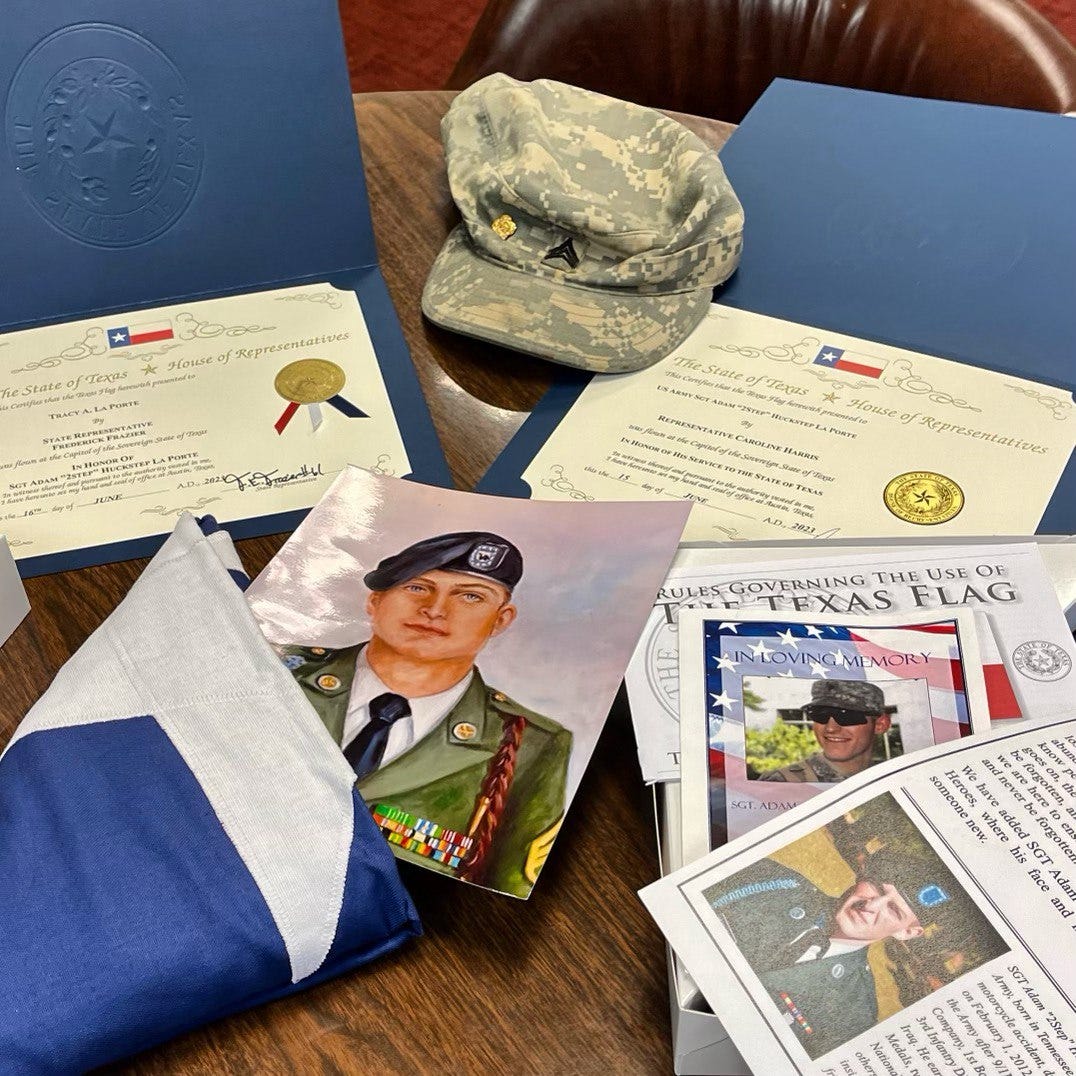 On May 9, 2013, the Texas Senate passed resolution No. 866, in memory of Adam Huckstep- La Porte, in which they recognized his service to the United States and the fact that he died on Active Duty.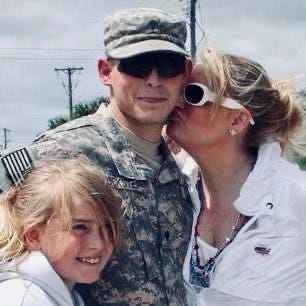 Tracy La Porte, Adams mother, said her son's patriotism made him join the US army in 2008, and is what inspired her to found Military Moms of Texas, an organization committed to supporting American troops serving at home and abroad. She said her son's nickname was "2Step" while growing up in Roundrock, Texas. For this reason, she decides to name her legislation "The 2Step Act".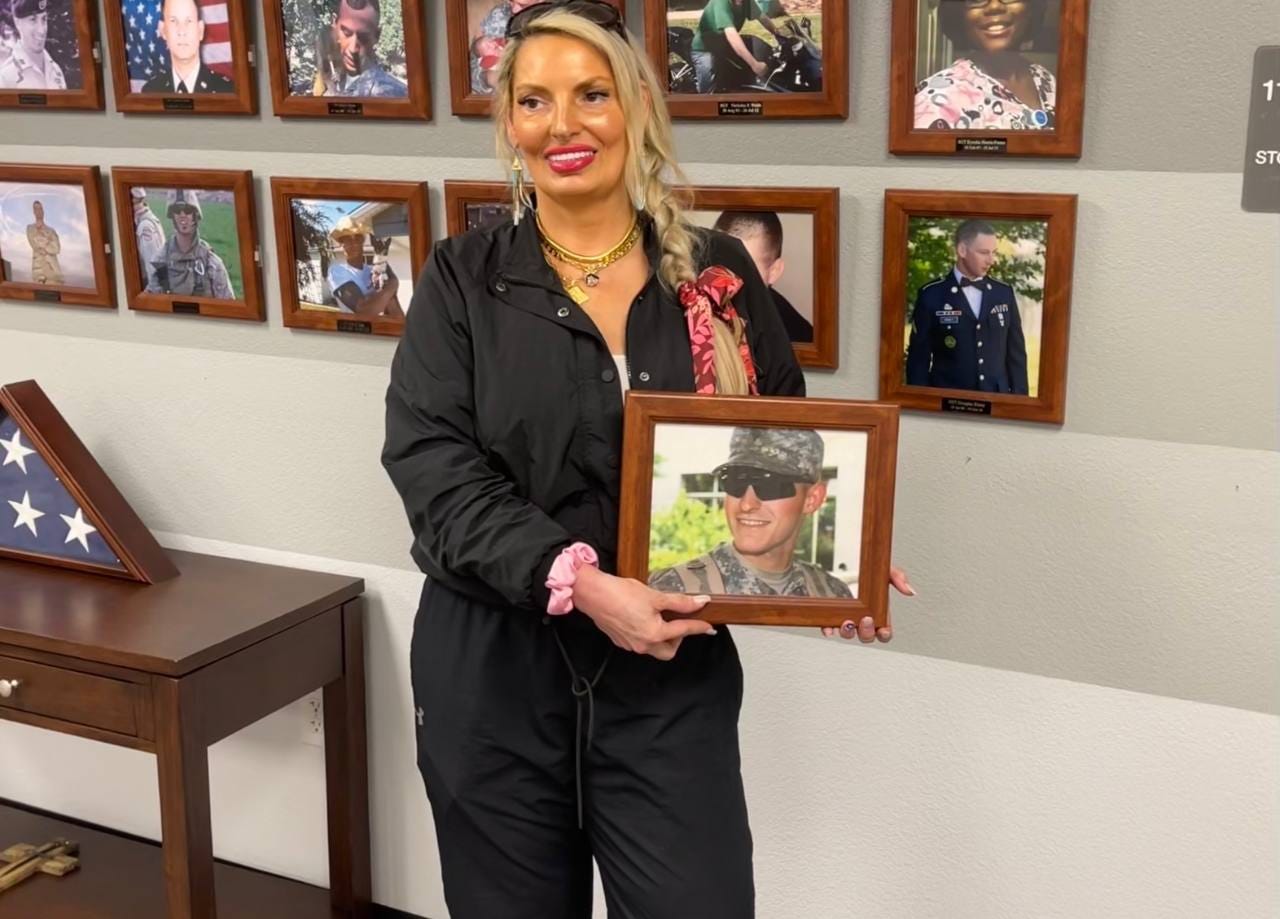 After DeSantis used Tracy's name and created a whirlwind of pain for her family by lying about her son's cause of death and lying about meeting Tracy, numerous media outlets including Breitbart News and Epoch Times ran articles about how Ron DeSantis mentioned Angel Moms during the Presidential debate. However, nobody bothered to fact check Ron's story about "Tracy" from Texas who he said was an Angel Mom. Tracy is not an Angel Mom. She is a Gold Star mom. And yet nobody bothered to investigate DeSantis's dishonest claim that he made in an effort to win over support from Angel Moms across the country and convince Angel Moms to vote for him instead of President Trump.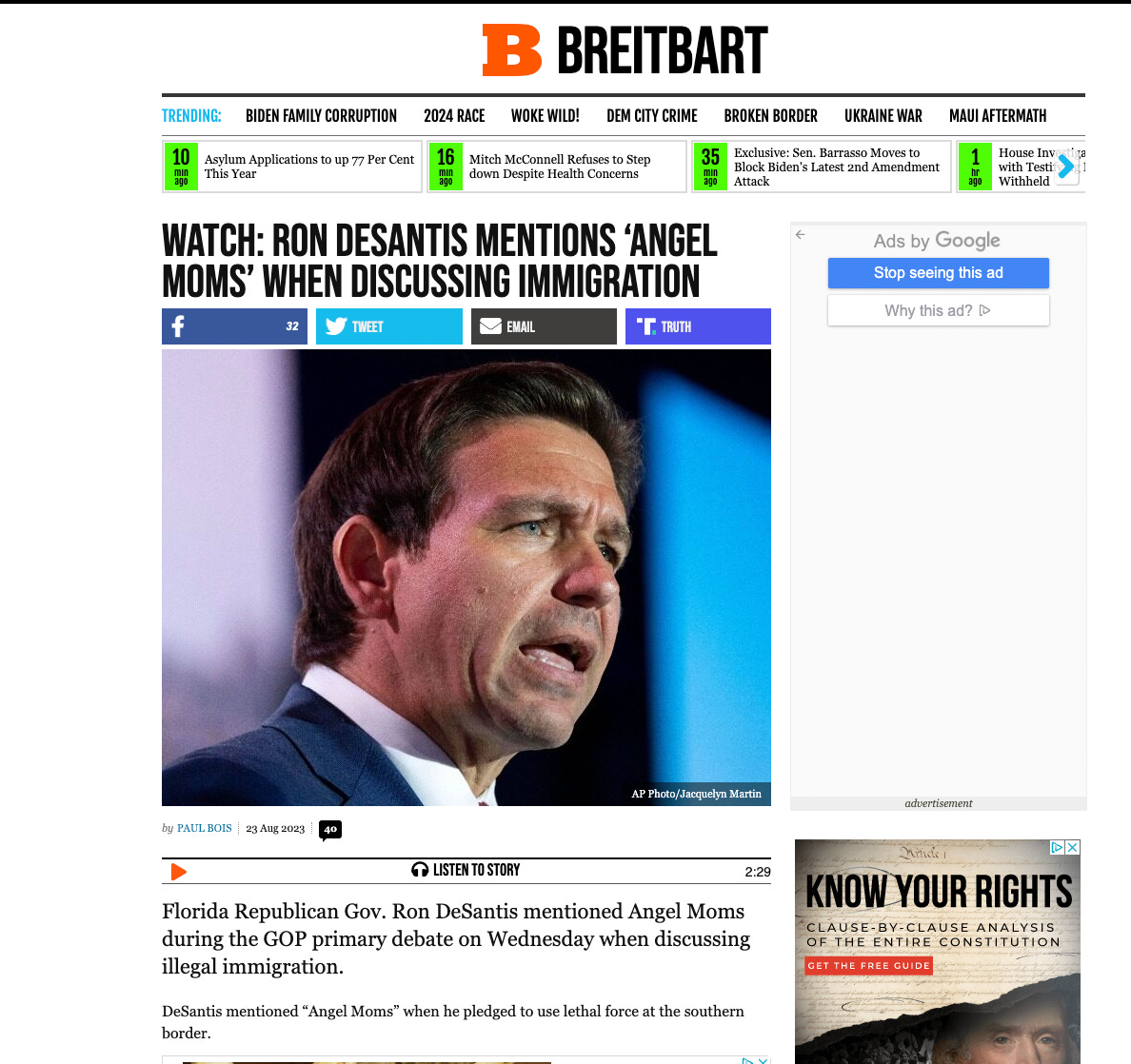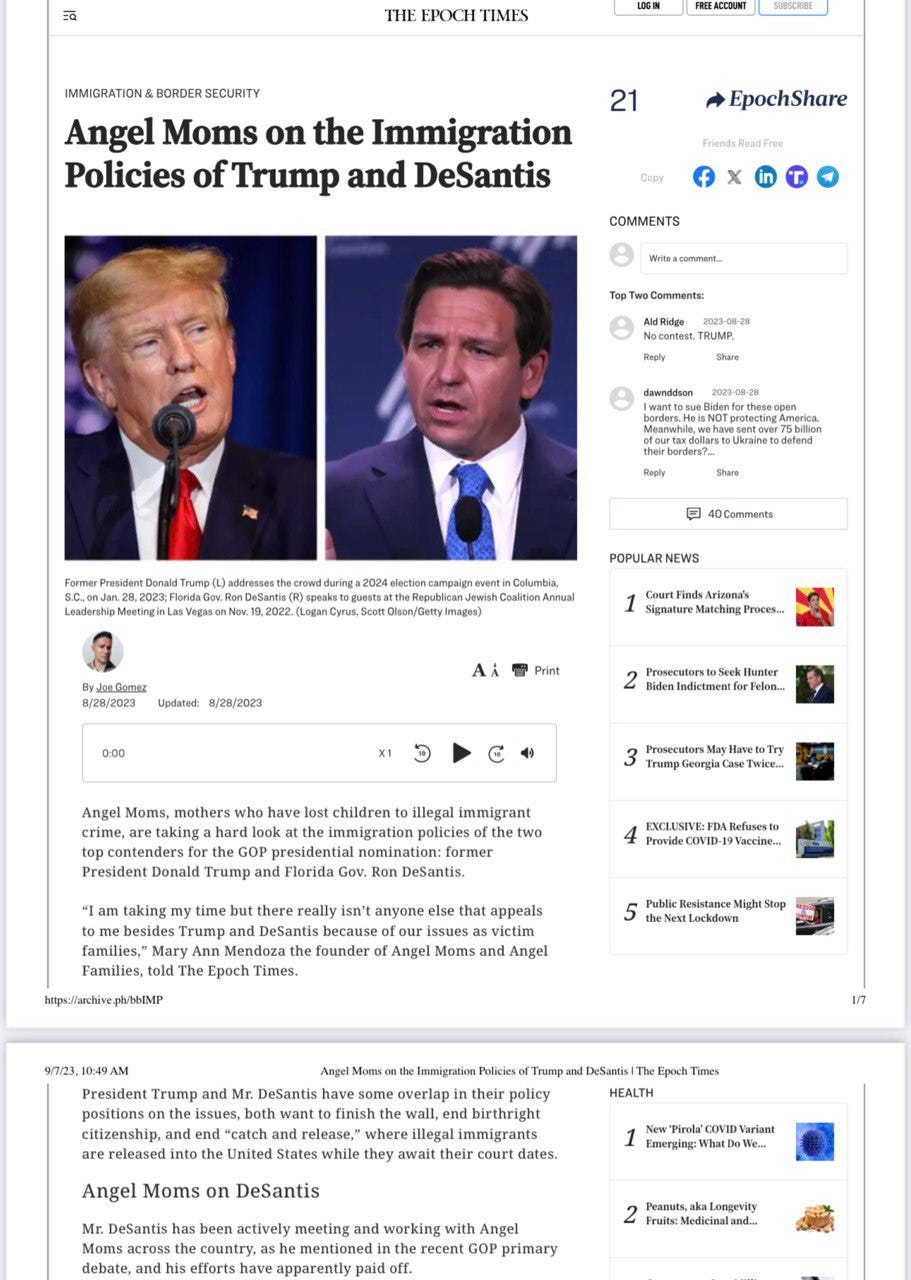 Additionally, one day after the Presidential debate, Tracy said she posted a tweet on her Twitter account @ 2stepAct about how she has the transcripts from the debate and would like to go public about how Ron DeSantis used her name and story without her permission. She said she tagged me and President Trump in the tweet, and hours later, she was banned from Twitter. In a message, Twitter said her account was banned for "manipulating and interfering in elections."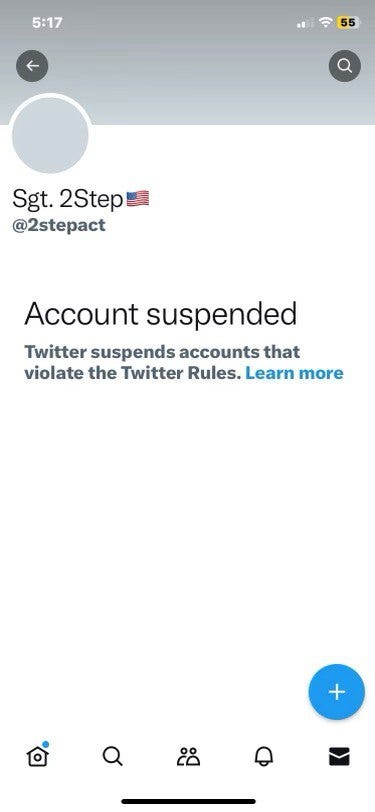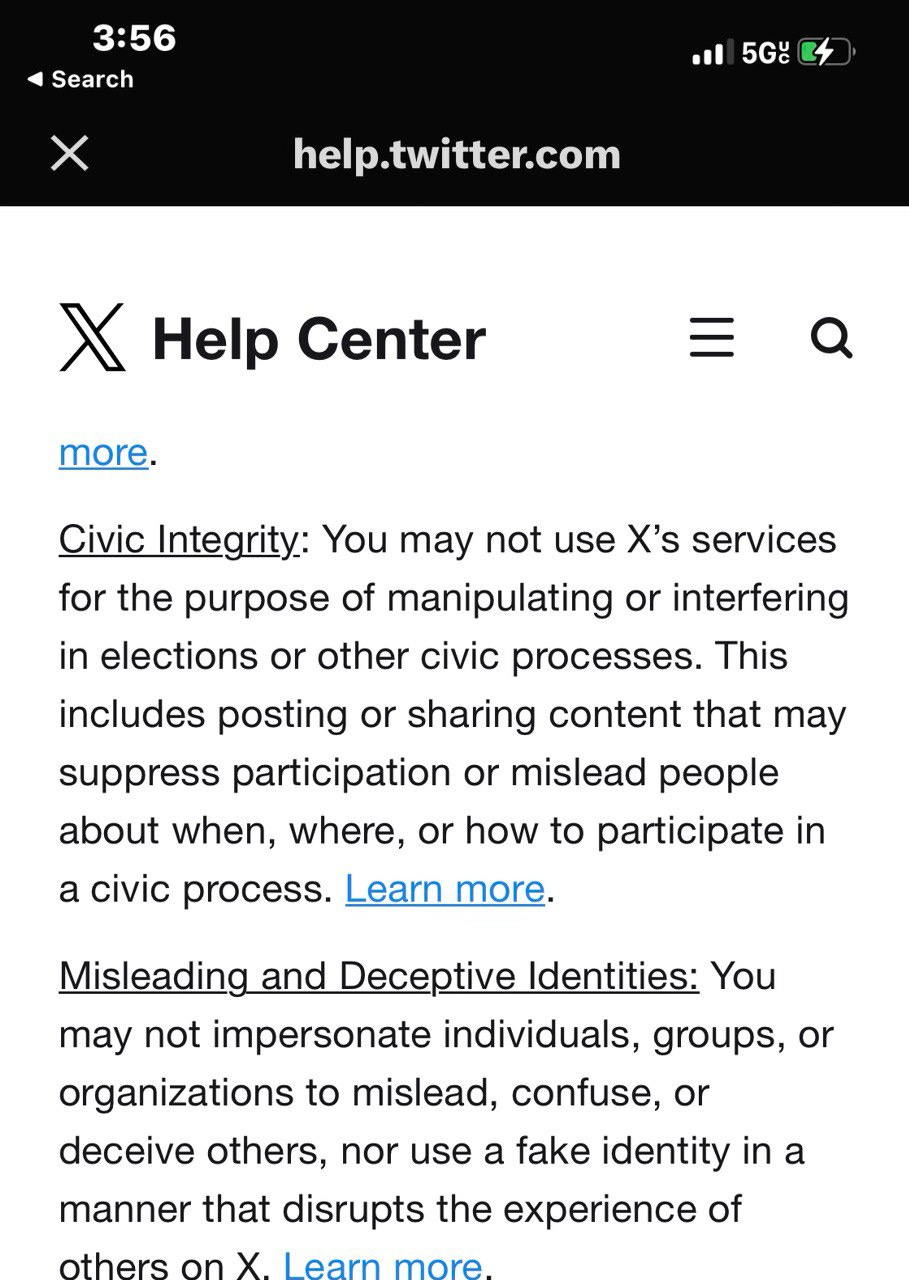 While it is unknown who ultimately banned Tracy's account after she publicly tweeted that she wanted to go public about DeSantis, in May 2023, Twitter's owner Elon Musk hosted a Twitter Space for Ron DeSantis on May 23, 2023, which is the same day DeSantis officially kicked off his 2024 Presidential campaign. Musk is also on the record previously stating that he would support Ron DeSantis's Presidential campaign.
Unlike Ron DeSantis, President Trump doesn't need to lie about meeting with Angel moms, he doesn't fabricate elements of stories to score political points, he doesn't disrespect Gold Star families, and he certainly never used Tracy's story for political gain.
Tracy LaPorte says this experience has fortified her support for President Trump and makes her realize Ron DeSantis is not fit to serve as President.
"While DeSantis uses moms for political gain, President Trump was working with me on a federal level to propose the The 2Step Act to the Federal Transportation Department. President Trump immediately recognized me as a Gold Star mother and took the time to write me directly out of respect, care, and compassion. He never once used me or my story on a debate stage or anywhere. His respect and care for a Gold Star mother made me feel like he was a family member who cared for me, my son, and our country by recognizing the fact that what had happened to my son while he was on active duty was a National Security Risk everywhere. President Trump validated that he cares about our troops, and that my son mattered."
Tracy said she didn't want to have to go public with her story and the letter that President Trump sent her in 2020, but she said she now feels compelled to do so after DeSantis lied to the nation by invoking her name, her dead son, and her dead cousin for political gain.
According to Tracy, President Trump sent her a letter while he was President. Tracy provided me with a copy of the letter President Trump sent her on July 27, 2020.
In the letter seen below, President Trump wrote,
"I am especially grateful you took the time to share your thoughts on issues currently facing our country. You son's death is a tragedy, and no parent should ever undergo the incredible heartbreak you have experienced. Please know that I have shared your proposal, the 2StepACT, with the appropriate Federal Agency."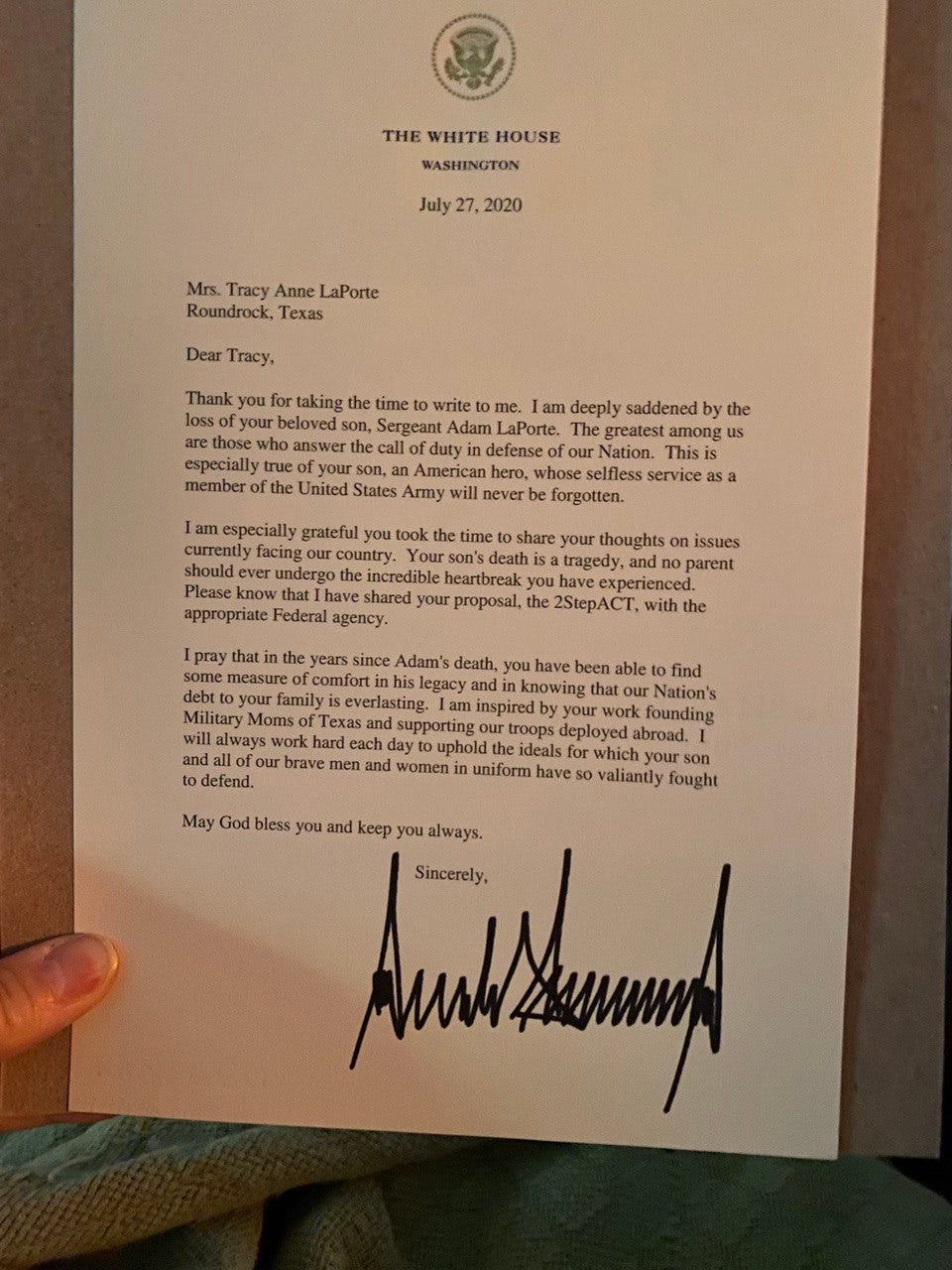 When Tracy's son died on February 1, 2012, , she received a generic letter from President Obama with a Presidential Seal, but it was not a personalized, and did not contain a hand signed letter. Tracy's son died during the Obama administration, which is worth noting since President Trump was not obligated to send her anything since her son didn't die with he was Commander in Chief. However, he took the time to write Tracy a personalized letter and he assured her that he would pass her proposal for the 2Step Act along to officials in his administration.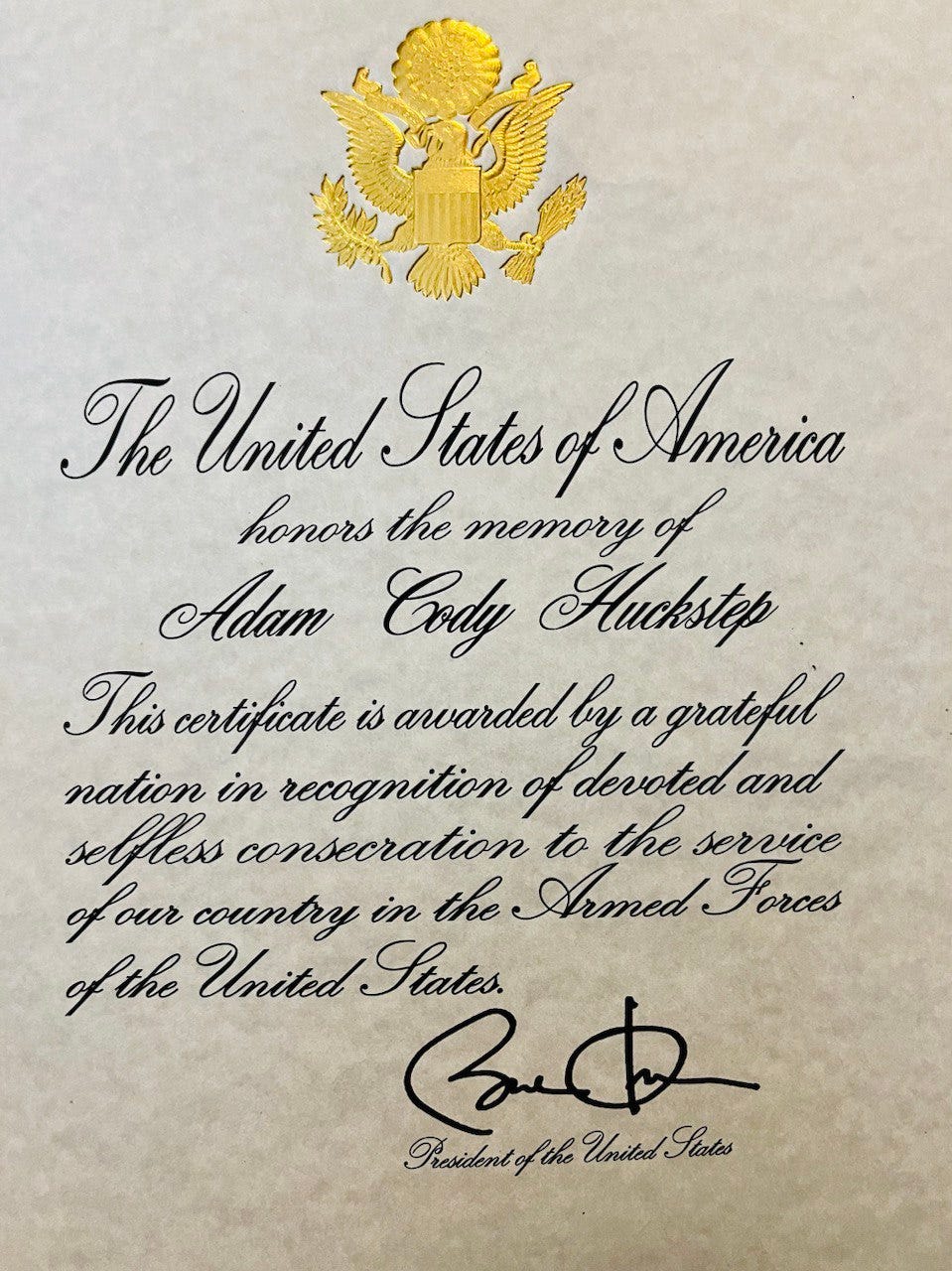 Tracy said when President Trump's term ended in 2021, it ended the federal progress she was hoping to have with regards to passing The 2StepACT on a federal level.
Tracy said,
"When President Trump left office, I had to start all over and rebuild in Texas and form relationships with Texas lawmakers. This is one reason why I want Trump back in office, and why our country needs him back in office. Unlike Ron DeSantis, President Trump knows what a Gold Star mother is and he recognizes their loss of a child for our country's freedom. President Trump is the only politician who immediately recognized the national security risk that is created by Rental Car Agencies not vetting the licenses and legal status of drivers who attempt to rent vehicles. I always say that the wrong people are well aware of the fact that there is a loophole because Rental Car agencies don't conduct DMV checks to make sure all drivers are legal."
When asked what she wants from Ron DeSantis, Tracy said,
"He needs to get more educated on what a Gold Star mother is, and what an Angel mom is. As a veteran himself, of all people, DeSantis should know what a Gold Star mom is and he should know that it is inappropriate and hurtful to exploit our dead service members and the dead children of Gold Star Parents for political gain. That is an open wound forever, and poking that wound is like ripping a mother's heart open. I think Ron DeSantis needs to apologize to me and correct the record on my son as an exemplary, well-decorated combat soldier who served our nation for our freedoms."
Tracy added that the only politician who has permission to use her story and her name as an example is President Donald Trump, because she says he's "the only one who cared enough to actually hear and understand the facts of my story."
To learn more about "The 2StepACT", visit: https://2stepact.com/
If you enjoyed this article, please SUBSCRIBE to LOOMER UNLEASHED, where I will continue to piss off the elitist political establishment by speaking the TRUTH. It is free to sign up, but paid subscriptions of $7 per month or $70 per year help keep this publication and my investigative journalism alive. So please, consider joining for a nominal fee! Thank you for your support! I truly appreciate it.
Already subscribed and want to support Loomer Unleahsed further, while getting more eyes on this important information? You can gift a subscription to a friend, or simply donate free subscriptions, which are given to subscribers who cannot afford to make a paid subscription.
Latest posts by Laura Loomer
(see all)
---
You may also like