---
GOP Presidential candidate Chris Christie is friends with an anti-Trump political operative who was recently arrested for ambushing President Trump's motorcade.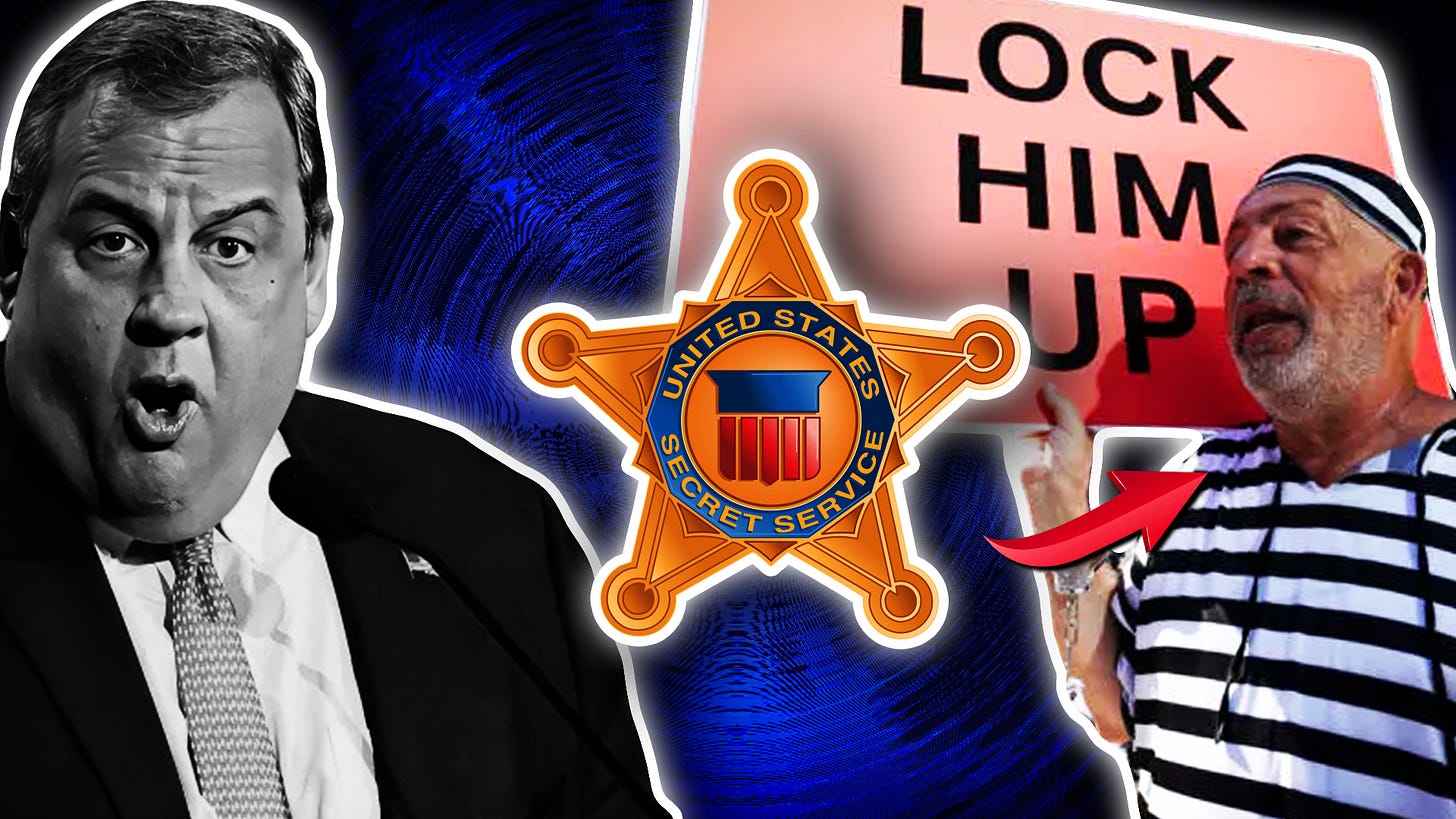 GOP Presidential candidate Chris Christie is friends with an anti-Trump political operative who was recently arrested for ambushing President Trump's motorcade.
NOTE: Please consider upgrading your subscription here for $7 month to help me keep this publication up and running. While everything here is free at the moment, your monthly financial subscription of $7 per month or $70 per year will help ensure that I can keep providing you and others with groundbreaking independent journalism and original political commentary. Your subscription for a nominal fee supports my journalistic efforts, and the expenses associated with my investigations. If you don't want to miss any of my hard-hitting reports and commentary, please subscribe today!
On June 13th, 2023, political operative Domenic Santana was arrested in front of the Miami courthouse for ambushing President Trump's motorcade as President Trump was leaving his arraignment. Dressed in a striped jail jumpsuit, Domenic held a sign that said, "Lock Him Up." Outside of the Fulton County Jail in Georgia last week the day of President Trump's arrest, Santana was caught on video saying he has visited all of President Trump's indictment sites wearing the jailhouse jumpsuit, escorted by multiple paid actors dressed in rat costumes. Domenic calls these paid actors his "R.A.Ts": Republicans Against Trump.
Following his arrest in Miami, Florida, Santana was charged with disorderly conduct, resisting an officer without violence, and obstructing traffic. According to Santana's arrest report,
"The defendant's reckless actions of interrupting the motorcade put the former president's life in danger. The defendant's actions caused the public and media to run toward him, storming the street while the defendant yelled at the Trump supporters as to entice them. After police officers on motorcycles passed by, Santana ran into the middle of the street holding his sign up and blocking the motorcade from proceeding, causing one of the SUVs to swerve to avoid crashing into him", the report stated.
Domenic Santana is the previous owner of the famous New Jersey music club the "Stone Pony", which is known for launching the rock and roll careers of Bon Jovi and Bruce Springsteen. Santana has had many public friendships with the Hollywood and political elite, including former New Jersey Governor Chris Christie and President Barack Hussein Obama.
In a 2012 interview with late night comedian Jimmy Fallon, Christie mentioned Santana's establishment, the Stone Pony.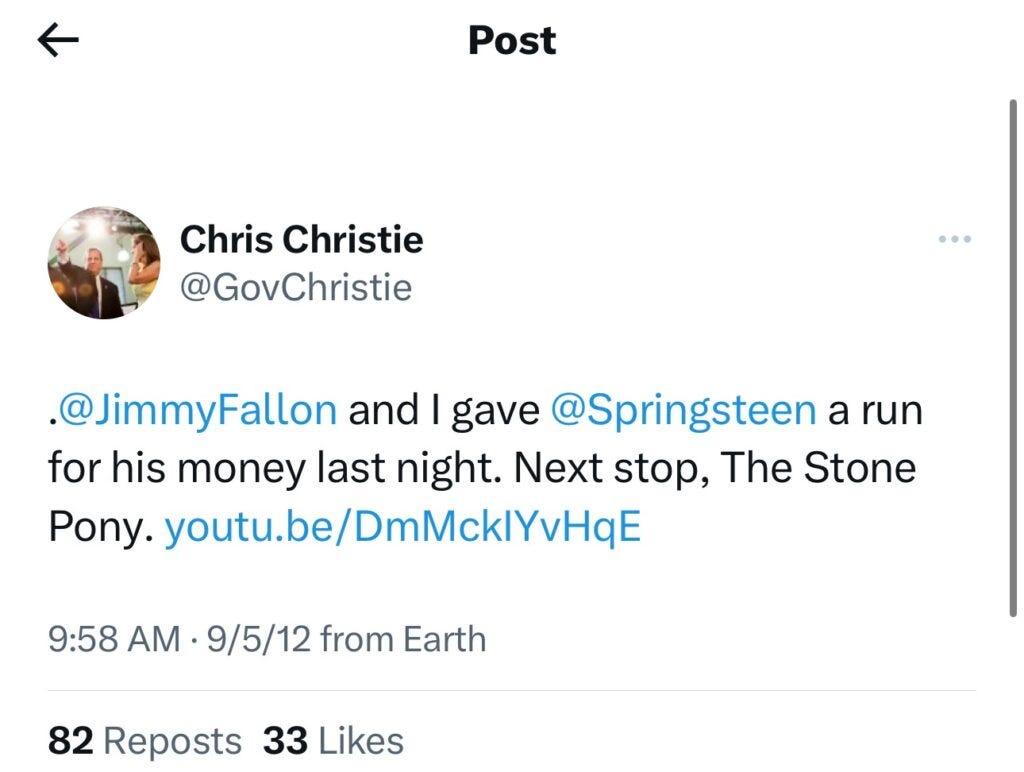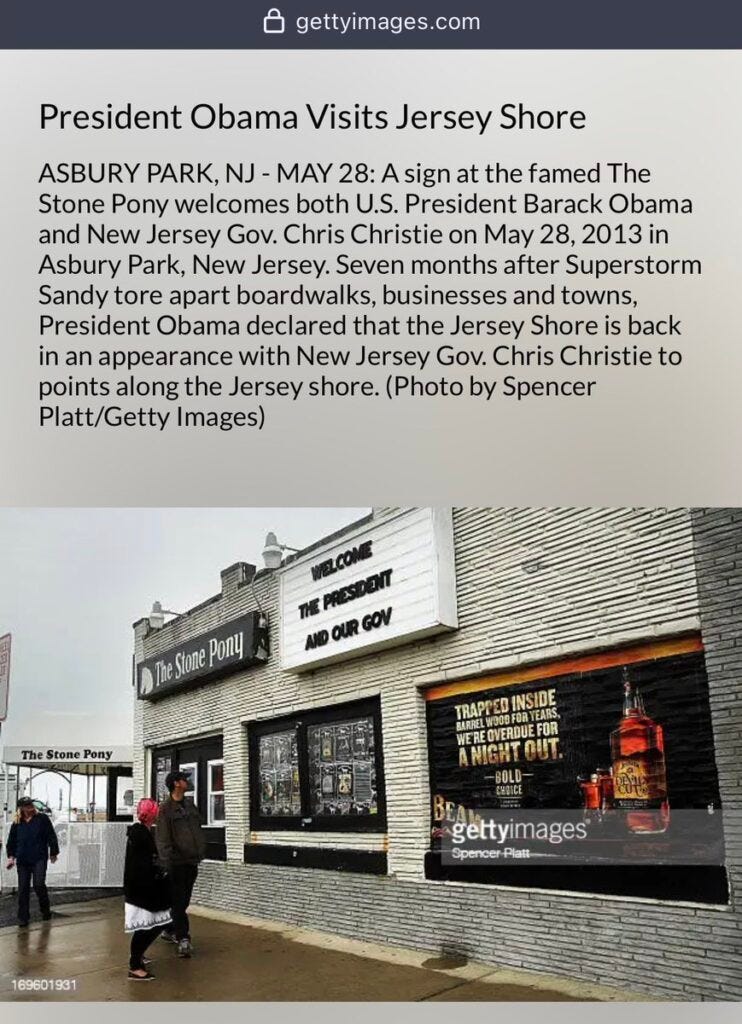 In May 2013, Chris Christie and Barrack Obama both visited the Stone Pony together in an appearance that was caught on camera and reported by the media following just seven months after Hurricane Sandy.
Subscribed
While he was the owner of the Stone Pony, Santana's business partner was New Jersey Hospitality business owner Frank Cretella, who owned one third of the Stone Pony. Cretella and his wife Jeanne are also the owners of the Liberty House Restaurant in Liberty State Park, Jersey City. Cretella is known in the world of New Jersey politics, given the fact that his Liberty House Restaurant, which opened in 2001, has become a popular destination and hotspot for politicians. In 2007, when Barrack Obama was first running for US President, he had a campaign fundraiser with New Jersey Senator Cory Booker at Cretella's Liberty House restaurant. In a 2014 article, it was reported that Chris Christie chose Liberty House as the venue for a 50-person dinner to celebrate his second inauguration as Governor of New Jersey. However, due to a "lack of response", the dinner was called off. Along with hosting Chris Christie, Barrack Obama and Cory Booker, Cretella has also hosted other high profile RINO and Democrat politicians and celebrities, including President Bill Clinton, Oprah, Jennifer Lopez, and cast members of the Sopranos.
According to FEC records, Santana's business partner Cretella has donated thousands of dollars over the years to high profile Democrat politicians in the New York and New Jersey area, including Barrack Obama, Senator Cory Booker, Senator Bob Menendez, and disgraced former candidate for mayor of New York City, and registered sex offender Anthony Weiner.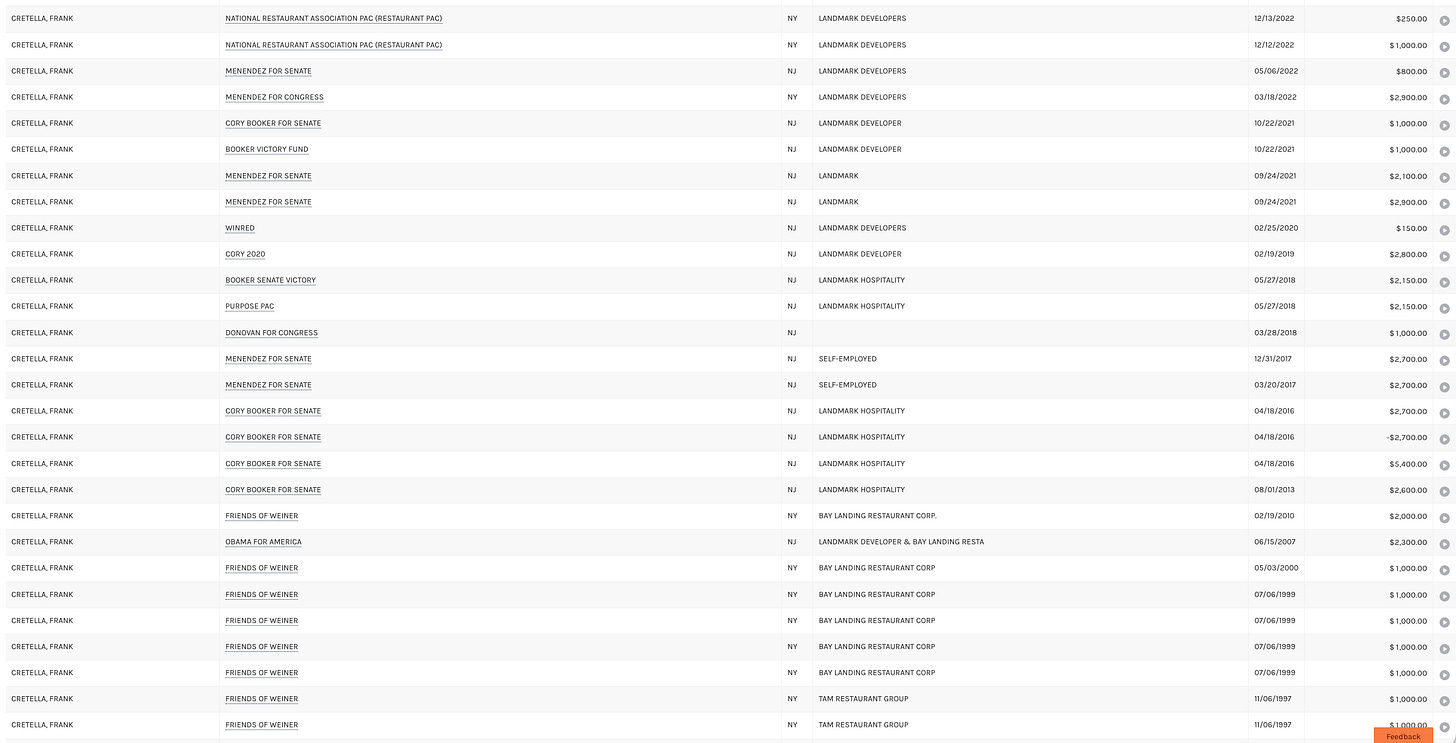 Along with having a close association with Chris Christie and Barrack Obama, Santana also appears to be connected to Joe and Jill Biden. In 2016, Santana was cited in numerous media outlets as being one of the 150 passengers on board the first scheduled passenger jet service on JetBlue-flight 387 from the United States to Cuba, the first flight to Cuba from the United States in more than 50 years.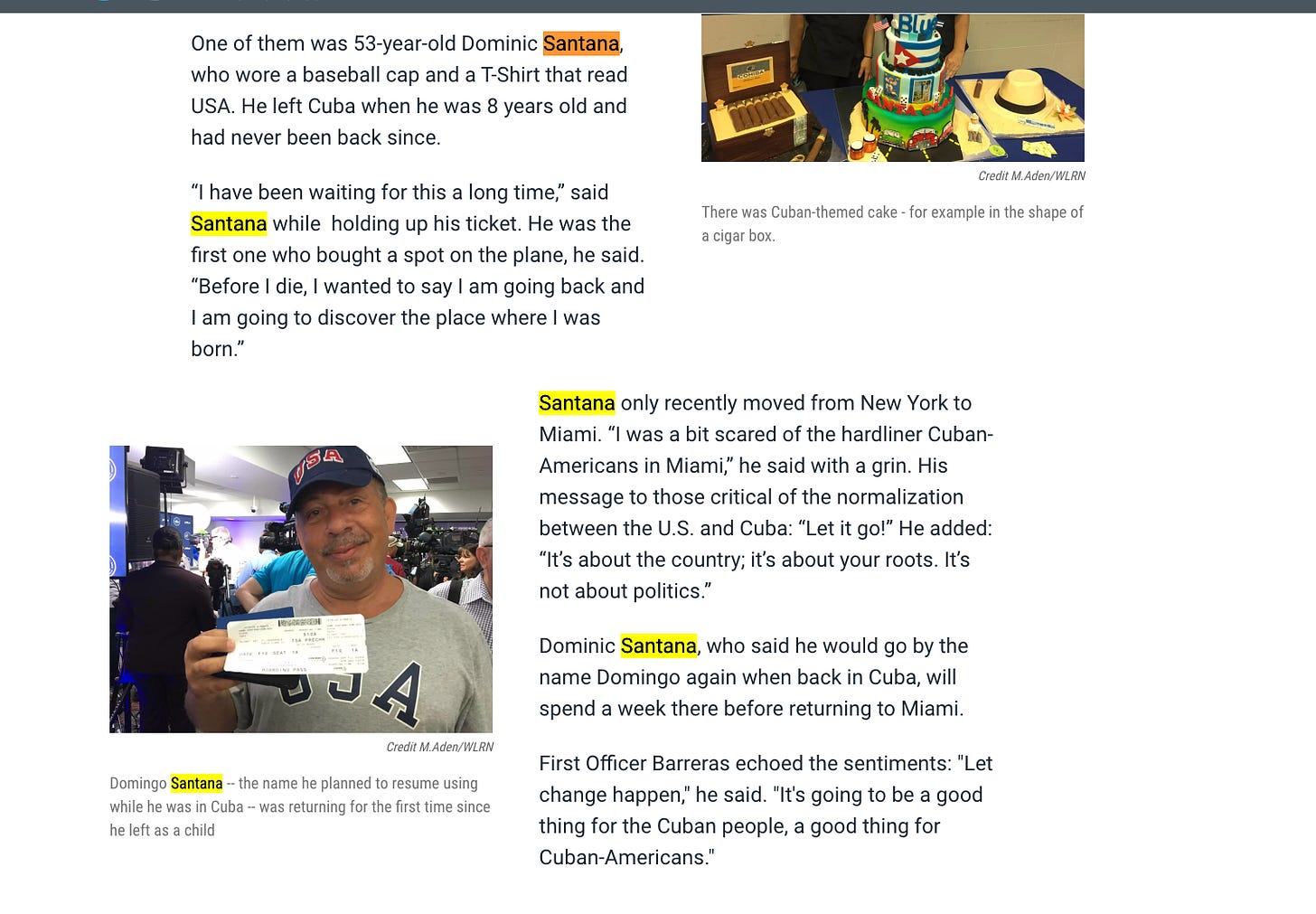 On his same flight were several Obama-Biden administration officials, political operatives, and journalists, including Justen Allen, whose social media posts reveal he was touring Cuba with Jill Biden just several weeks after he arrived to Cuba with Santana on the first flight from the United States.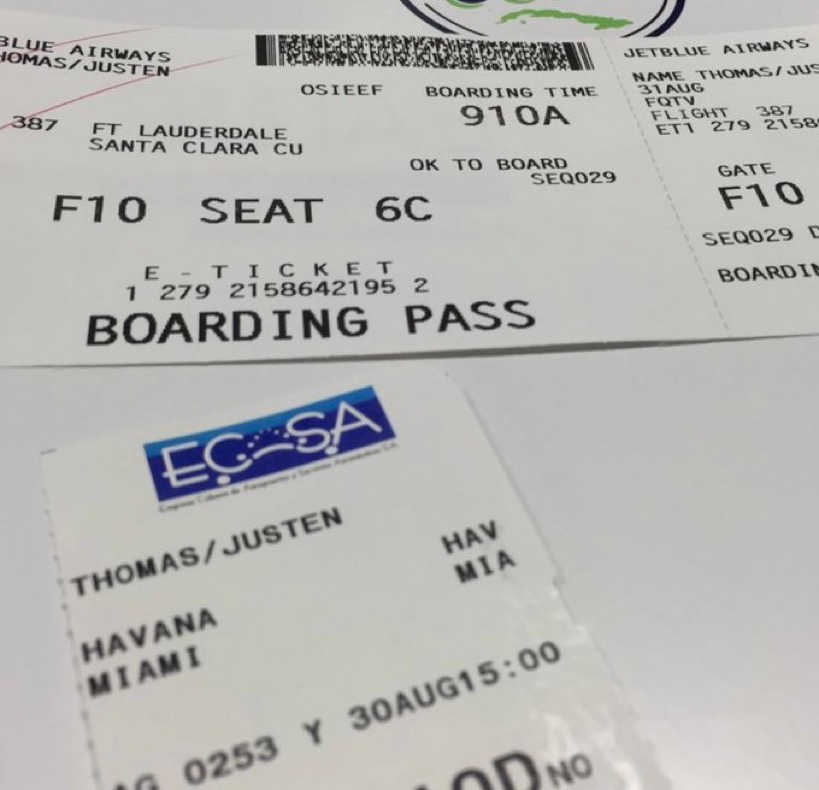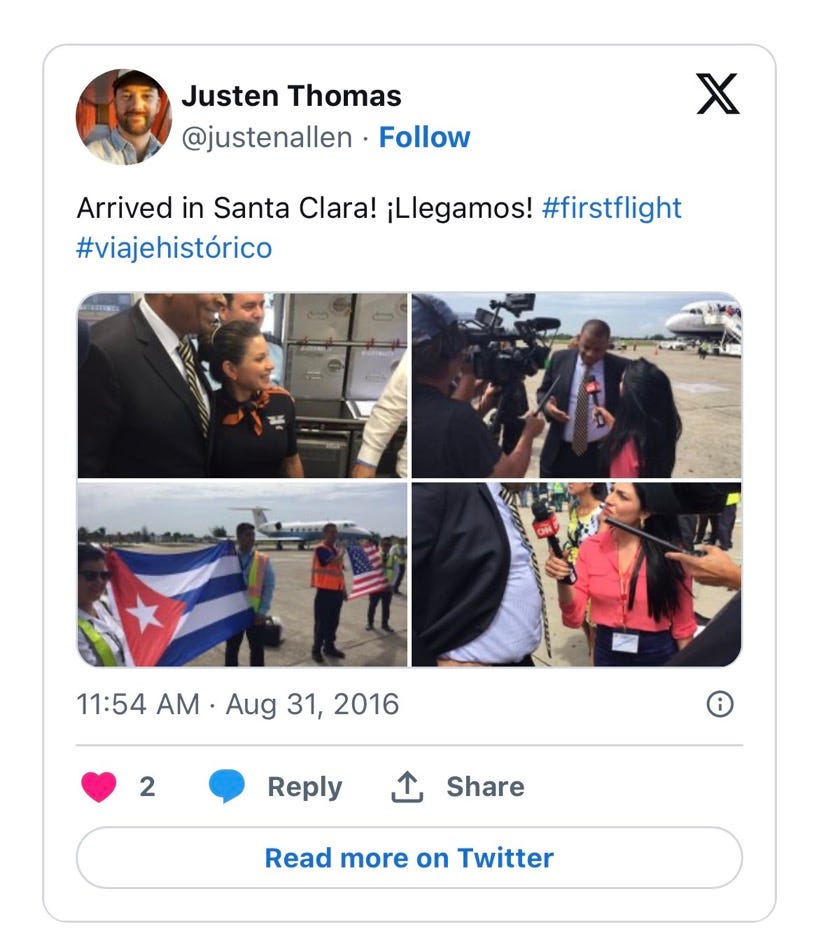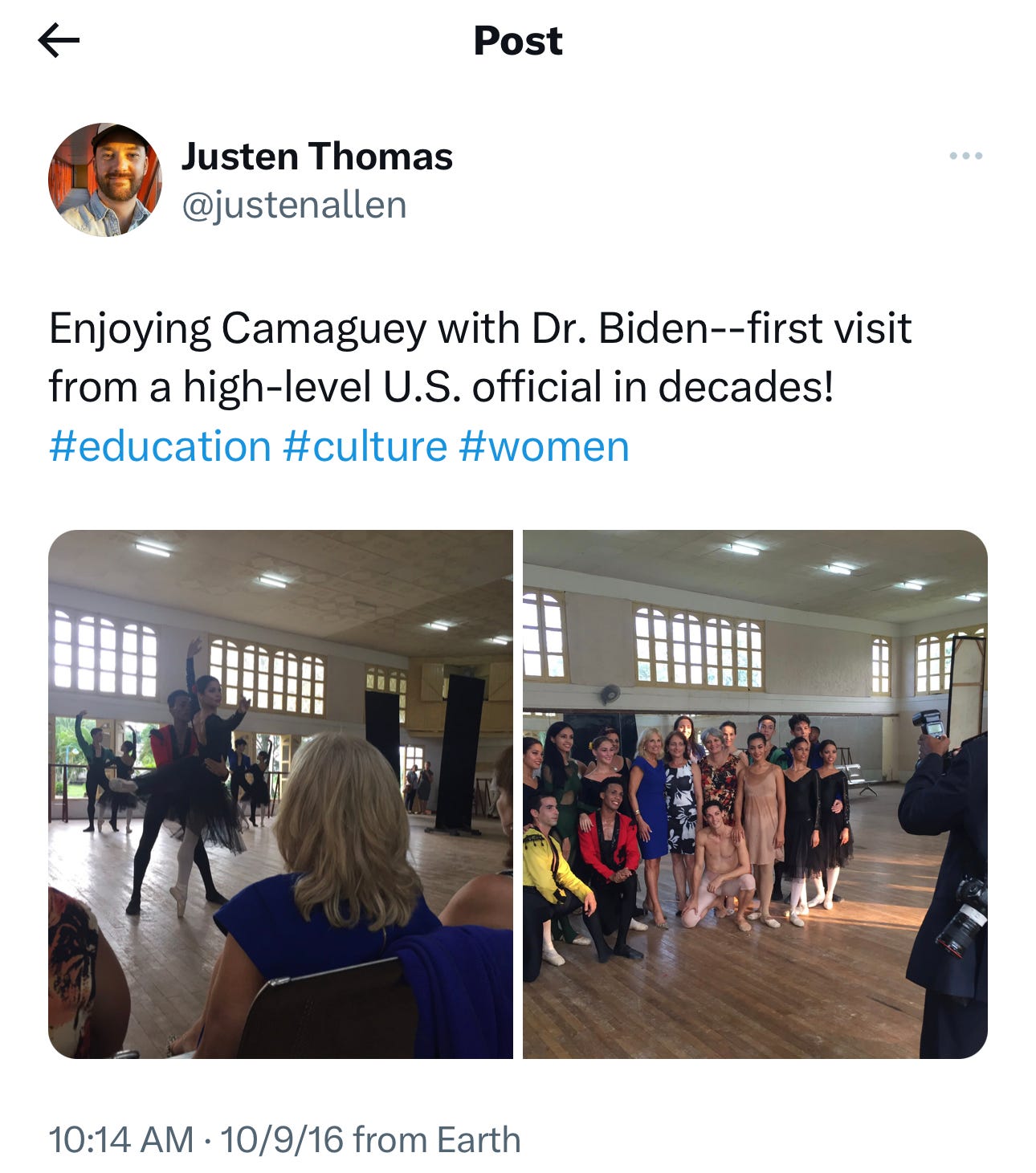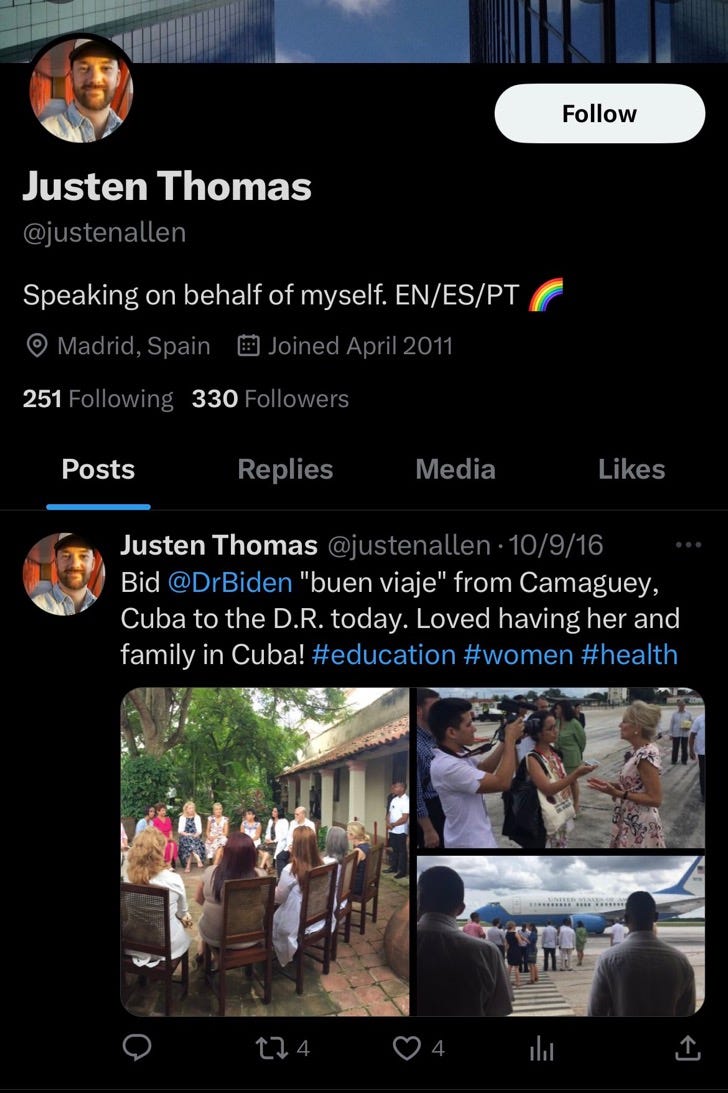 Despite being arrested for endangering President Trump's life,Domenic Santana, The Anti-Trump protester showed up to the Trump arrest at the Fulton County Jail in Atlanta, Georgia on August 24, 2023. After spotting Santana, I confronted him on video, asking him what he was charged with and why he was in attendance at a rally in support of President Trump after he was arrested by Secret Service just two months prior. Santana told me to "shut up", and the he shoved his bullhorn in my face and blasted the siren in my ears.
When asked who pays him to attend the pro-Trump events as a disruptor, Santana said he is "wealthy, has a very successful business, and that he's in the hall of fame."
When asked why he was in the vicinity of President Trump, Santana continued, adding on camera that he "is vetted by the White House Advance Team, the Secret Service, and the FBI, and has been through the entire background check."
This is extremely scandalous given the fact that he was arrested for trying to interfere with President Trump's safety. He told me later in the day that he only had to pay $200 to get out of jail in Miami after he was arrested for what would usually be considered a felony in a fair justice system.
Given the fact that Santana's arrest report states that he endangered the life of President Trump, it begs the question, why did Secret Service allow for Santana to be near President Trump, and what type of connections does Santana have that allowed him to evade jail time for ambushing the motorcade of the President of the United States.
WATCH VIDEO HERE:
The video that I filmed on August 24, 2023 outside of the Fulton County Jail and posted to Twitter has been seen over 1 million times. Investigative Journalist Lara Logan thanked me on Twitter for exposing political paid operatives.
Domenic Santana's history of owning The Stone Pony, a popular music club in Asbury Park, New Jersey, allowed him to befriend very influential people, including Bruce Springsteen, Governor Chris Christie, and Barack Hussein Obama. During his confrontation with me outside of the Fulton County Jail, Santana mentioned that he "isn't a poor man and can afford bail." Santana now resides in Miami, Florida, where he is retired. Prior to owning The Stone Pony, Santana, a cuban migrant who immigrated to the United States when he was six years old, owned a cuban restaurant in Jersey City.
Could his ties to Chris Christie, who is now challenging President Trump by running for President in the 2024 GOP Primary, as well as his ties to former President Obama be the reason why Santana was given a pass to travel cross country, disturb political events, and incite violence against President Trump and Trump supporters?
Former New Jersey Governor Chris Christie was a frequent visitor and supporter of The Stone Pony. According to his own statements and previous social media posts, Christie was present at The Stone Pony for big benefit concerts featuring Bruce Springsteen, and Christie even hosted one of his re-election parties at The Stone Pony.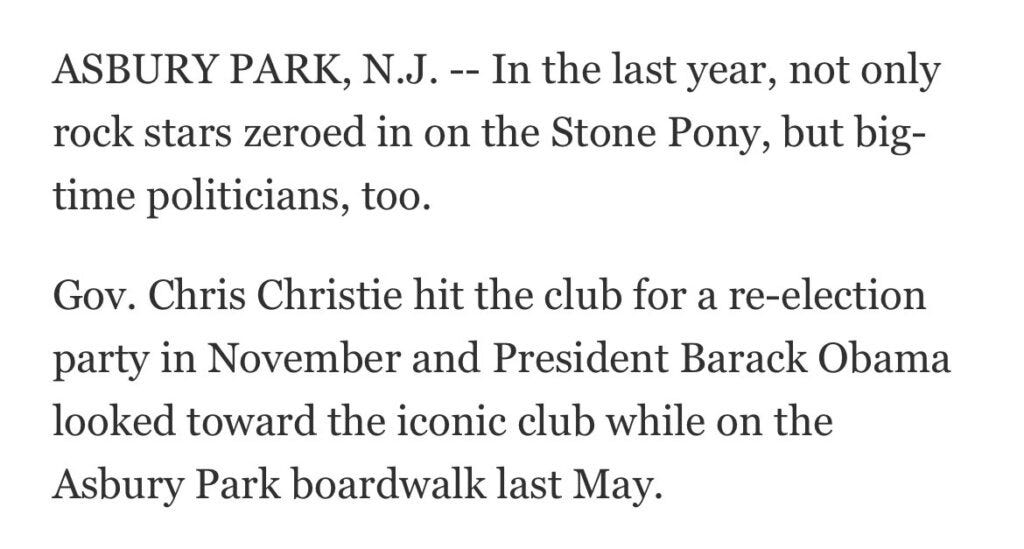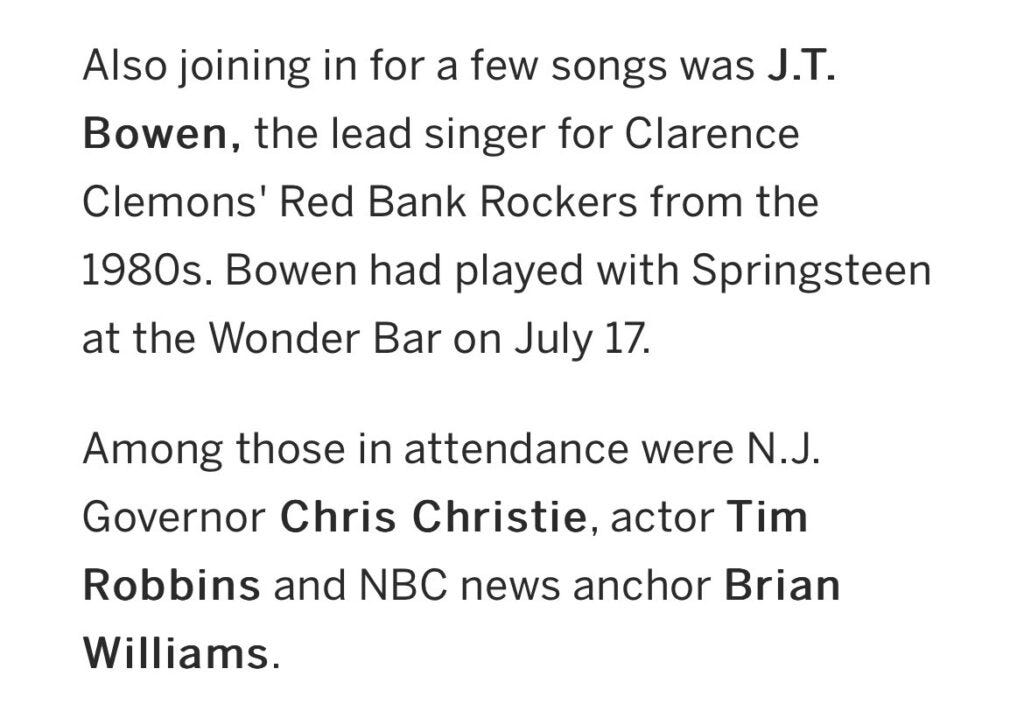 In fact, Christie was such a fan of Santana and The Stone Pony that he added a clip of himself entering The Stone Pony in a promotional video. In the video, Christie is seen walking into The Stone Pony through a VIP entrance that says, "Friends and Family Only, General Public NOT Admitted."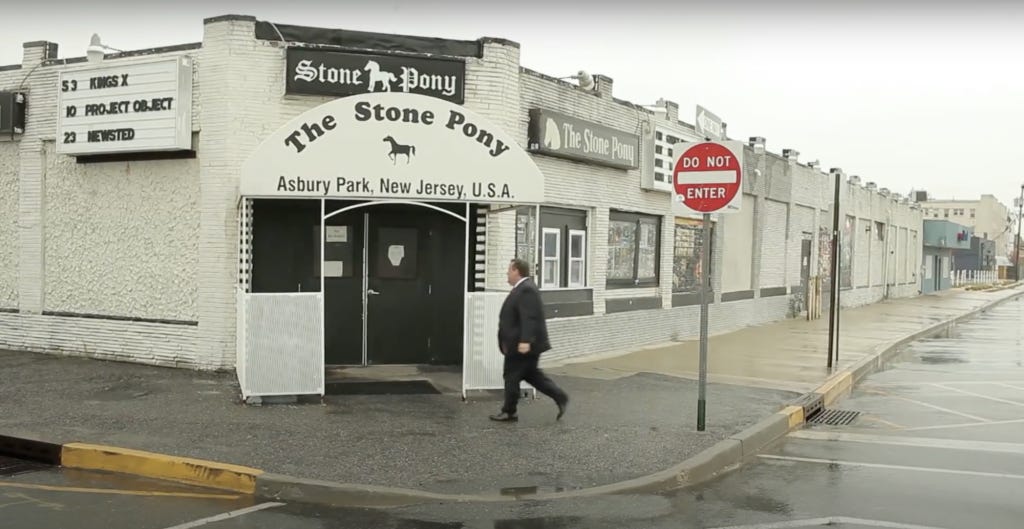 WATCH HERE:
Domenic Santana is a political operative who goes around with hired people wearing rat costumes in an effort to instigate confrontation at Trump events. Chris Christie, a friend and frequent visitor of Stone Pony, Domenic's club, is also a well-known Trump hater, which is why he has once again decided to challenge President Trump in a GOP Presidential Primary.
During an interview outside of the Fulton County Jail, I asked Santana which of the GOP Presidential candidates he likes, and which one he would vote for. Santana was caught on camera during my livestream coverage of President Trump's arrest on LFATV's livestream, saying, "I love Chris Christie".
WATCH HERE:
Are these two old friends and partygoers working together in order to sabotage President Trump, Trump rallies, and endanger President Trump's life? Is Santana being paid by Chris Christie's Presidential campaign to attack President Trump? Why Is a Presidential candidate in the GOP 2024 primary associated with someone who was arrested by Secret Service for endangering the life of a US President?
These are all questions that need to be answered, and it is further evidence that the Uniparty is willing to endanger President Trump's life as a means of preventing him from serving another term as President of the United States of America.
If you enjoyed this article, please SUBSCRIBE to LOOMER UNLEASHED, where I will continue to piss off the elitist political establishment by speaking the TRUTH. It is free to sign up, but paid subscriptions of $7 per month or $70 per year help keep this publication and my investigative journalism alive. So please, consider joining for a nominal fee! Thank you for your support! I truly appreciate it.
Already subscribed and want to support Loomer Unleahsed further, while getting more eyes on this important information? You can gift a subscription to a friend, or simply donate free subscriptions, which are given to subscribers who cannot afford to make a paid subscription.
Latest posts by Laura Loomer
(see all)
---
You may also like