---
Did Ron DeSantis bribe an anti-Trump, Iowa conservative figure for his support in the 2024 GOP primary?
NOTE: Please consider upgrading your subscription here for $7 month to help me keep this publication up and running. While everything here is free at the moment, your monthly financial subscription of $7 per month or $70 per year will help ensure that I can keep providing you and others with groundbreaking independent journalism and original political commentary. Your subscription for a nominal fee supports my journalistic efforts, and the expenses associated with my investigations. If you don't want to miss any of my hard-hitting reports and commentary, please subscribe today!
Despite trailing in every poll reported by Five Thirty Eight, failing Presidential candidate Ron DeSantis appears to not be giving up on trying to win Iowa. He recently received the endorsement of Bob Vander Plaats, President and CEO of The Family Leader, a socially conservative organization in Iowa. Vander Plaats has a history of working against Donald Trump, having endorsed Ted Cruz for President in 2015. In 2020, Vander Plaats, who has unsuccessfully run for Governor of Iowa three times (2002, 2006, 2010) invited Democrat candidates to speak in front of his organization, but not Donald Trump.
In a July 14th interview with CBS News, Vander Plaats claimed that Ron DeSantis was the "clear alternative" to President Trump. Interestingly enough, Vander Plaats remarks were made just days after his organization, The Family Leader received a substantial donation from Never Back Down, a national Super PAC created for the purpose of getting Ron DeSantis elected as President. Federal Election Commission reports show a donation in the amount of $50,000 was completed on 7/3/2023.
Vander Plaats told CBS news that "if Trump wins Iowa, that's it" but "if he gets beat here, then I think whoever beats him here, it's 'game on' [for] the nomination." It appears that Vander Plaats is willing to do whatever is within his means to make sure that Donald Trump doesn't win Iowa.
Unlike Governor Kim Reynolds, who said she will remain neutral in the primary, Vander Plaats told CBS that he plans to endorse a candidate in December, ahead of the mid-January Iowa caucuses, and he indicated that Trump was unlikely to receive his support.
Subscribed
"My fear is too much of American has made up their mind on the former president. They want a new generational leader," Vander Plaats said. "For me, I do believe it is probably time that we turn the page."
In addition to the five figure exchange of funds for Vander Plaats support, which increasingly looks like a financial bribe, Never Back Down continues to invest big in Iowa on other fronts. According to multiple reports, the Super PAC recently completed a 7 figure ad buy across Iowa to attack Donald Trump. However, their ad was not as well received as they had hoped it would be. One of their ads features a fake Trump's voice that was generated by Artificial Intelligence (AI). It uses a robotic Trump voice to read from Trump's previous Truth Social Posts. The ad focuses on a Truth Social Post in which President Trump criticizes Governor Reynolds for being "Neutral" in the primary.
According to reports, DeSantis claims he is willing to consider Iowa governor Kim Reynolds as his running mate. One thing is for sure, Ron DeSantis and Never Back Down appear to be willing to spend whatever cash or political capital is required in order to be competitive in Iowa. And it is also clear that they are trying to purchase endorsements and support via financial bribes that are disguised as donations.
Vander Plaats has a clear history of opposition to Donald Trump. Ron DeSantis has a track record of spending money where needed to gain political favor, so perhaps these two merely developed an organic relationship. But, knowing DeSantis's record and his inability to connect with people on an interpersonal level, as he has demonstrated throughout his campaign, it is more likely that his support is bought and paid for, just like he is. The donation of $50,000 to Vander Plaats' organization in return for his support and praise isn't the only financial transaction associated with DeSantis's presidential campaign that is raising eyebrows.
As I exclusively reported, days after Paul Renner, the Florida Speaker of the House passed the amendment to Florida's Resign to Run law, an amendment which allowed for DeSantis to run for President and keep his job as Governor, $1 million was transferred from Ron DeSantis's PAC to a newly created PAC overseen by Renner called "Empower Parents Florida PAC". Given the timing of the transfer, and the fact that DeSantis's PAC was shuttered shortly after the transfer, the $1 million payout to Renner looks like a bribe paid out by DeSantis's PAC in exchange for Renner overseeing the change of the Florida law that otherwise would have prevented DeSantis from running for President.
While it is impossible to say with certainty whether or not the $50,000 payment to Vander Plaats' organization was a bribe for an endorsement, it certainly looks that way, and it is most definitely a bad look for Never Back Down and the Ron DeSantis for President campaign, both of which have previously been accused of violating Federal election and campaign finance laws.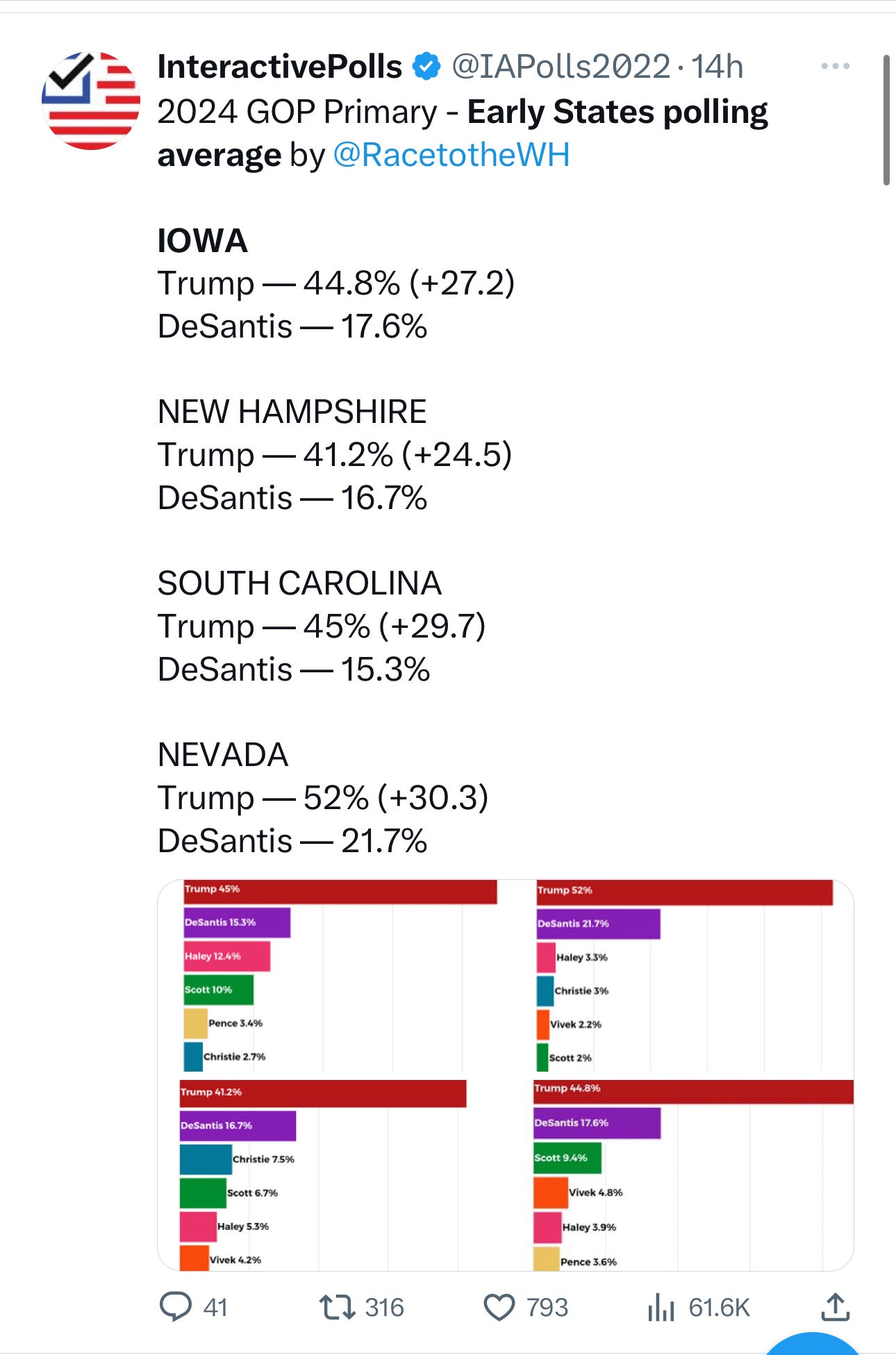 DeSantis and his PAC appear to believe that flushing Iowa with millions of dollars of cash is going to be enough to make DeSantis win the highly anticipated Iowa Caucus. However, all of the money in the world will never be enough to buy DeSantis what he is lacking and is in desperate need of: a personality.
Despite DeSantis's multi-million dollar TV ad buy and door knocking operation in Iowa, the most recent polling shows President Trump has a nearly 30 point lead over DeSantis in Iowa, proving that Donald Trump is the favored candidate for GOP primary voters in Iowa.
Perhaps Never Back Down would have been better off saving their $50,000 instead of using it to buy political favor through Vander Plaats, a triple failed candidate for Iowa Governor.
If the people of Iowa rejected him three times once before, why would they embrace his choice for the GOP nominee for President in 2024?
Then again, political strategy doesn't appear to be DeSantis's strong suit. If he had any political insight to begin with, he would have never committed political suicide by filing to run for President against Donald Trump in the GOP primary.
If you enjoyed this article, please SUBSCRIBE to LOOMER UNLEASHED, where I will continue to piss off the elitist political establishment by speaking the TRUTH. It is free to sign up, but paid subscriptions of $7 per month or $70 per year help keep this publication and my investigative journalism alive. So please, consider joining for a nominal fee! Thank you for your support! I truly appreciate it.
Already subscribed and want to support Loomer Unleahsed further, while getting more eyes on this important information? You can gift a subscription to a friend, or simply donate free subscriptions, which are given to subscribers who cannot afford to make a paid subscription.
Latest posts by Laura Loomer
(see all)
---
You may also like