The Florida Governor and his associates are brazenly violating Federal and state campaign finance laws as DeSantis's 2024 Shadow Presidential Campaign continues.
NOTE: Please consider upgrading your subscription on Laura Loomer's Substack for $7 month to help me keep this publication up and running. While everything here is free at the moment, your monthly financial subscription of $7 per month or $70 per year will help ensure that I can keep providing you and others with groundbreaking independent journalism and original political commentary. Your subscription for a nominal fee supports my journalistic efforts, and the expenses associated with my investigations. If you don't want to miss any of my hard-hitting reports and commentary, please subscribe today!
Since winning his re-election for a second term as Governor of Florida in November 2022, Ron DeSantis has been accused of violating both Federal FEC laws and Florida laws as he continues to run his Shadow 2024 Presidential campaign.
A Source has confirmed to me that in the beginning of April, the were approached by a member of Governor Ron DeSantis's finance team about raising money for his Presidential campaign in 2024.
According to the source, a man named Roy Bailey called to invite them to attend one of eight high-dollar bundler recruitment dinners that are in the works to take place on eight nights in the fist two weeks of May 2023.
The source, who is known in GOP fundraising circles, was asked if they were interested in attending one of the dinners for the sake of raising money as a bundler for Desantis in 2024. When the source inquired more details about the dinners, they were told by Bailey that each dinner would host 20 bundlers, and that the dinners would take place in Tallahassee, Florida at the Governor's Mansion, which is the resident of Governor DeSantis, his wife, and their children.
During the phone call, Bailey identified himself as "the head of Ron DeSantis's fundraising operation", and indicated that the dinners were planned for the purpose of selecting the best GOP bundlers in the nation to out-fundraise President Donald Trump.
Roy Bailey, a known Texas investor and GOP fundraiser, once served as the finance co-chairman of President Donald Trump's' campaign finance committee in 2016 and 2020, as well as his 2016 inaugural committee. In February 2023, Bailey was one of the donors spotted at an exclusive DeSantis donor and influencer retreat that took place at the Four Seasons Resort in Palm Beach, Florida, which is minutes down the road from President Trump's residence at Mar a Lago.
The retreat included a list of 150 attendees, which ranged from donors, conservative media pundits, and other GOP lawmakers, including Ann Coulter, Buck Sexton, Congressman Thomas Massie, Sen. Ron Johnson, Sen. Tom Cotton, and even Mick Mulvaney, the former Trump White House Chief of Staff who was fired by President Trump.
Following the retreat, an ethics complaint was filed by Nikki Fried, the chair of the Florida Democratic Party against DeSantis. The complaint focuses on whether the $235,000 that DeSantis' political committee, Friends of Ron DeSantis, paid the Four Seasons for the three-day retreat was an improper gift to the Governor.
In December 2022, Bailey, a Texas native, told theThe Dallas Morning News. "There are certainly going to be donors and major donors who stick with Donald Trump. However, it's starting to feel like it did in early 2016, with donors waiting to see how the landscape develops."
Bailey said a DeSantis candidacy would impact Trump's ability to raise money, and that he was holding off on deciding who he was going to support in 2024.
Now, given these new revelations from a source who was directly propositioned by Bailey over the phone, it's clear that he is leading the charge in raising money for a Desantis 2024 Presidential run.
It should be noted that this is highly illegal on multiple levels. As I have previously reported, DeSantis is illegally running a shadow Presidential campaign in violation of FEC laws, and Florida's Resign to Run Law.
DeSantis has not yet filed the necessary paperwork with the FEC to run for President, but he has been traveling the country campaigning in key states, and having fundraisers and events disguised as a "book tour".
In March, a 15-page ethics complaint was filed against DeSantis by Make America Great Again Inc., a Pro-Trump Super PAC. The complaint accused DeSantis of campaign finance violations, FEC violations, and violations of various Florida statutes.
According to the draft, that was sent to the chairman of the Florida Commission on Ethics, there is strong evidence that Governor Ron DeSantis has engaged in illegal conduct.
Ron DeSantis is certainly conducting campaign style activities over a protracted period of time, in anticipation for the 2024 primary. This can be seen through Ron DeSantis' national book tour, and his highly publicized speeches in key caucus and primary states that one must win in order to secure the GOP nomination. Additionally, there has been wide spread speculation and media reports that Ron DeSantis and his allies, either through PACs, LLCs, and other forms of dark money, have recruited, and are allegedly paying a group of conservative social media influencers, overseen by Christina Pushaw, Governor DeSantis' official rapid response director, and former press secretary. These are the same influencers who were spotted at the Four Seasons Resort DeSantis retreat in February of this year.
It is illegal for elected officials to mix their official tax payer funded staffing operations with campaign business.
On Page 5 of the drafted complaint, filed by President Trump's PAC, they rightfully accuse Ron DeSantis of using his tax payer-funded security detail as Governor of Florida to provide personal protection for him at his out of state shadow presidential activities.
This comes as Governor DeSantis has been encouraging the Republican controlled Florida legislature to pass a bill this legislative session that would block the public from being able to access Governor DeSantis's travel records. This month, the Florida Senate Rules Committee unanimously approved SB 1616, and the Florida House Judiciary Committee approved HB 1495 with a vote of 15-7.
The identical bills, if signed into law by DeSantis, will prevent Florida agencies from releasing any records that detail DeSantis' travel, including how much he spent on travel, the plane or vehicle he traveled in, and with whom he was traveling, even though his travel is paid for by the Florida taxpayers.
Subscribed
And now, it appears as though DeSantis is mixing his official tax payer funded operation as Governor with his 2024 Shadow Presidential campaign.
It makes one wonder…what is Governor Desantis trying to hide?
According to the source, Bailey told them the 8 dinners in the first two weeks of May are being hosted at the Florida Governor's mansion. The Governor's mansion is an official government entity in Florida, that is paid for by the Florida Taxpayers.
According to the Florida Department of Law Enforcement's annual "Report of Transportation and Protective Services", Florida taxpayers spent more than $6.097 million during the 2021-2022 fiscal year on protective services for the Governor, his family and visiting officials. The bulk of the costs, $5.94 million, went to guarding DeSantis, members of his family, and securing the grounds of the Governor's mansion.
It is a violation of Florida Statutes to host campaign related events as it relates to elections and campaign financing in official Florida Government buildings.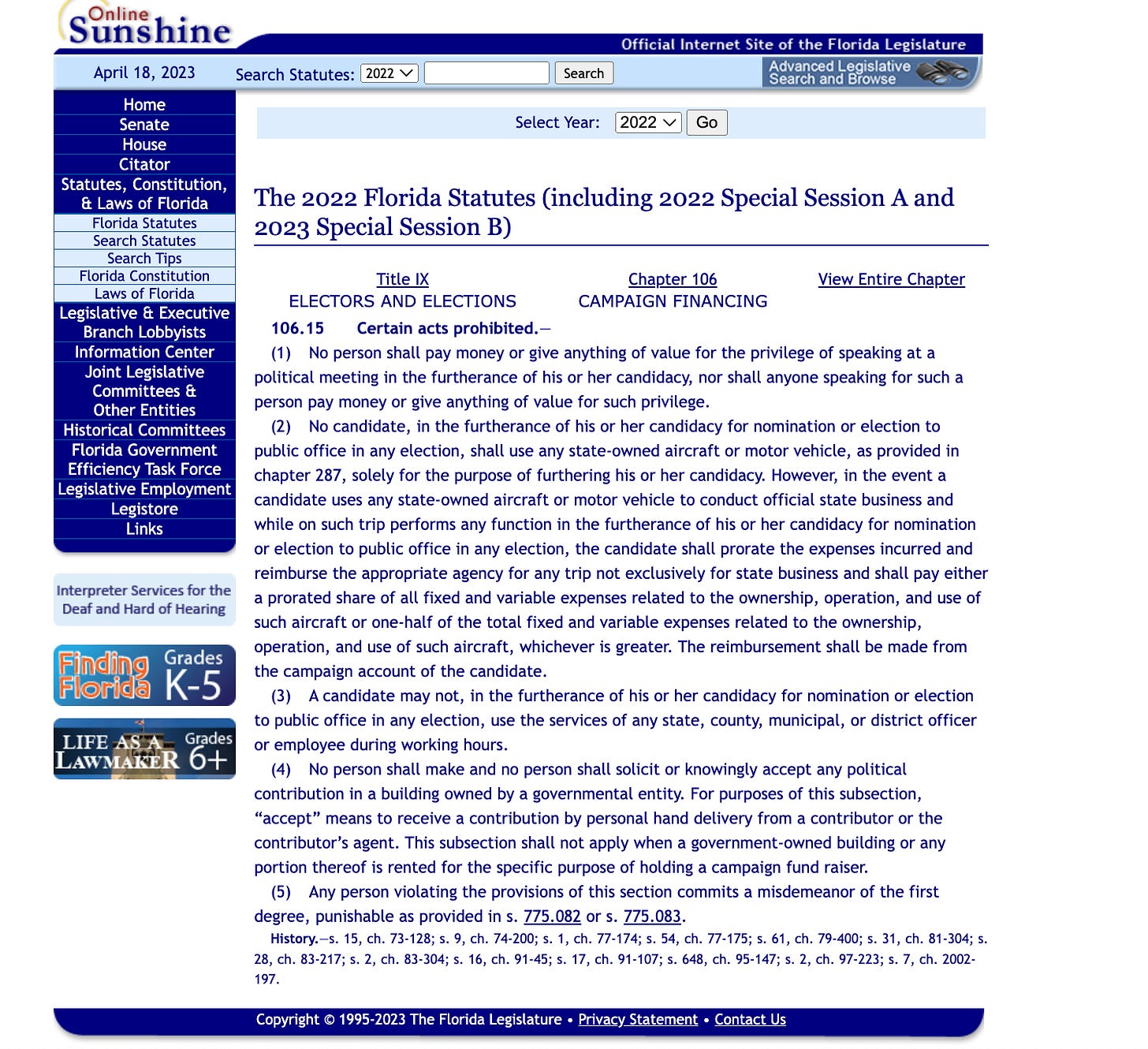 Pursuant to Florida campaign finance law, "[n]o person shall make, and no person shall solicit or knowingly accept any political contribution in a building owned by a governmental entity." (Section 106.15(4), Florida Statutes.)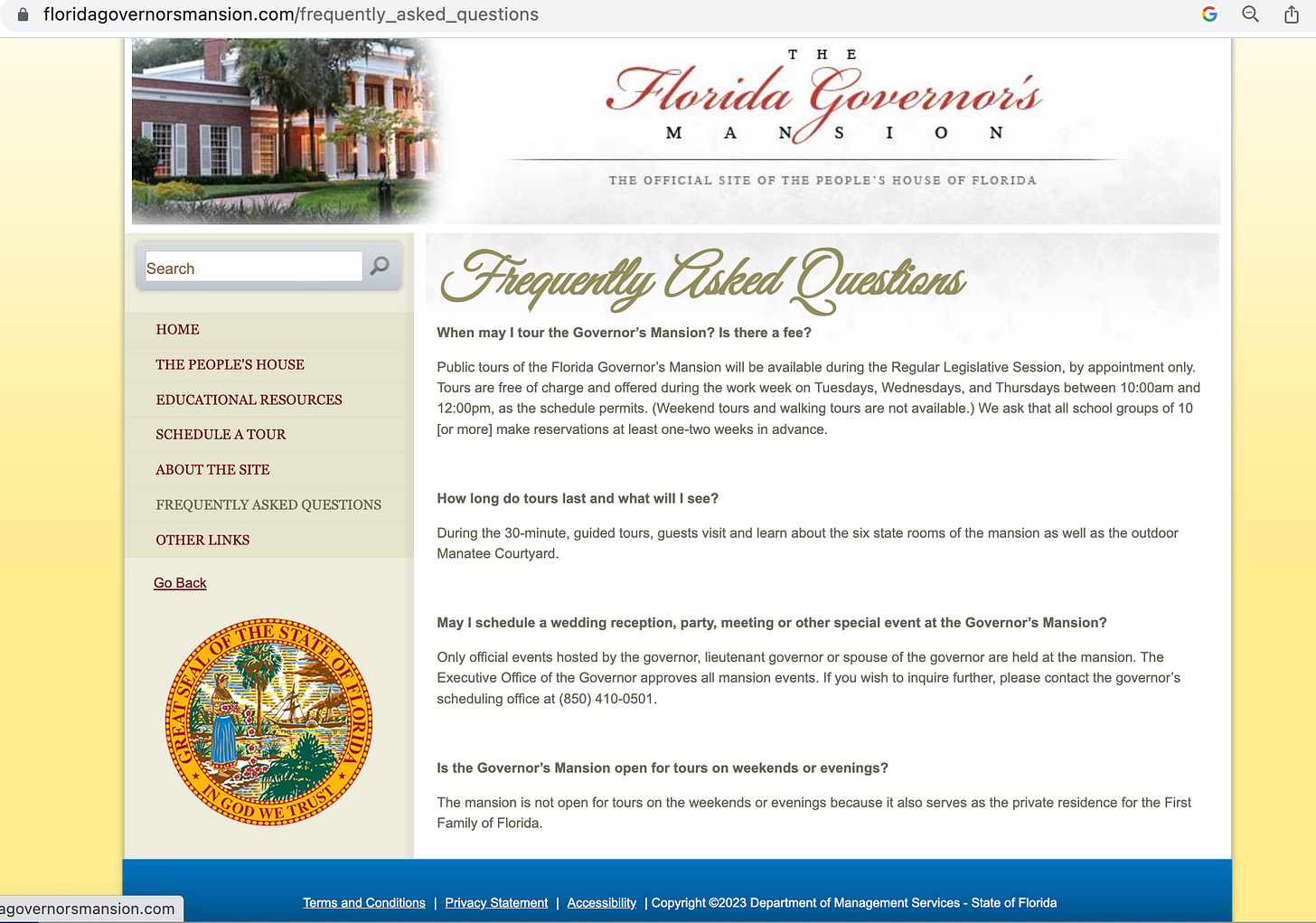 The Florida Governor's Mansion is certainly a Government entity, paid for by the Florida taxpayers. In fact, according to the official website for the Florida Governor's Mansion, which is managed by the Department of Management Services in the State of Florida, "Only official events hosted by the governor, lieutenant governor or spouse of the governor are held at the mansion. The Executive Office of the Governor approves all mansion events."
This means that the Executive Office of the Governor would have had to confirm all eight of these scheduled fundraiser and bundler recruitment dinners that my source was invited to attend. Upon reflection and realization that campaigning for President out of the Governor's mansion is illegal, the source declined Bailey's invitation to attend. The source told me, "It concerns me to get involved with a campaign that would brazenly try to drag me and other GOP bundlers and fundraisers into illegal activity."
DeSantis is clearly abusing his power as Governor of Florida by illegally using the taxpayer funded Florida Governor's Mansion to fundraise for his 2024 Presidential campaign, in violation of FEC laws since he has not yet filed, but is very openly running a campaign for President for the GOP nomination in 2024.
Even if Governor Ron DeSantis was a declared and filed Presidential candidate, hosting a series of 2024 campaign bundler recruitment dinners at the Governor's Mansion would still be illegal.
I reached out to Roy Bailey via phone for comment on Tuesday afternoon. He denies ever telling the source that he was leading Governor DeSantis's fundraising operation. However, when asked if he is a part of Ron DeSantis's fundraising committee, Mr. Bailey said, "if and when Ron DeSantis files to run for President, I will be supporting him. But I never said that I am running his fundraising operation."
I asked Bailey about the source's claim that he invited them to one of eight bundler recruitment dinners and whether or not he has been recruiting other GOP bundlers for the eight scheduled dinners at the Governor's mansion in May 2023, in violation of Florida Statutes.
Bailey didn't deny these allegations. He added, "no comment."
If you enjoyed this article, please SUBSCRIBE to LOOMER UNLEASHED, where I will continue to piss off the elitist political establishment by speaking the TRUTH. It is free to sign up, but paid subscriptions of $7 per month or $70 per year help keep this publication and my investigative journalism alive. So please, consider joining for a nominal fee! Thank you for your support! I truly appreciate it.
EXCLUSIVE: DeSantis Hosting Dinners To Recruit 2024 Presidential Campaign Bundlers and Fundraisers At Governor's Mansion In Violation of Florida Law
Latest posts by Laura Loomer
(see all)