The University of Minnesota is hosting Students for a Democrat Society (National) this Saturday, October 16th, and Sunday, October 17th, while inviting Laila Zayed and Zaynab Mohamed of CAIR to speak on their panel. Laila is a board member of SJP-UIC, Students for Justice in Palestine, at the University of Illinois Chicago. SJP is a Muslim Brotherhood front organization founded by known Jew-hater and BDS co-founder Hatem Bazian. CAIR is an unindicted co-conspirator of the Holy Land Foundation Trial and a Muslim Brotherhood front organization.
SJP is a sister branch of AMP, American Muslims for Palestine, another terrorist-linked organization that supports Hamas. It has attacked many Jewish individuals nationwide, both physically and by spreading blood libels. It spreads pro-Islamic terror hate through propaganda and incites real-time violence.
Just like Islam, as The Forward reports, "Aside from all the hateful outside influence the SJP Divestment Handbook reveals, it also casually suggests ways that activists can use deception to promote their agenda. " This is a common tactic used by Jihadists, considered a deception of war tactic. This tactic is known as taqiyya; you can lie and deceive in order to further Islam itself. It makes absolute sense that an Islamic terrorist organization would use the rules of war from the Quran.
With the rise in Jew-hatred in the United States and throughout the world, it is unsurprising that college campuses would allow this kind of bigotry to be heard. They have willingly ignored it for over 20 years. No matter how many times a horrible attack occurs against the Jewish community, they brush it off. When it comes to accusations of racism concerning the Black community, Asian community, or "Islamophobia" (you cannot be racist towards an ideology), the Left-wing media and Marxist educational institutions are up in arms and marching in the streets. However, when the hatred is directed towards Jews, they are not only silent, but they are complicit in furthering false antisemitic tropes disguised under "social justice." This is the ancient plight of the Jew, forever the scapegoat to the world's ills. Shame on all that do not speak out against this.
We are only 76 years away from the Holocaust, and here we are again. Hatred starts in the schools; it starts with the impressionable youth. While other media companies skirt around the facts whenever Jew-hatred is perpetrated by the Muslim community, Illoominate Media will not. There is a rise of Jew-hatred that is directly coming from both the Islamic and Black communities, and it is playing out on college campuses all across America.
You can watch Saturday's conference here:
https://www.youtube.com/watch?v=JYwN-P_amZs
The inflammatory speakers of this event have called for war, a genocide of Jews, and the erasure of Israel. They idolize and glorify known terrorists whose objectives are barbaric. The organizations they represent fund terrorism are linked to Hamas and the Muslim Brotherhood, amongst many other Islamic terrorist organizations. In the United States, Freedom of speech is absolute unless it leads to direct violence. The ultimate goal of these groups is civilization jihad, in which they create a world under one Islamic caliphate, subject to Sharia, otherwise known as Islamic law.
Ideologies like these have ruined other nations throughout the world, especially with the rise of Islamic immigration and refugee resettlement. College campuses are no place to promote the genocide of Jews and an ideology that wishes to overthrow the American constitution.
One of the panel speakers, Laila Zayed, has previously called for an intifada, a Jewish genocide, and an end to the only Jewish nation in the world; Israel. As a board member of SJP-UIC, she has been in charge of many antisemitic events. Every year, SJP throws an "apartheid" week on campus. Besides pushing a false blood libel, it has become extremely hostile for Jews or supporters of Israel on or around UIC. It has grown increasingly unsafe, and many young Jews prefer to hide their Judaism as not to be harassed by Laila and others who actively promote political Islam.
According to the Canary Mission, "As of December 2020, Zayed saved a tweet to her Pinterest "Free Palestine Board" that featured a man holding a sign that read: "BLAMING HAMAS FOR FIRING ROCKETS IS LIKE BLAMING A WOMAN FOR PUNCHING HER RAPIST."
Laila is also known for dedicating an entire site to her hero, Leila Khaled.
The Canary Mission further explains:
On January 6, 2021, Zayed posted to her website, a poster she designed glorifying Leila Khaled.

Khaled is a leader of the Popular Front for the Liberation of Palestine (PFLP) and participated in the hijacking of TWA Flight 840 in 1969 and El Al Flight 219 in 1970. As of 2017, Khaled was a member of PFLP's Political Bureau.

Khaled has said that the second intifada failed because it was not violent enough, advocated for the use of children in terror activities and compared Zionists to Nazis.
Zayed commented: "Recently, Leila Khaled was banned from being on a zoom call with SF State due to her association with the popular front for the liberation of Palestine because it is wrongfully considered a terrorist organization." She added: "#freedomfighter."
Zaynab Mohammad is another Islamist who works as the Community Advocacy Manager for CAIR Minnesota. Zaynab is usually marching with Black Lives Matter, which many consider to be a domestic terrorist organization. Both CAIR and Black Lives Matter participate in demonizing Jews and calling for the end of Israel's existence. Zaynab is another Somali American like Ilhan Omar and is just as destructive. She is a radical Muslim who uses "progressivism" as a disguise to undermine America's foundation while viciously spreading bigotry against Jews.
Zaynab formerly worked for Omar Fateh, another radical Somali American, as the former East African Engagement Director. Omar Fateh has demonized Israel for defending itself against the terrorist attacks from Hamas. He went so far as to send a letter to President Joe Biden and Secretary Blinken.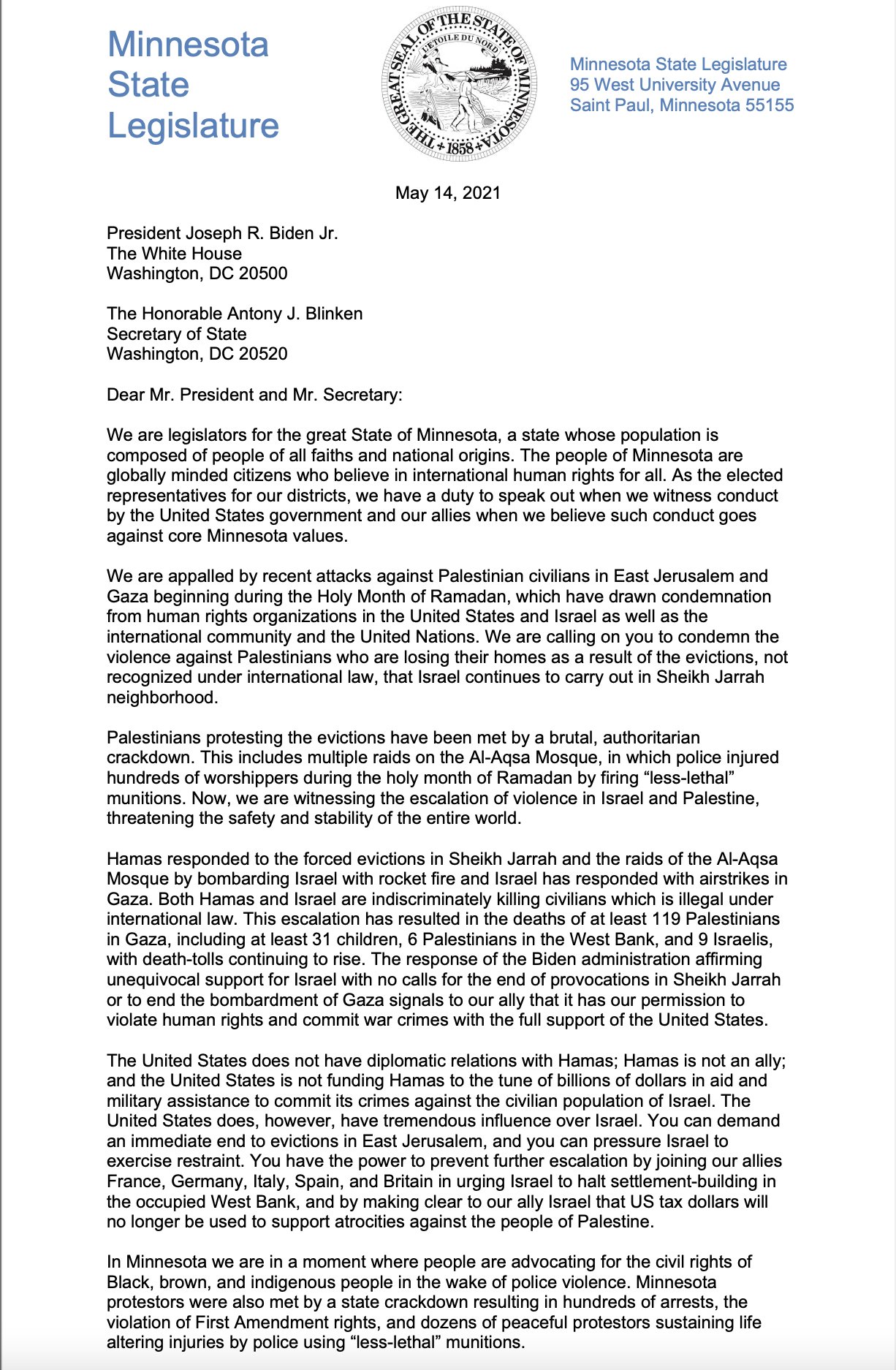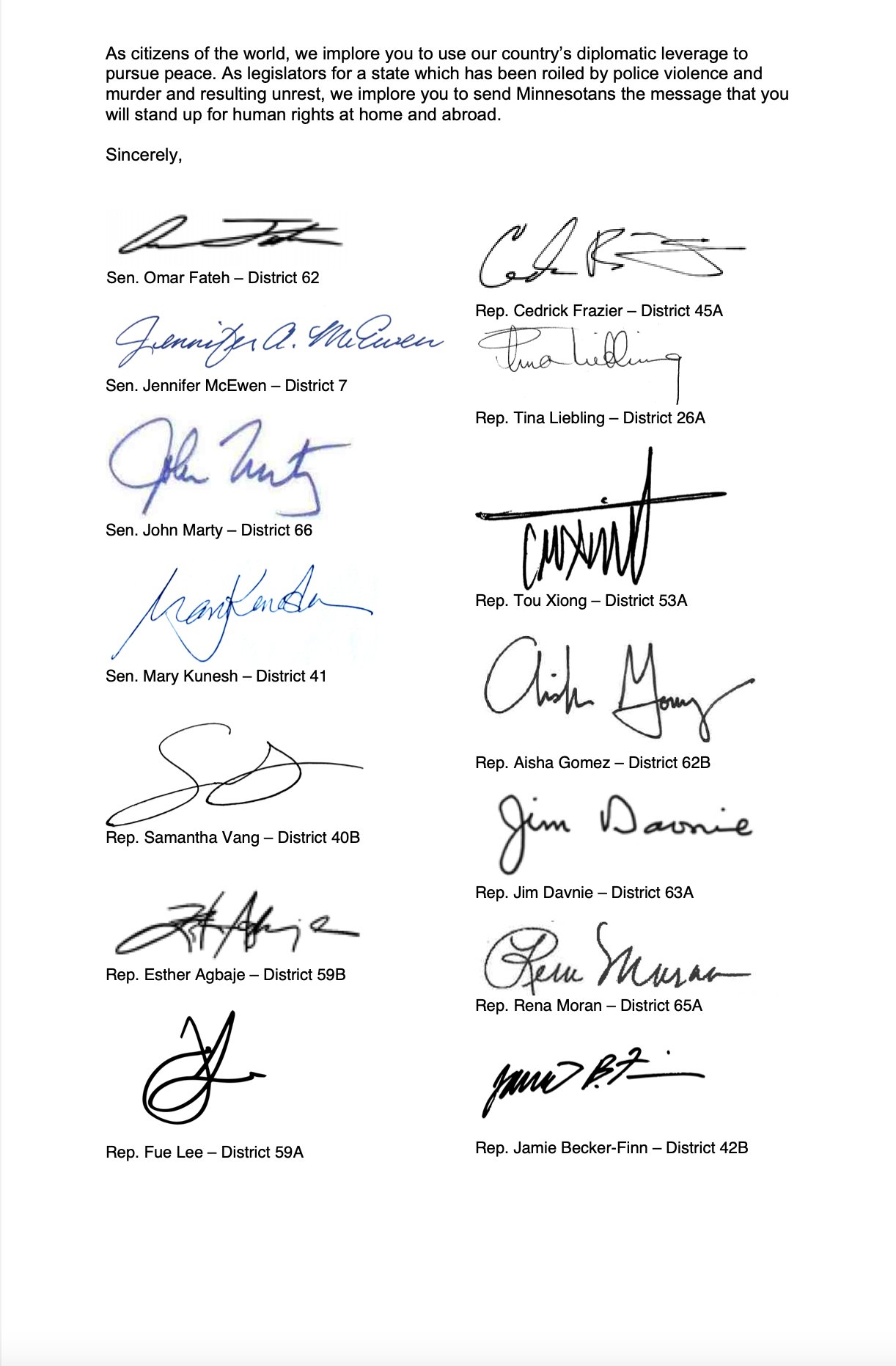 This group of people, Islamic Jew-haters, are the worst of humanity. They equate Israel, the only Democracy in the Middle East, to Hamas, a terrorist organization that has declared war on Israel and has promised to evaporate it from this Earth. This is antisemitism 101. They are brainwashing the next generation, and it must be put to an end. They are the true racists.
This isn't the first time the University of Minnesota has hosted such a blatantly antisemitic conference, but it needs to be the last. It's time we fight back. No campus should allow those who wish to incite extreme violence and jihad to have conferences on campus grounds, as UIC and MNU do.
CALL TO ACTION:
Email the President and Chancellor of The University of Minnesota and The University of Illinois Chicago, let them know that you will not tolerate this kind of antisemitism on campus!
EXAMPLE:
Dear Chancellor/President,
It has come to my attention that you are allowing terrorist-tied organizations and personalities to speak on campus. This is unacceptable and does not belong in campus discourse. Both Laila Zayad and Zaynab Mohamed have used hateful rhetoric that incites violence against the Jewish community.
The organizations they are a part of, Students for Justice in Palestine and CAIR, are linked to terrorist organizations such as Hamas and the Muslim Brotherhood. These organizations and their participants call for the genocide of the Jewish people and its nation, Israel.
This event puts students' lives in danger. Free speech is free until it incites violence. It must never be allowed again.
We stick up for American Jews and won't allow this kind of hate to be taught to our youth.
Best,
Your name
You can reach them here:
The University of Minnesota's President, Joan Gabel, can be reached at:
or https://president.umn.edu/.
The University of Illinois Chicago's Chancellor can be reached at:
Latest posts by Angela Van Der Pluym
(see all)