On Thursday, Congressman Paul Gosar posted a letter he wrote on Twitter urging the U.S. Attorney General to investigate the raunchy website OnlyFans for their role in "promoting, and profiting from, online prostitution".
The letter focuses around the Mann Act, named after Congressman James Robert Mann of Illinois that made transporting "any woman or girl for the purpose of prostitution or debauchery, or for any other immoral purpose" a felony.
The Mann Act not only sought to protect young women from being coerced into becoming prostitutes, but made other forms of consensual sexual activity illegal as well.
Rep. Gosar mentions the prosecution of heavyweight champion of the world Jack Johnson, who was arrested for bringing a prostitute from Pittsburg to Chicago, which was more an attack on his preference in white women than having to do with the safety of the young woman. President Trump pardoned Johnson in 2018, though Johnson passed away in 1946.
Also referenced in the letter to the U.S. Attorney General was the prosecution of actor Charlie Chaplain in 1944, when he took unmarried women across state lines. Though Chaplain was never convicted, Gosar points out that an internal DOJ memorandum was later leaked showing that the Director of the FBI at the time had targeted Chaplain for the Mann Act, while also providing information to different gossip columnists in an attempt to damage Chaplain's character with the general public.
"Chaplain was likely targeted for political reasons after traveling to Carnegie Hall in New York city to give a far-left speech, and for speaking out about censorship," Gosar writes.
Rep. Gosar cites the New York Times in the letter, who more than a decade ago stated that the Mann Act was used as a "predicate in elaborate extortion schemes" calling 'the blackmail that resulted from the Mann Act […] worse than the prostitution it sought to suppress.'"
The website OnlyFans, according to Rep. Gosar violates the Mann Act by operating across state lines. Though the site is protected under Section 230, Gosar says, OnlyFans facilitates and encourages interstate travel, both which would qualify as violating the Mann Act.
"On this site, individuals can advertise their willingness to travel across state lines for illegal or immoral activity, and the platform providing publicity for these individuals seems to subsidize and capitalize off this travel," Gosar writes. "It is worth investigating this issue further, given the volume of activity on this site and anecdotal reports about prostitution, child exploitative material, and illicit sexual coercion."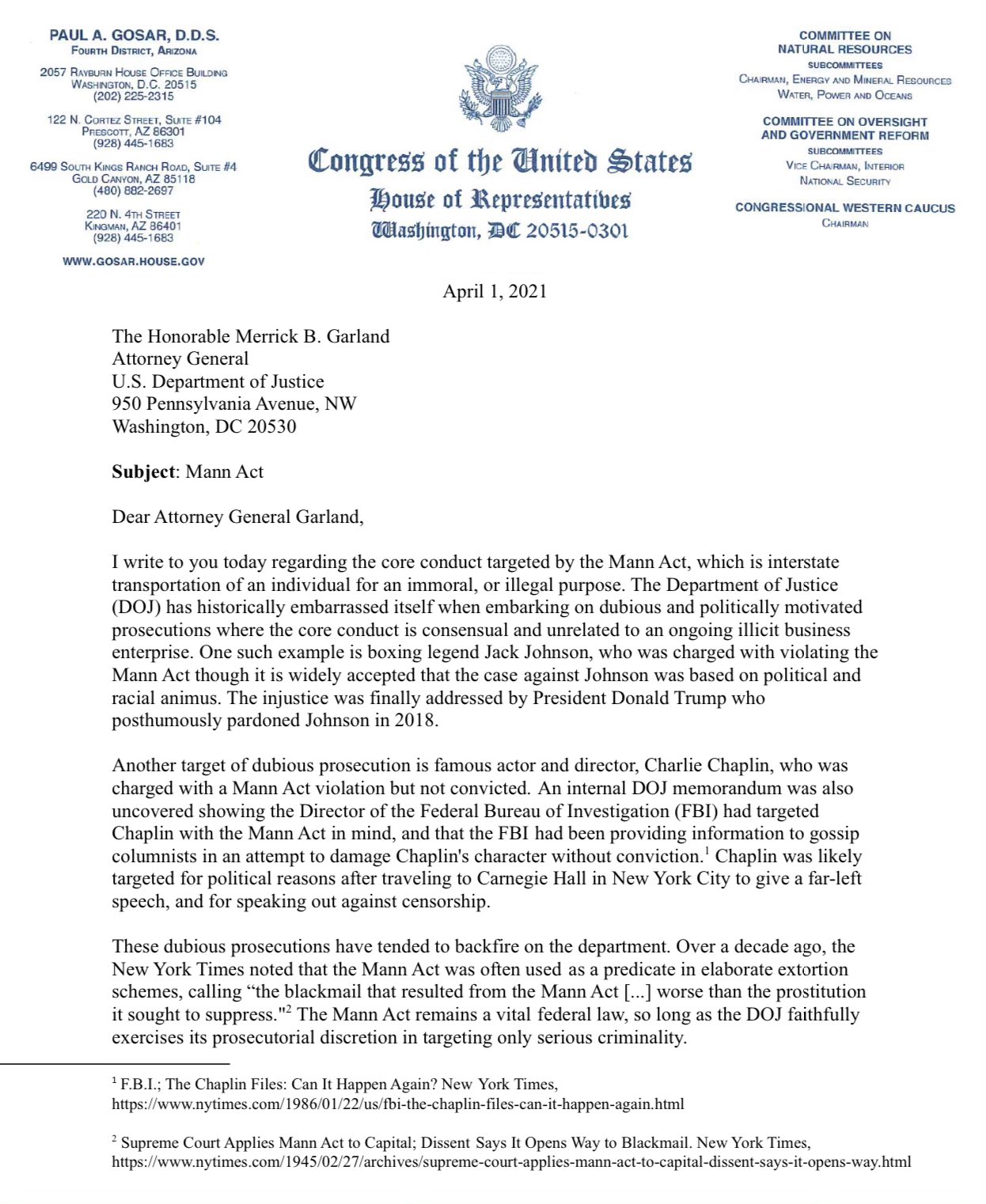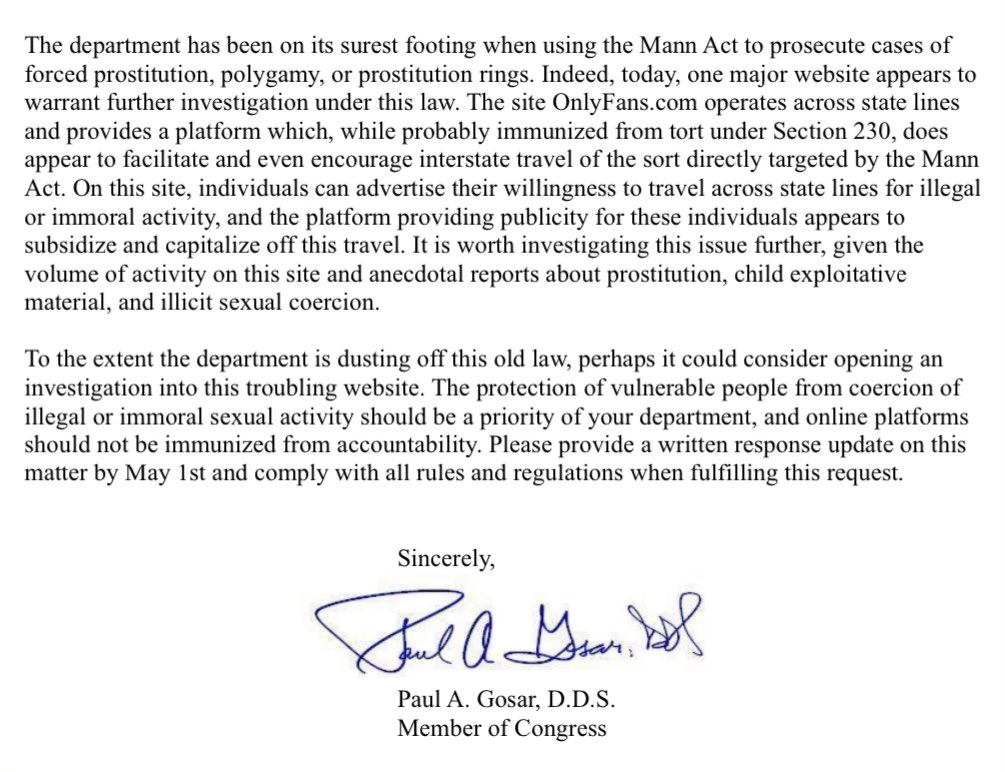 OnlyFans, which launched in 2016, is a platform popular in the adult-entertainment realm where users can pay for racy photos, videos, one-on-one camera sessions, and pay-per-view-style content. While the site currently has only around 450,000 "content creators," they serve 50 million users porn for a small subscription fee, or one-time payment. The New York Times even called the site "the paywall of porn" in their 2019 article titled "How OnlyFans Changed Sex Work Forever".
Last May, OnlyFans CEO Tim Stokley reported the site gains around 200,000 new users, with 6,000-8,000 new "content creators" in any 24 hour period. Last April, OnlyFans subscriptions went up 15% after Beyoncé mentioned the adult site in her verse on Megan Thee Stallion's "Savage" remix. "Hips TikTok when I dance/On that Demon Time, she might start an OnlyFans." The site has also seen an increase in users, content creators and traffic since COVID lockdown measures have been put in place last year. Imagine that.
The site OnlyFans not only hosts your everyday girl-next-door in various stages of undress, (with some preforming imitated or actual sex acts) but you can also see some of your favorite musicians like the always wholesome Cardi B or reality-TV rejects like MTV's "16 and Pregnant" star turned hardcore porn star Farrah Abraham.
Anyone who has access to a webcam on their computer, or a cell phone connected to the internet can now produce and direct their own porn for paying voyers or negotiate prostitution.
Latest posts by Haley Kennington
(see all)