---
Twitter's Safety Team announced in a series of tweets on Tuesday they would be taking "strong enforcement action on behavior that has the potential to lead to offline harm."
Did they ban the hundreds of Antifa accounts that have used the platform on a daily basis to coordinate attacks in cities across the nation? No? Was it accounts that promote and support pedophilia on the platform they were going after? No? Was it terrorists who have used the platform to brazenly call for violence against American politicians and jihad in America? No?
No, Twitter Safety is concerned about QAnon activity. That's right. They're concerned that all you puzzle-loving patriots who use the platform to expose corruption by Deep State actors and use your accounts to post memes. You guys are all dangerous to society, and Twitter simply can't have that kind of behavior on their site.
"We will permanently suspend accounts Tweeting about these topics that we know are engaged in violations of our multi-account policy, coordinating abuse around individual victims, or are attempting to evade a previous suspension – something we've seen more of in recent weeks," read one tweet from the safety team.
Twitter Safety also made a point to let all users know that they have the power to "review" activity and can "update our rules and enforcement approach again if necessary." This comes after Twitter updated their TOS in May to state they reserve the right to suspend or terminate your account for "any or no reason."
While Twitter Safety pledges to "protect the public conversation in the face of evolving threats," accounts like MAP (Minor Attracted People) Support Club and Pedophiles about Pedophilia remain on the site. Twitter sees no potential offline threat with allowing pedophiles to roam free on their site, to congregate and exchange information and God knows what else?
This account declares that "Pedophilia is attraction, not abuse."
In fact, if you haven't already stumbled upon adult porn while on the site, consider yourself lucky. Not only does Twitter allow pornography on the site, they also remain silent about child trafficking activity, child porn, and the distribution of videos and images that are exchanged on the platform. Tore Says goes into detail in the article below.
The timing of this QAnon account crackdown is interesting on a few fronts. Just last week several blue checkmark accounts claimed they were all hacked on the platform. Among the high-profile accounts was John Legend's wife Christy Teigen who deleted over 60,000 tweets from her account, but not before Twitter users scooped up screenshots of some of her more bizarre and questionable tweets prior to the locking of her account.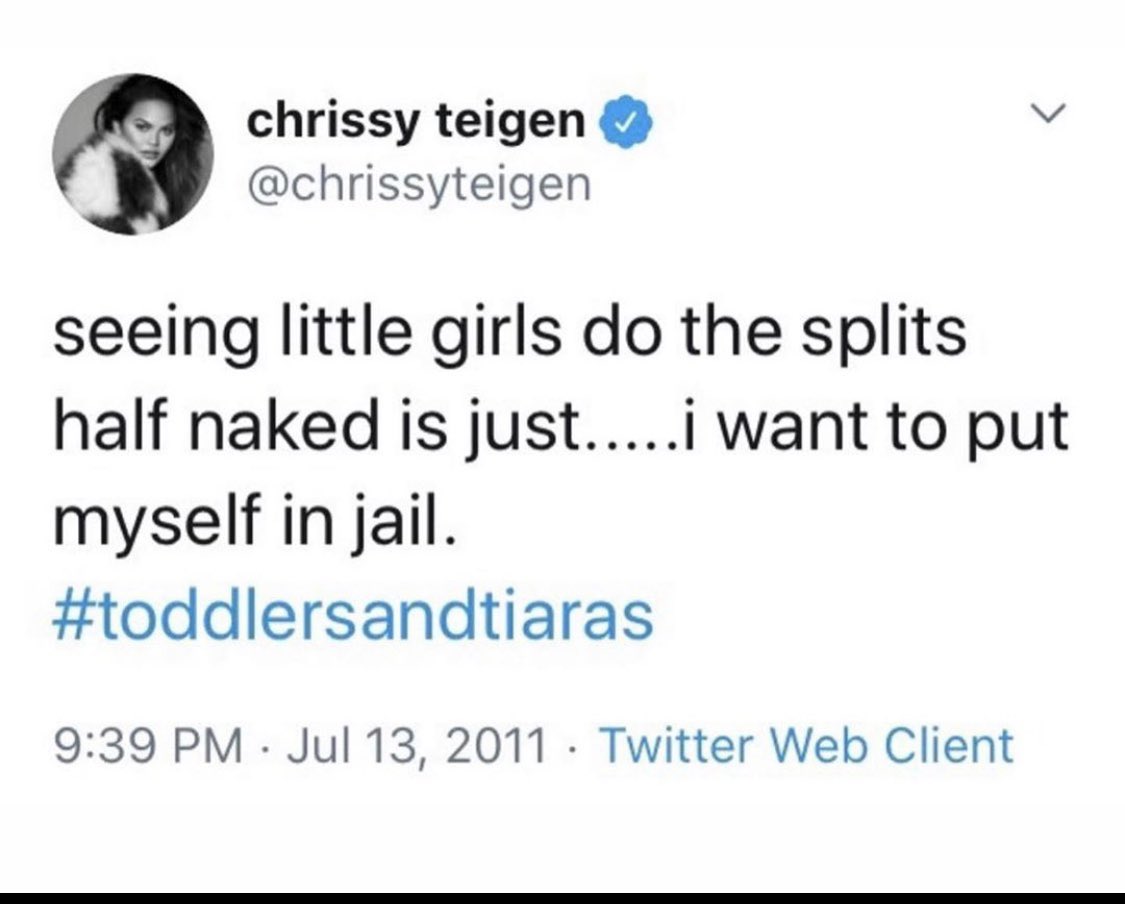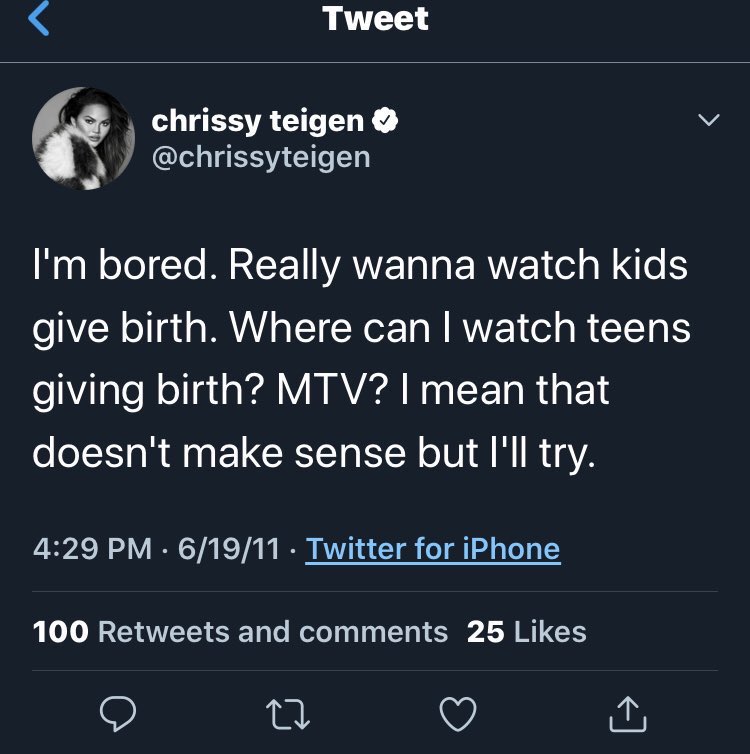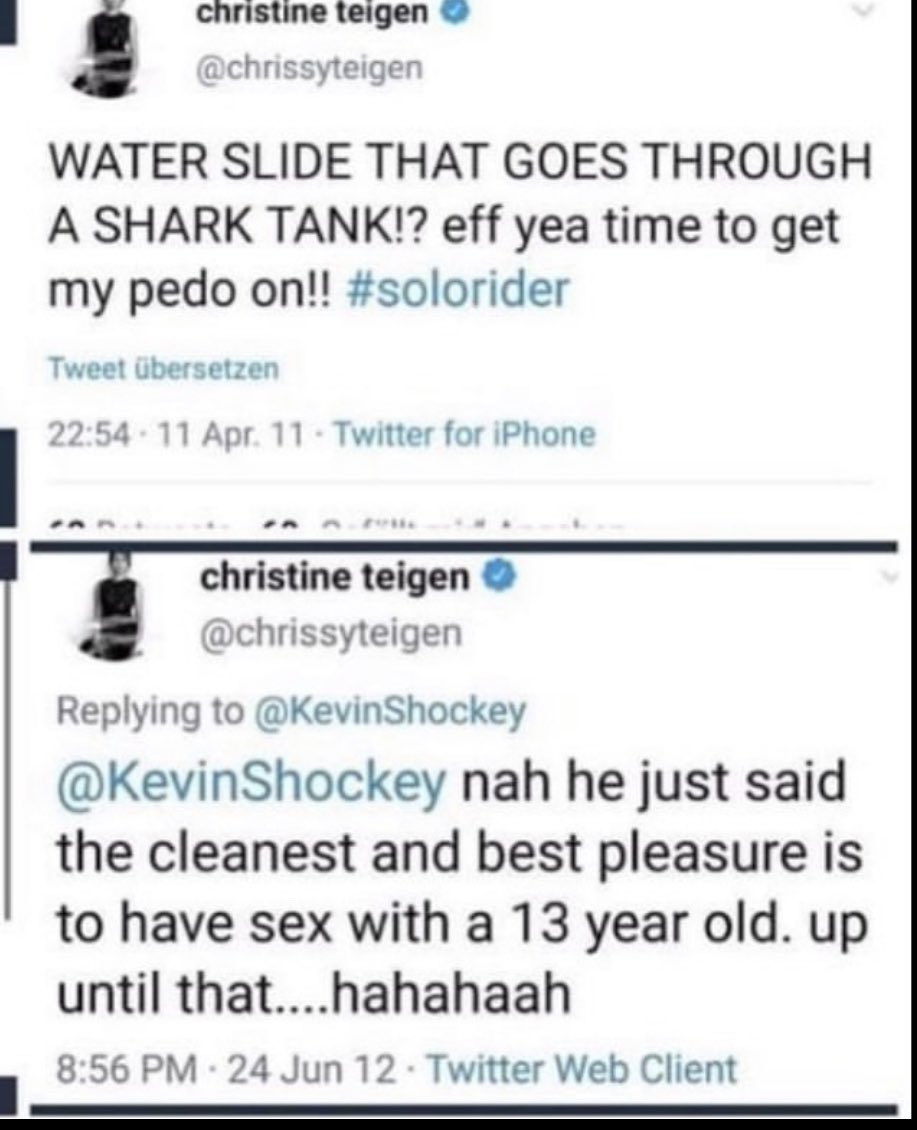 You can find thousands of tweets like these floating around the internet all from Teigen's account. Teigen posted a tweet before she locked her account that seemed like a weak attempt at putting distance between herself and the tweets that read, "I have been hacked for 11 years. This is my first true tweet…Hello everyone. Did anything interesting happen. I love cats!"
Teigen threatened to leave Twitter on July 14th after responding to another Twitter user who mentioned their concern for the safety of Teigen and Legend's children.
In addition to Twitter turning a blind eye to the vile pedophilic content on the site, it was recently discovered that the live video streaming app Periscope, acquired by Twitter in 2015, is host to actual child porn. The channels post payment methods as well as links to other platforms to purchase child porn. Some of the accounts associated with the tag "VIP" are still up, after hundreds of reports against the accounts continue to be ignored.
Twitter user @YesThatAnna responded to Twitter's new Q-ban tweeting, "my dudes there are PEDOPHILES on this website, and I told your Communications manager the hashtags they were using to distribute and solicit megadumps of child sex exploitation material and y'all have done N O T H I N G sir"
Twitter remains complicit….ahem…I mean, silent.
Just last month I reported on Twitter's deafening silence when it comes to the different Antifa and Anti-Police accounts that coordinate and distribute information to fellow rioters on the platform:
In a different report in June, I also pointed out Twitter's allowing accounts to give users detailed information on weaponry suggested be used to assault police officers :
Twitter also has no issue with different Antifa accounts using the platform to plan their movements or recruit "protestors". Many of these accounts are used to update others on meeting locations and police activity.
In May, The White House called Twitter on their hypocrisy after censoring President Trump for "glorifying violence": "This Tweet violated the Twitter Rules about glorifying violence. however, @Twitter has determined that it will allow terrorists, dictators, and foreign propagandists to abuse its platform."
This is nothing compared to some of the threats of violence public figures have received both in direct messages on Twitter and in public tweets.
One can only imagine the threats that President Trump, his staff, and family receive in private messages when people will post them publicly. Here are just a handful. There are thousands.
OAN's Jack Posobiec also called Twitter on their lack of interest in real-life threats on the platform, "Russiagate truther James T Hodgkinson shot 4 people including Congressman Steve Scalise ANTIFA supporter Conor Betts conducted a mass shooting of 26 people in Ohio 'MAPS' are pedophiles attempting to rebrand Will @TwitterSafety be taking any action against these movements?"
Yossi Gestetner weighed in on the QAnon ban Tuesday tweeting, "Twitter choked off a tweet by @realDonaldTrump for saying 'There will never be an 'Autonomous Zone' in Washington D.C., as long as I'm your President. If they try they will be met with serious force!' But the missile attack threat is ok per the gaslighting hacks who run Twitter."
For those who have no idea what QAnon is about, or have never had much interest in following the goings on of the elusive crumb dropper, Twitter's ban on all things QAnon has created the opposite effect, sparking interest to those naive to the movement. Facebook user Hallucin Fadden responded to Steven Crowder's post on the Twitter ban by saying, "And suddenly they've made me, someone who has only ever scoffed at Qanon stuff, immensely intrigued. If it's worth hiding it's worth seeing."
Going as far as to say that this action taken by Twitter could be considered as election interference may be a bit of a stretch, but how many liberals have you met that are supporters of the QAnon movement? I'm sure some exist, but considering the QAnon movement is Pro-Trump, Anti-Deep State, and Anti-Global Pedophilia, you have to wonder if this is Twitter's attempt at wiping out as many Pro-Trump accounts as possible before the election, all under the guise of "safety".
Laura Loomer also weighed in on the Twitter announcement on Parler, noting that QAnon accounts all support President Trump. "QAnon accounts are all pro Trump accounts. You don't have to agree with the QAnon theories to see that this is targeted political censorship against conservatives," Loomer wrote.
You also have to ask yourself when Twitter became everyone's Daddy. At what point did those at Twitter decide that you – a free-thinking adult – can no longer take in information, process it, and make your own decisions on what you're reading? At what point did Twitter become the arbiter of truth?
If Twitter is so concerned about activity offline that begins with information shared on their platform, why haven't they done anything about the dangerous accounts that are fomenting violence and posting sexual acts with children? Why aren't they cracking the whip on actual crimes being committed openly on their platform? Reporting said tweets and accounts are ignored.
Twitter is more concerned about removing puzzle solvers and meme makers than it is protecting children, police, statues, stores, cities, and other users.
For Twitter to continue to take an editorial position while claiming they're a platform and not a publisher is ridiculous. Section 230 protects platforms like Twitter, Facebook and others from being held liable for allowing defamatory comments to remain on their site. Social media platforms can't have it both ways, and they should not be shielded from liability.
Section 230 of the Communications Decency Act  clearly defines the following: "No provider or user of an interactive computer service shall be treated as the publisher or speaker of any information provided by another information content provider." It also states, "The Internet and other interactive computer services offer a forum for a true diversity of political discourse, unique opportunities for cultural development, and myriad avenues for intellectual activity."
Anyone retweeting content linked to QAnon can be banned. Anyone sharing links that are supportive of the QAnon movement can be banned. If you have a QAnon hashtag in your name or in your Twitter bio, or even retweet someone who does, watch out.
Take a long, hard look at the stark contrast in what Twitter deems as dangerous and what they allow to remain on the platform. Whether or not you support the QAnon movement really doesn't matter. Today it's QAnon, tomorrow it will be Conservatives, Christians, Pro-Trumpers, or Pro-Lifers. This is just another notch in the censorship belt on social media platforms. This will not end here. They are far from done.
Latest posts by Haley Kennington
(see all)
---
You may also like