In a stunning admission on Monday, investor and former Reddit CEO Ellen K. Pao admitted in a tweet that she and others knew of Ghislaine Maxwell's "supplying underage girls for sex" was early as 2011, but said nothing because it "made no difference."
Pao's statement was in response to a tweet written by Twitter user @cyantist (Cyan Banister) in which she claimed to never have been "cool enough," to be invited to events where Maxwell was present. Banister added, "I'm super thankful that I've never accidentally had a photo of me taken with Ghislaine."
Pao replied saying, "She was at the Kleiner holiday party in 2011, but I had no desire to meet her much less have a photo taken with her. We knew about her supplying underage girls for sex, but I guess that was fine with the "cool" people who managed the tightly controlled guest list."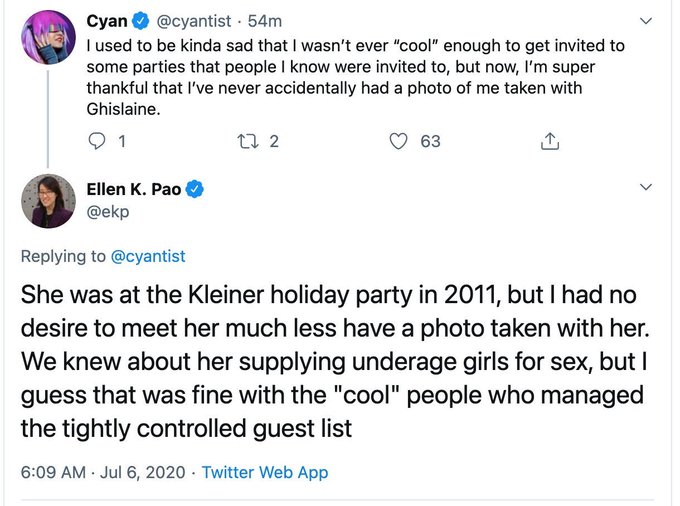 Pao is a former partner of Silicon Valley's Kleiner Perkins, having left the firm in 2012. Pao later unsuccessfully tried to sue the firm, claiming she had been fired for claiming about sex discrimination, according to Business Insider.
Considering Epstein was convicted of soliciting sex from a 14-year-old three years before the holiday party Pao refers to, it's no wonder that others were aware of not only the disgraced financier's illegal activity involving sexual relations with minors, but of his long-time "girlfriend" and "supplier" of underage girls, Ghislane Maxwell as well.
It's no secret that Jeffrey Epstein had close connections to Silicon Valley elite, including Bill Gates and Elon Musk, and other prominent men like Les Wexner, CEO of L Brands (Victoria Secret) and even Prince Andrew.
In a 2019 New York Times article by James B. Stewart, he describes an interview he had with Jeffrey Epstein in 2018 where Epstein made comments about his connections to Silicon Valley giants:
"Mr. Epstein then meandered into a discussion of other prominent names in technology circles," Stewart wrote. "He said people in Silicon Valley had a reputation for being geeky workaholics, but that was far from the truth: They were hedonistic and regular users of recreational drugs. He said he'd witnessed prominent tech figures taking drugs and arranging for sex."
It's also admitted during the 2018 interview that Epstein worked closely with Tesla, but that he could not go into detail about his role in the company because if it ever became public "he'd have to stop doing so, because he was 'radioactive.'" 
Ghislaine Maxwell is currently being housed at the Merrimack County jail in New Hampshire, after being arrested and charged last week with sex crimes and conspiracy related to the Jeffrey Epstein case. She is also being charged with perjury after lying on a deposition in 2016.
Maxwell was quietly arrested at a 156-acre property in Bradford, New Hampshire, without incident. According to The Guardian, the home was purchased by Maxwell in cash last December, and has been valued at over $1 million by several real estate sites. It's too bad she didn't receive the Roger Stone FBI-Swat treatment. If anyone deserved to be arrested in a similar fashion, it's Maxwell.
Maxwell has been a fugitive since last July, but allegedly has remained under the radar while hiding out at separate locations in New England.
Pao quickly tried to clarify her admission by saying "we 'suspected' v 'knew,'" claiming that the press had only described Maxwell as having supplied underage girls for sex, but that since she had not yet been charged, it was either overlooked or acknowledged. Either way, all the red flags surrounding Maxwell were ignored.
When Twitter user @duygudaniels stated, "Sorry but it sounds like you were fine with it too," Pao responded by saying she was "a junior partner on the outside of the inner circle, and what I said made no difference here and in many other decisions."
Pao then quickly locked her Twitter account, setting it to private after receiving backlash for the admission and after failing at her attempts to clarify.
Just how many people were aware of Epstein and Maxwell's crimes is unknown. Many have admitted to having known, yet nothing was done to protect children or to stop the abuse. Cindy McCain admitted to having known, with one of her daughter's friends from school allegedly being one of Epstein's victims. Why was nothing done to stop these crimes?
Project Veritas released a video in 2019 where ABC News anchor Amy Robach was caught on a hot mic saying that she had the Epstein story for three years, but that ABC would not allow the story to air. Why? Exactly who are they protecting? Not the children being abused.
Whether it was because they didn't feel anything could or would be done to Epstein and Maxwell, they were being blackmailed, or because they wanted to play ball with some larger players in order to advance their careers, the allegations against Maxwell, along with Epstein's conviction for solicitation of a minor had been public knowledge for years by the time the Kleiner party was held in 2011.
Hobnobbing with pedophiles, or at the very least admitting you knew about allegations surrounding sex abuse and sexual trafficking of minor children and did nothing about it because that person was only "suspected" of supplying young minors to a convicted pedophile, but had not yet been formally charged is not a good look.
It makes one wonder just how many fell victim at the hands of Epstein and Maxwell while others knew and remained silent. Dozens? Hundreds?
Latest posts by Haley Kennington
(see all)