With outrage continuing to blaze through the nation in response to the May 25th death of Minneapolis resident George Floyd, social media has become an integral part of the organization of protests and violent riots.
Communications being used on social media are not limited to simply posting a flyer for the next event being held, but for private messages between key players, organizers, and members of violent terrorist organizations such as Antifa.
"Ben Bergquam, an investigative reporter at America's Voice News who has been in multiple confrontations with Antifa and other violent groups, stressed that 'social media is driving the riots right now.'"
"They [Antifa] do a lot through apps, and they use paper flyers and leaflets as well," he claimed. "A lot of it is off of social media, phone to phone, or email. They use all forms of communication to spread a violent message."
Shortly after we began to hear more and more chatter about Antifa being involved in the riots seen in cities throughout the country, Antifa-related Twitter accounts began to warn members and followers to delete tweets, lock their accounts, and some even changed their name and handle on the platform in order to hide their communications.
After hearing of Floyd's death another Antifa account based out of Sacramento tweeted, "RIP to #GeorgeFloyd Solidarity to his friends and family. Solidarity to all the fierce protesters in the streets of Minneapolis tonight fighting back against the police. Attack white supremacy. Attack the police."
When open communications began to pose a problem, many turned to alternate messaging platforms such as WhatsApp, Discord, and Telegram to continue their planning, organizing, and recruiting.
"Download @signalapp: signal.org," Dorsey tweeted last Wednesday, in a quote tweet from Recode/Vox.com reporter Rani Molla that reads: "Signal became one of the top 10 most downloaded social apps on iOS yesterday for the first time, according to data from App Annie. The last time Signal downloads ranked nearly as high was on the day of Trump's inauguration."
Molla included a link to a Vox.com article published the same day titled "From Citizen to Signal, the most popular apps right now reflect America's protests" that reviewed communication and messaging apps that have seen an influx of downloads since the death of George Floyd. According to the article, along with the police scanner app Citizen, Signal has been setting daily records since Floyd's death. Signal is rumored to have end-to-end encryption, supposedly making the app safer to use.
Dorsey also commented "Amazing" in response to Signal promoting career opportunities to "help us work on end-to-end encrypted group video calling functionality".
Twitter users quickly noticed the promotion by Dorsey of the messaging app Signal and began to ask the CEO questions on the platform:
Some users referenced a recent undercover investigation by Millie Weaver that also highlighted the use of the platform to glorify violence seen in the recent riots.
The entire video can be viewed here:
In this tweet, the user is asking why Jack liked a video posted by journalist Ian Miles Cheong that reads, "Police in St. Louis are under live fire from rioters. Four have been shot, sent to hospital."
Seeing some of Twitter CEO Jack Dorsey's other liked tweets -though sadly predictable, are actually quite disturbing.
Many Twitter users are seeing the writing on the wall and have called Dorsey out. Not only for his recent call for freshly declared terrorist organizations to switch to Signal in order to continue communications, but also for his recent stance on the rioting and looting, and Dorsey's obvious political views regarding the defunding of police.
The tweet above shows a screenshot where discord reminded users that as part of their guidelines, "11. You may not use Discord for the organization, promotion, or support of violent extremism."
With Antifa recently being deemed a terrorist organization by President Donald Trump, their communications on Twitter and even that of the private messaging between members and recruits are now subject to surveillance by intelligence agencies and intercepts by the NSA. All 56 regional FBI Joint Terrorism Task Forces have been monitoring the protests since the Minneapolis riots began to spread to other cities. Is this why Dorsey recently called for users to make the switch from Twitter to Signal?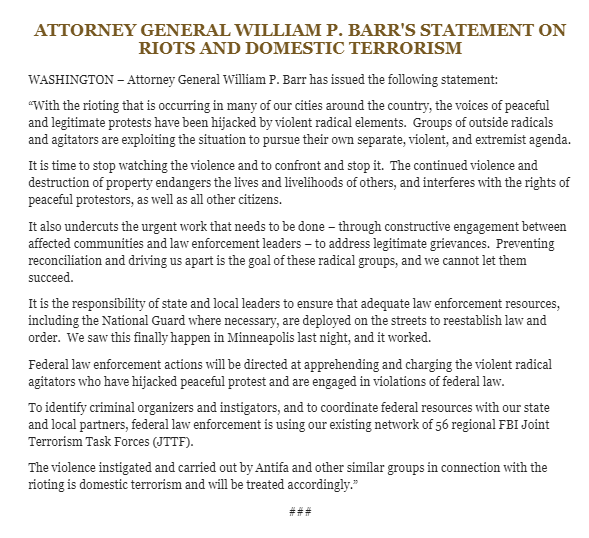 The most recent video in a series of undercover investigations by Project Veritas into the workings of Antifa exposed ties between a Shelby, North Carolina Antifa group and that of the Tacoma ICE firebomber, noting the organizations openly communicate on Twitter.
Journalist Andy Ngo, who fell victim to a violent attack that almost cost him his life by Portland-based Antifa last year tweeted Tuesday, "One of the antifa militias named in the #ExposeAntifa video is also providing armed security for the antifa "autonomous zone" in Seattle. They are armed and trained to kill. Messages repeated by antifa explicitly call for police to be murdered. #antifa"
Watch the latest Project Veritas investigation "#EXPOSEANTIFA Part III: 'We believe in complete abolition of the system itself, including police…'" here:
A July 14th Facebook post in the Puget Sound John Brown Gun Club confirms the membership:
June 1st, Ngo pointed to an article by The Post Millennial that also picked up on some of the communications on Twitter by Puget Sound John Brown Gun Club.
Another Twitter user added a tweet to the thread posted by @TannerOD that reads, "They are currently at the Seattle antifa block," along with a photo showing what is said to be members of the Puget Sound John Brown Gun Club (@PugetSoundJBGC).
A lame mixture of posts that feature failed attempts at being humorous about the "light side" of anti-fascism, with a steady peppering of anti-police and anti-ICE rhetoric seen throughout, the @PugetSoundJBGC Twitter account alerts others when they may be met with opposing groups in the Seattle and surrounding areas, often posting locations to gather, communications from police scanners and glorifying the removal of historical statues in cities throughout the nation.
Puget Sound John Brown Gun Club often retweets the coordinating of groups posted by the Twitter account @WANaziWatch. On June 2nd groups were alerted: "Report that crowd of 250 (so far) will be heading from Westlake to Cal Anderson in 15-20 minutes. Grab your umbrella, mask up, and help the pigs reconsider their life choices. #SeattleProtest #ACAB"
"Crowds are huge today. Seems indiscriminate violence by @MayorJenny and @Seattlepd have only emboldened folks to take a stand. Cops are spread thin. #seattleprotest #ACAB"
Cal Anderson seems to be a favorite hot spot, with WA Nazi Watch again alerting people to "Get to Cal Anderson now!," saying "Shit is going down."
Puget Sound John Brown Gun Club and other Antifa accounts such as @TheBaseBK discuss gatherings, openly recruit for new members, and glorify the injuring and killing of police officers.
Ngo, reporting on the Antifa Capitol Hill Autonomous Zone that took shape this week tweeted Wednesday, "Supporters of the #CapitalHillAutonomousZone have put directions on social media to topple a nearby Conferedate [sp] veterans memorial that is in a private cemetery. #antifa #Seattle"
"Example of one such post. @Twitter appears to be the social media application of choice by far-left extremists who use it to incite violence, vandalism & destruction. #antifa#BlackLivesMatter," he added.
Even Minnesota Rep. Ilhan Omar's own daughter has been seen communicating with her "comrades" to gather supplies for rioters, alerting to road closures, and arranged for rides to be given/requested via direct message on Twitter:
She has also posted links to donate to individual "comrades", and specifically the TCDSA fund, a "wealth redistribution tool". In addition, she has collected donations via the Twin Cities DSA PayPal account.
Or how about the viral TikTok video posted May 30th that remains on Twitter today with 1.99 million views, with several verified accounts promoting and endorsing the video? The video clip describes how to knock "riot cops" onto their backs "like turtles", where they can "kick the ever loving shit out of cops."
"Muslim writer & activist Blair Imani, who is @Twitter verified, tweeted out a "Socialist Hype House" video of a man describing tactics on how to effectively knock police on their backs so that they can be beaten on the ground. Imani is also expressing support for the riots," Ngo tweeted, along with the activist's original tweet featuring the clip.
Twitter is also used to collect donations to bail out rioters and looters, often promoted by different chapters of Antifa as Ngo lays out here with Twitter users posting hints as to not be tracked in their donating:
In addition to all of the Antifa-related communications on Twitter, CEO Jack Dorsey also recently retweeted a tweet from Akilah Hughes glorifying the "protests" that included an article by The Daily Beast that reported the removal of a statue of Frank Rizzo in Philadelphia.
As if that's not enough, Dorsey also recently retweeted a video clip seemingly promoting the violent riots where several police officers and citizens have been injured or killed and businesses have been looted or burned to the ground.
Mark Dice tweeted Tuesday, "Twitter CEO @Jack Dorsey retweeted this video because he endorses rioting and burning random businesses to the ground."
In the video, a woman wearing a t-shirt bearing George Floyd's face claims that police are killing "us."
"If the social contract is broken, why the fuck do I give a shit about burning down the fucking Football Hall of Fame, about burning a fucking Target? You broke the contract when you killed us in the streets and didn't give a fuck."
The woman in the video clip even says, "They are lucky that what black people is looking for is equality and not revenge."
Twitter is clear on where they stand politically, but at what point does certain activity suggested and promoted by the social media company and it's owners qualify as aiding and abetting?
Congressional candidate and conservative firebrand Laura Loomer recently called for Dorsey to be "raided Roger Stone style" for his aiding and abetting of terrorists on the platform.
Read more here:
Latest posts by Haley Kennington
(see all)