---
Not even 24 hours after President Donald Trump signed a new executive order over censorship on social media platforms, Twitter has AGAIN censored a tweet from President Donald Trump.
Early Friday morning President Trump tweeted, "I can't stand back & watch this happen to a great American City, Minneapolis. A total lack of leadership. Either the very weak Radical Left Mayor, Jacob Frey, get his act together and bring the City under control, or I will send in the National Guard & get the job done right…"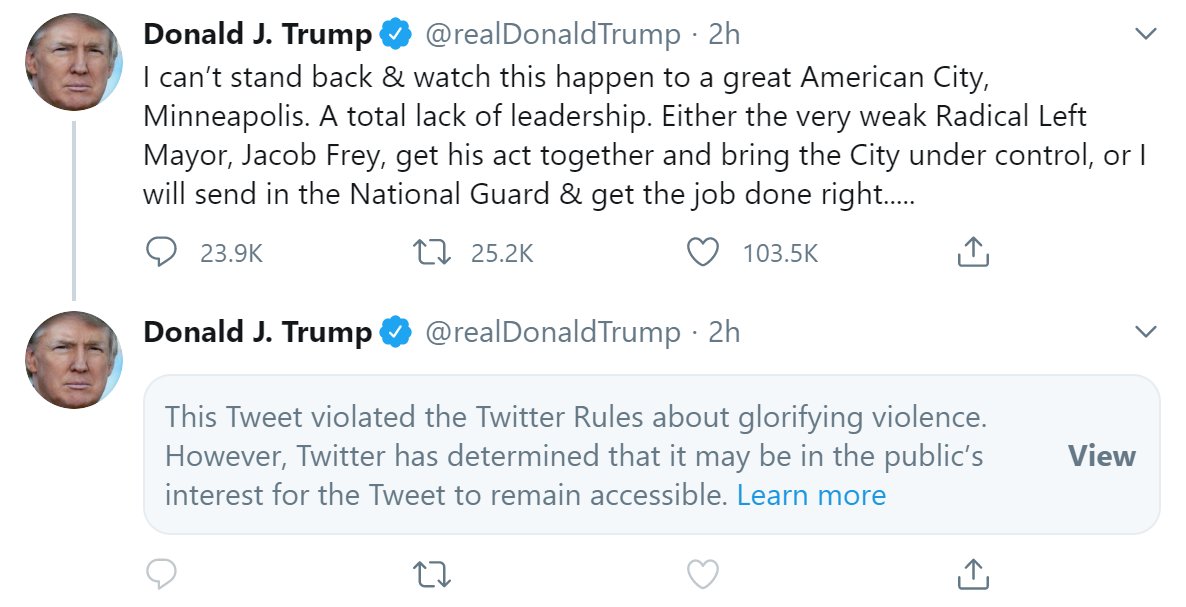 A subsequent tweet that completed the president's post was tagged by the social media platform for violating the "Twitter Rules about glorifying violence." In the tag, an additional comment was added that read, "However, Twitter has determined that it may be in the public's interest for the Tweet to remain accessible."
The tagged tweet reads, "….These THUGS are dishonoring the memory of George Floyd, and I won't let that happen. Just spoke to Governor Tim Walz and told him that the Military is with him all the way. Any difficulty and we will assume control but, when the looting starts, the shooting starts. Thank you!"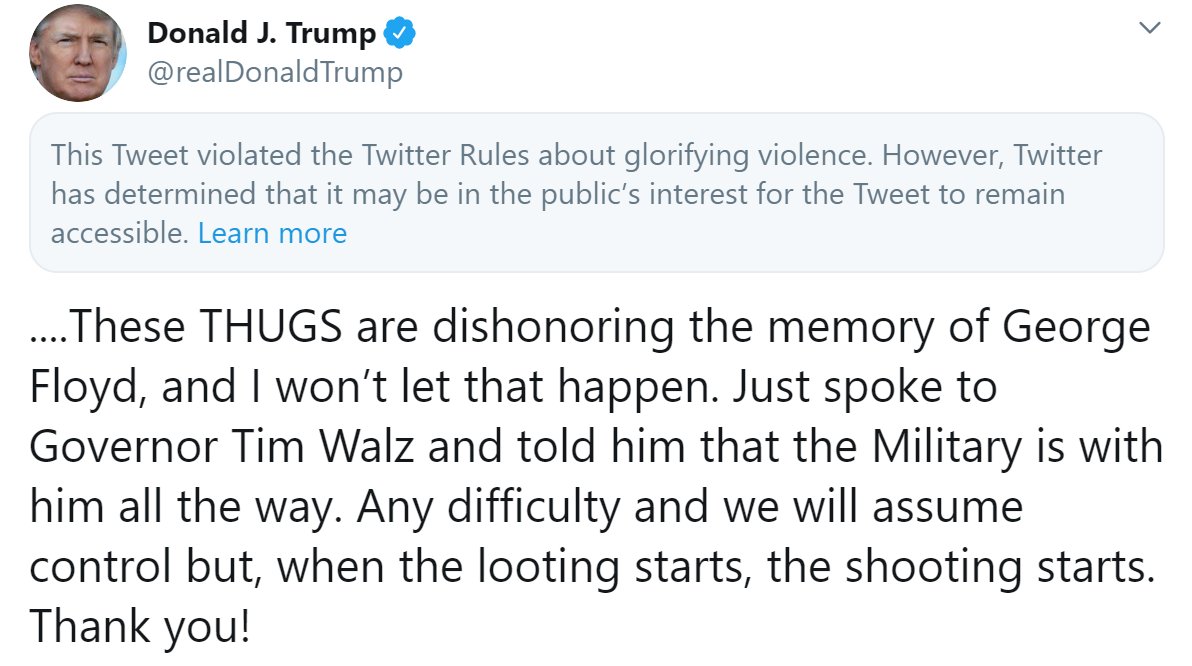 The tweet in question was in response to the third night of protests turned riots in Minneapolis, Minnesota following the death of George Floyd, and the deployment of National Guard to the city to assist in what has become total anarchy on the streets. Local police have been told to stand down because of the dangers posed to them, and from the department's lack of adequate protective equipment.
Twitter Comms posted two tweets shortly after they tagged the president's tweet as a Terms of Service violation. One read, "We have placed a public interest notice on this Tweet from @realdonaldtrump." A second tweet read, "This Tweet violates our policies regarding the glorification of violence based on the historical context of the last line, its connection to violence, and the risk it could inspire similar actions today."
More tweets were added to this thread by Twitter Comms explaining why they decided to leave the Tweet visible to the public, rather than delete it as they've done in the past.
"We've taken action in the interest of preventing others from being inspired to commit violent acts, but have kept the Tweet on Twitter because it is important that the public still be able to see the Tweet given its relevance to ongoing matters of public importance."
A link describing what Twitter describes as "defining public interest" completed the series of tweets:
"As is standard with this notice, engagements with the Tweet will be limited. People will be able to Retweet with Comment, but will not be able to Like, Reply or Retweet it."
Twitter did not provide any explanation for what should be considered "glorification of violence."
Not only did Twitter tag the president's tweet as "glorifying violence," they also removed the public's ability to comment on the tweet in response. When anyone tries to reply to the president's tagged tweet, a prompt pops up that reads, "Why can't you Reply to this? We try to prevent a Tweet like this that otherwise breaks the Twitter Rules from reaching more people, so we have disabled most of the ways to engage with it. If you want to talk about it, you can still Retweet with comment."
If you are on the president's original tweet from 12:53 a.m., the tagged tweet shows up as "unavailable" in the thread, so if you click on the first of the two tweets, you don't see the subsequent tweet Twitter has tagged at all. You will only be able to see it from President Trump's timeline.
When The White House posted the exact same tweet from President Trump, Twitter also labeled it as "glorifying violence". Silencing President Trump and communications directly from The White House during a time of crisis IS A NATIONAL SECURITY THREAT.
Friday morning, The White House responded to Twitter's censoring of the president's tweet saying, "The President did not glorify violence. He clearly condemned it. @Jack and Twitter's biased, bad-faith "fact-checkers" have made it clear: Twitter is a publisher, not a platform."
It seems fairly clear to any breathing, thinking person that the president was referring to the LOOTERS as the ones who would begin shooting, and in no way was inciting MORE violence, or glorifying the disgusting behavior seen in Minneapolis.
Peacefully protesting and storming businesses with the intention of looting, destroying and defacing public and private property, attempting to assault officers and arson are not equivalent to one another.
Earlier this week, Trump accused Twitter of election interference when they slapped warning labels on two of his tweets that expressed the dangers of mail-in ballots.
We reported just last week Twitter's deletion of a tweet in which the president retweeted a post from America First Clips. The deleted tweet featured a speech by conservative journalist Michelle Malkin calling out Big Tech's biased censorship.
Furthermore, in Twitter's latest Terms of Service update, they claim they reserve the right to suspend or terminate your account for "any or no reason".
FCC Commissioner Brendan Carr agreed Twitter is out of line with their censorship of President Trump, "Twitter's censorship here doesn't even appear to fall within the policy it cites. Like any business, Twitter has a right to its views. And like any business, Twitter is accountable for meeting its terms of service. No business gets to violate those terms for political reasons."
Trump fired back this morning on Twitter in response to the social media company's censorship saying, "Twitter is doing nothing about all of the lies & propaganda being put out by China or the Radical Left Democrat Party. They have targeted Republicans, Conservatives & the President of the United States. Section 230 should be revoked by Congress. Until then, it will be regulated!"
Trump continued in a later tweet Friday morning, asking why Adam Schiff's lies, Chinese and RussiaGate propaganda, and mistakes published in tweets by the World Health Organization weren't also flagged.
"'The President has been targeted by Twitter.' @MariaBartiromo What about all of the lies and fraudulent statements made by Adam Schiff, and so many others, on the Russian Witch Hunt Plus, Plus, Plus? What about China's propaganda? WHO's mistakes? No flags? @foxandfriends"
Trump again called to repeal Section 230, tweeting, "'Regulate Twitter if they are going to start regulating free speech.' @JudgeJeanine@foxandfriends Well, as they have just proven conclusively, that's what they are doing. Repeal Section 230!!!"
Twitter is not just ignoring propaganda and deceitful tweets posted by China or the "Radical Left Democratic Party" though. We could go on and on with tweets that don't seem to make it to the Twitter "fact-checkers" for verification, or that could be considered a "glorification of violence."
"For months I've called on @Jack & @Twitter to remove this Islamic radical from this platform. And nothing has been done. He denies his people the right to be on twitter while Jack allows him to spew homophobia, antisemitism, sexism and violence," added Richard Grenell in response to Twitter's decision to tag Trump's tweet as "glorifying violence".
"Serious question for @Twitter: Do these tweets from Supreme Leader of Iran @khamenei_ir violate 'Twitter Rules about glorifying violence'?," asked Ajit Pai, Chairman of the Federal Communications Commission.
The White House brought up Friday morning that the platform still allows "terrorists, dictators, and foreign propagandists to abuse its platform," which was also detailed in the Jerusalem Post.
Later Friday afternoon, President Trump made a statement on Twitter to clarify what his original comments and once again asked for the public to honor the memory of George Floyd..
"Looting leads to shooting, and that's why a man was shot and killed in Minneapolis on Wednesday night – or look at what just happened in Louisville with 7 people shot. I don't want this to happen, and that's what the expression put out last night means.."
"……It was spoken as a fact, not as a statement. It's very simple, nobody should have any problem with this other than the haters, and those looking to cause trouble on social media. Honor the memory of George Floyd!"
Should Twitter's tagging the president's Tweet be considered election interference? He was informing the public of his plans to take control over the situation and stop the rioting, not threatening more violence.
Taking someone's words out of context is nothing new, but when social media companies are censoring these words and acting as the "arbiter of truth" where does it end?
Latest posts by Haley Kennington
(see all)
---
You may also like