---
Just days before the 18th anniversary of 9/11, a Muslim man was caught sabotaging a commercial airliner, disabling its navigation system shortly before it was set to take off with 150 people on board.
According to a criminal affidavit filed in a federal court in Miami, Florida, Abdul-Majeed Marouf Ahmed Alani, a veteran employee, is charged with "willfully damaging, destroying or disabling an aircraft" after he was arrested on Thursday for tampering with the plane's air data module.
Alani told law enforcement officials he deliberately damaged the navigation system on July 17, gluing foam inside a tube leading from outside the aircraft to its air data module because he was "upset" over the delay of contract negotiations between the mechanic's union and American Airlines and that "the dispute had affected him financially.
The air data module reports aircraft speed, pitch and other critical flight data. The pilots on the flight, which was slated to take off from Miami International Airport for the Bahamas on July 17, would not have received any computer data and would have had to operate the aircraft manually if mechanics inspecting the plane had not "discovered a loosely connected pitot tube, which connect directly to the ADM."
"The ADM appeared to have been deliberately obstructed with what appeared to be a dark Styrofoam-type material," according to the affidavit, which was filed by the U.S. Attorney's Office.
When pilots increased power to the engines as the plane went down the runway Thursday, there was an error warning indicating the ADM system was not functional, prompting them to abort takeoff.
Authorities determined Alani, the Muslim airline employee, was responsible for attempting the sabotage when examining surveillance video. Footage captured July 17 shows Alani, who walks with a limp, exiting a white truck on the morning of the attempted terrorist attack at concourse D and approaching the plane, which had just arrived from Orlando. He then accessed the aircraft's compartment where the navigational system was located on the plane.
When interrogated by air marshals assigned by the FBI's Joint Terrorism Task Force, Alani insisted "his intention was not to cause harm to the aircraft or its passengers" and claimed he damaged the air data module "in order to cause a delay or have the flight canceled in anticipation of obtaining overtime work," according to the affidavit.
"At American, we have an unwavering commitment to the safety and security of our customers and team members and we are taking this matter very seriously," American Airlines said in a statement to CNN. "At the time of the incident, the aircraft was taken out of service, maintenance was performed and after a inspection to ensure it was safe the aircraft was returned to service. American immediately notified federal law enforcement who took over the investigation with our full cooperation."
Alani is slated to appear in court Friday, said Marlene Fernandez-Karavetsos, a spokeswoman for the U.S. Attorney's office in the Southern District of Florida told CNN.
Alani's arrest comes one day after U.S. district judge Anthony Trenga ruled the government's terror watch list, which identifies more than 1 million people as "known or suspected terrorists" and prevents the flagged individuals from flying, violates the constitutional rights of those placed on it.
Twenty-three Muslim U.S. citizens, represented by the Council for American-Islamic Relations (CAIR), challenged the constitutionality of the list, insisting they faced "a range of adverse consequences without a constitutionally adequate remedy.
CAIR championed the ruling as a "complete victory" for the Muslim community.
The US terror watch list was created for a reason. It was Muslim terrorists who hijacked airplanes on 9/11/01, nearly 18 years ago to the day, and murdered 3,000 innocent Americans in the name of Islam.
CAIR's Florida director Hassan Shibly warns the watchlist needs a "complete overhaul" to ensure Muslim Americans are not unfairly targeted by the government.
"We always knew it was wrong and always knew it was unconstitutional," Shibly told Newsweek. "And now, after decades of receiving unjust treatment, a judge has found in our favor and vindicated us by agreeing that the profiling and harassment we faced at the hands of the government were unconstitutional. It's a tremendous victory."
"The fact that it was in place was unjust. It curtailed our civil liberties and it didn't stop any terrorists or save any lives," he added.
It should be noted that Shibly, who works for CAIR, called for Muslims to defy law enforcemnet inside airports when he was questioned in an Atlanta airport on his way back from Turkey.
Shibly, is currently serving as the legal counsel for Hoda Muthana, an Alabama woman who joined ISIS, but now wants to return to the United States.
Not only are CAIR and Shibly working to bring a dangerous ISIS terrorist back into the United States, but Shibly is now suing the Trump administration to allow Muthana to return, after President Trump said she would be barred from entering the United States.

Donald J. Trump✔@realDonaldTrump
I have instructed Secretary of State Mike Pompeo, and he fully agrees, not to allow Hoda Muthana back into the Country!194K5:05 PM – Feb 20, 2019Twitter Ads info and privacy65.9K people are talking about this
What type of demented, deranged monster would work to ensure that an ISIS terrorist be allowed back into the United States where she could harm and kill innocent Americans?
BREAKING: Attorney Charlie Swift with the Constitutional Law Center for Muslims in America supported by our friends at the @MLFA just filed a law suit against Pompeo on behalf of Hoda Muthana to protect the US Constiution's guarantee of citizenship for all Americans!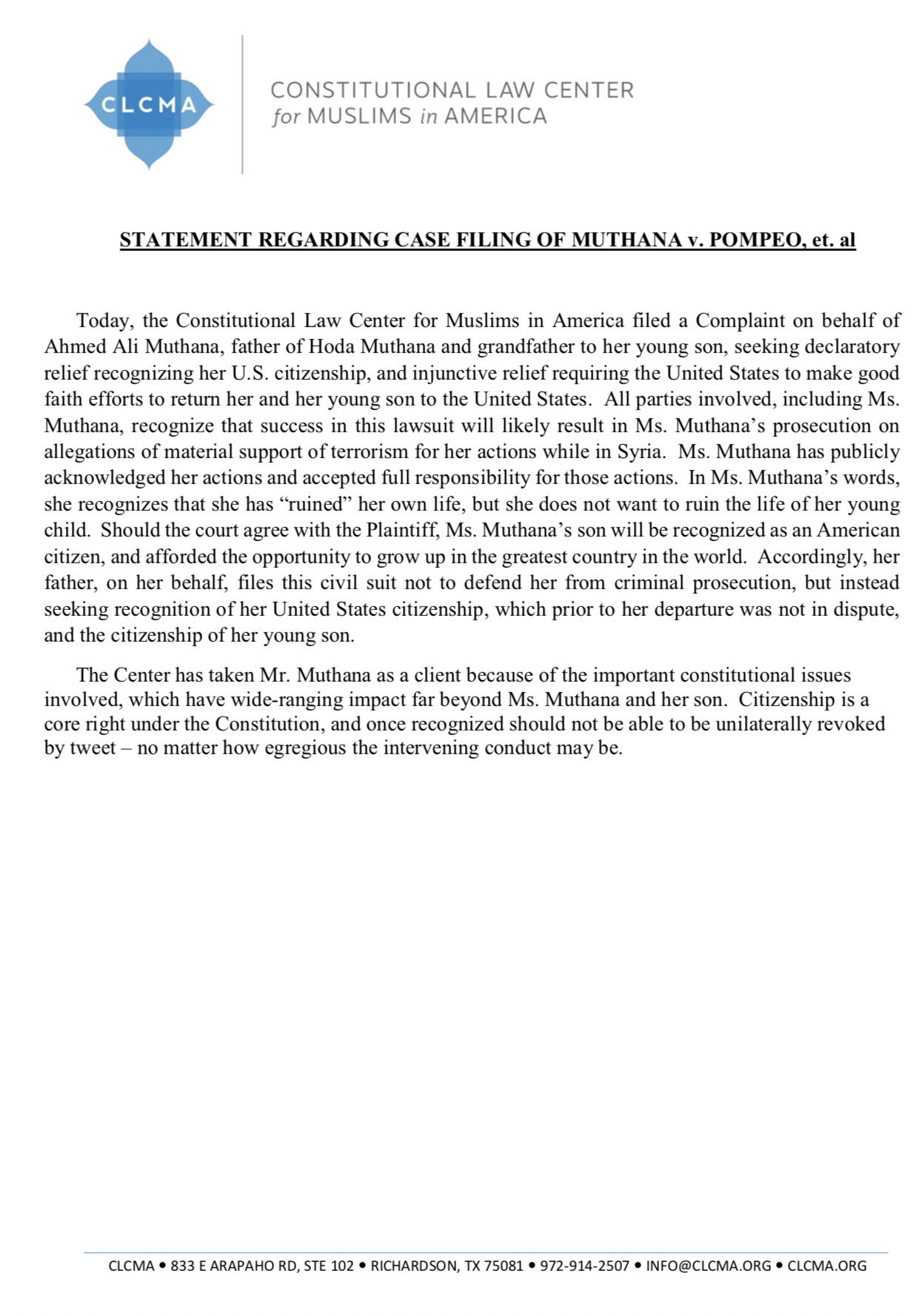 CAIR, which describes itself as a "the nation's largest Muslim civil rights organization", is nothing but an Islamic terrorist organization. CAIR is HAMAS.
Along with being classified as a terrorist organization in the United Arab Emirates in 2014, CAIR has been labeled as a Muslim Brotherhood entity by the United States Justice Department and was found by a federal judge, the U.S. Attorney Generals office, and the Fifth Circuit Court of appeals as having direct ties to Hamas. On July 1, 2009, U.S. District Court Judge Jorge Solis upheld CAIR's designation as a co-conspirator, saying there was "ample evidence" linking CAIR to Hamas.
Hamas has also been classified as a designated terrorist organization by the U.S. State Department and is listed as a co-conspirator in the Holy Land Foundation HAMAS terror funding trial in 2008, which is the largest terrorism financing case in U.S. history. In the Covenant of Hamas, which outlines the goals and motive of Hamas and its members, it states that one of its main goals in the destruction of Israel.
CAIR is the last organization anyone in the US government should be listening to when it comes to national security and terrorism. During a banquet in Woodland Hills, California thus year, Hassan Shibly was a keynote speaker with anti-American Muslim Rep. Ilhan Omar who mocked the deaths of the 3,000 Americans killed in 9/11/01 when she described the actions of Islamic jihadists as "some people did something".
CAIR's largest branch is located in Florida.
Following the Orlando Pulse nightclub shooting on June 12, 2016, in which Omar Mateen, an ISIS terrorist killed 49 people inside a gay club, CAIR Florida attacked members of the Florida community who spoke out about Islamic terror, accusing them of being "Islamophobic".
On January 6, 2017, Esteban Santiago shot and killed five people, injuring six more, at the Fort Lauderdale airport, telling FBI agents he carried out the attack on behalf of ISIS.
Following the ISIS terror attack at the Fort Lauderdale airport, the Broward County Sheriff's office, under the direction of disgraced and since removed Sheriff Scott Israel, was accused of trying to cover up the Islamic motive of the shooting. Nezar Hamze, a Muslim who served as the Regional Operations Director of the Florida chapter of the Council on American-Islamic Relations (CAIR), was sworn in as a Deputy Sheriff at BSO in August of 2014. On his application, which he handed in two months prior to his swearing in, he said he was referred to the job by Scott Israel.
In the aftermath if of the Fort Lauderdale airport shooting, many in the community expressed concerns over whether or not Hamze pressured Sheriff Israel to not mention the fact that the shooter carried out the attack in the name of ISIS, as a way to use his position inside the Broward Sheriff's office to "protect the Muslim community from criticism".
Following the most recent incident at Miami International Airport, a similar white washing of the suspect's Muslim identity is taking place by the media.
It must not be forgotten that 12 of the 19 hijackers who hijacked and crashed four planes on Sept. 11, 2001 lived in or had connections to Palm Beach County, Florida, just an hour and a half from Miami International airport.
Is its just me, or is there a pattern here?
If the government continues to negotiate with internationally designated Islamic terrorist organizations like CAIR, they can expect many more acts of terror and sabotage from Muslim airline workers like Abdul-Majeed Marouf Ahmed Alani who use their employment and sense of perpetual victimhood as an excuse to endanger and kill innocent travelers on American planes.
---
You may also like