---
A festival that is called Afrofuture came under fire last week after it was charging white attendees double. The festival is being held in Congresswoman Rashida Tlaib's district next month. Not surprisingly, the event is being sponsored by Democracy Now an Obama linked non-profit company called Allied Media Projects. This company has co-sponsored and or put on events for Democracy Now, including events where former President Barack Hussein Obama attended.
Who are Allied Media Projects? They fund all well known "Social Justice Groups" like Black Lives Matter Detroit Chapter , Incite and of course Afrofuture Youth which is selling the discriminatory tickets.
Allied Media Projects, aside from being a Soros backed organization, "dabbles" in politics by pushing Anti-American notions and hateful rhetoric about the current President of the United States of America.
What is AFROFUTURE?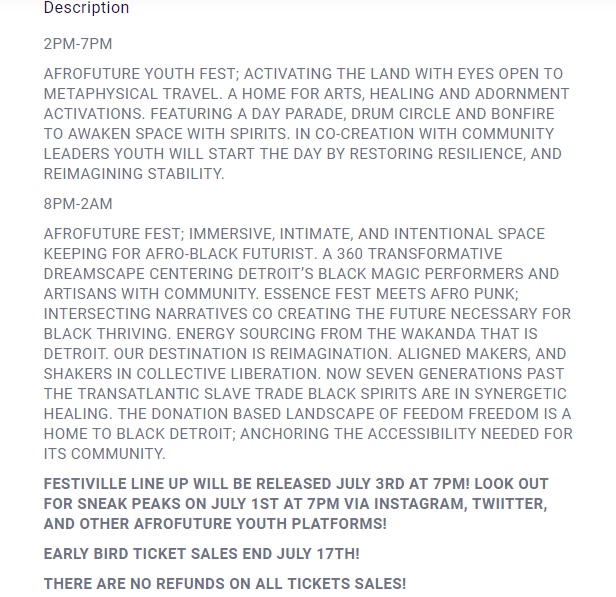 What's RACIST about this Festival? Their Ticketing Structure.
The event was selling POC and NONPOC tickets. POC stands for Person of Color and NONPOC stands for NON-Person of Color. The prices for people who are not people of color, in other words, people who are white are DOUBLE than those that are black.
Last week LauraLoomer.us contributor Tore filed a police complaint against the event claiming the event was engaging in a HATE CRIME.
It's shocking that in 2019 we have such blatant and unapologetic racist actions present. Not only that, but there are people who applaud it! This morning, a LauraLoomer.US contributor received a call from the public liaison of the Detroit Police Department to advise her that the ticketing structure had been changed. Here is her statement from July 6, 2019 on her call to Detroit PD.
I called the Detroit Police Department, specifically the 5th Precinct (313-596-5500) which governs the area in which the event is being held. I was directed to their Neighborhood Policing division where I provided details of the location and the event. We will update you when we have further information. The police did not give give me a complaint number.

Original Posting
Last week our contributor reached out to Rashida Tlaib's office and asked her staff if she was invited to this event and or if she will be attending the Afrofuture event in her district. They denied to comment, although sources say she was invited. When asked how Rashida feels that tickets are more expensive for people who are white and considered NON-POC (Non Person of Color) the response received was unexpected.
"Congresswoman Tlaib champions for equality for all. Reparations and justice for all are key drivers of her campaign. An event has the right to appropriate pricing as they wish and the pricing itself makes it clear that racism is not tolerated and that minorities should be lifted up in the face of white privilege."

Staff at Rep. Tlaib's Office MI
Flabbergasted at the response, the contributor asked Rashida's Michigan Office staff the question again rephrasing it. "Don't you find it discriminatory that if I want to buy a ticket I have to pay double the price simply because of the color of my skin? That is in fact the definition of racism." The contributor heard the staff member snicker on the other end. "It's not racist if you aren't a protected minority group".
Here is what the event organizers' justification of their ticketing structure had on their ticketing site: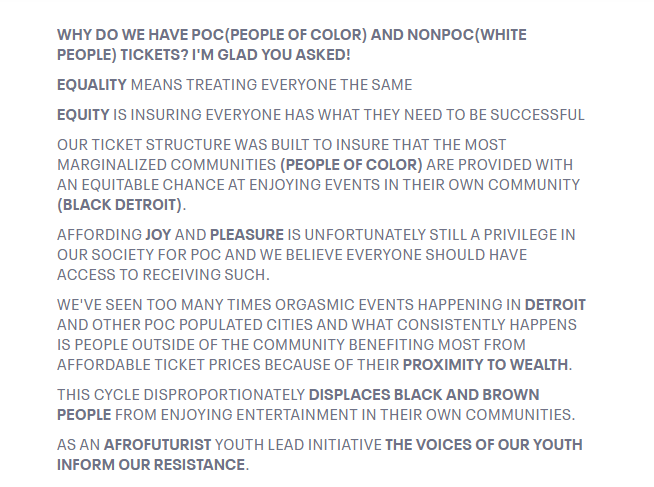 Over a week ago after Tiny Jag a performer who refused to perform at the event tweeted her point of view and thoughts on the racist ticketing structure, there were many that were applauding racism.
Since July 6, 2019 when our contributor called the Detroit PD and filed a complaint with the intention to file charges, the ticket prices have been changed.
Anti-Jewish, Islamic terror-regime funded Al Jazeera's AJPlus+ site created an "explanation video" of why it's OK to be racist.
Blavity an online media outlet that sows division and accentuates racist notions went as far as to falsely report that "White Supremacists" forced them to change their ticketing structure.
Here at LauraLoomer.US, we are used to getting called "white supremacists" even though the site is owned and operated by Laura Loomer, a Zionist Jewish woman.
It's the LAW that forced them to change their ticketing structure and because Allied Media Projects didn't want to get sued.
In this video report by RT you can see Reese Everson justify racism. Everson identifies as an author and an attorney.
It is important to note that after our contributor BROKE the story on July 6, 2019 the New York Times and CNN rode in after that trying to justify the actions and determine if our contributor filed a criminal complaint. According to the PD liaison, they were verifying information they saw on the internet about a complaint filed against the event by a someone "posing" as a journalist. The NY Times interviewed the organizers and an attorney to report on why they thought it's LEGAL when our contributor had in fact demonstrated how it is not.
The old pricing structure was "discriminatory" and could have resulted in lawsuits, said Tiffany Ellis, a Detroit-based civil rights lawyer. But, she said, private organizations have some leeway to choose who they are going to do business with and how they do that business.

NYTIMES JULY 7, 2019
According to our contributor's police complaint she stated :
This event signifies a greater need to halt all discriminatory events that justify their actions by using racist rhetoric like white privilege. In our great nation no one can discriminate based on skin color…especially an organization that RECEIVES tax dollars and or TAX CUTS. Allied Media Projects (AMP) is not exempt from legal remedy for violation of Title IV.

LINK TO ORIGINAL POSTING
Evidently, the event was FORCED to comply with US laws to change their ticket pricing. Thanks to our report, their ticketing site has been updated reflecting ONE price for all participants.
It seems that the "freshmen" in Congress like Tlaib, Omar and AOC keep calling people racists, yet they themselves actually applaud racism when it's against NONPOCs. Most recently, AOC went as far as to call Nancy Pelosi RACIST, a comment that enraged the Democrats.
On Friday morning, President Trump stood of up for Speaker of the House Nancy Pelosi. It's becoming clear the Hamas Caucus is the biggest mistake to happen in US Elections, EVER.
The Race Card the Democrats have been flashing for the past 4 decades has been overused and is no longer effective. Perhaps the Democrat Party, which is and always has been the party of the KKK and Jim Crow ought to sit the reparation olympics out.
https://tenor.com/embed.js
---
You may also like